KING COUNTY, WASHINGTON STATE
INCIDENT SUMMARY
South King County Firefighters were dispatched Thursday evening to a commercial fire located in the 3800 block of West Valley Highway North in Auburn, Washington State around 1820 hours PT.
ABOUT THE FIRE BUILDING
The fire building is described as owned by Natmi LPF Core LLC and built in 2007. The building serves as the purpose as a warehouse and is said to be approxiately 51,250-square feet on a 557,309 lot size. It is constructed out of masonary, per the King County Tax Records. It is said to be valued at $15 Million Dollars.
The fire was located at the SPAN ALASKA TRANSPORTATION, a LTL (less than truckload) freight carrier that delivers to the lower 48 and Alaska, according to its website.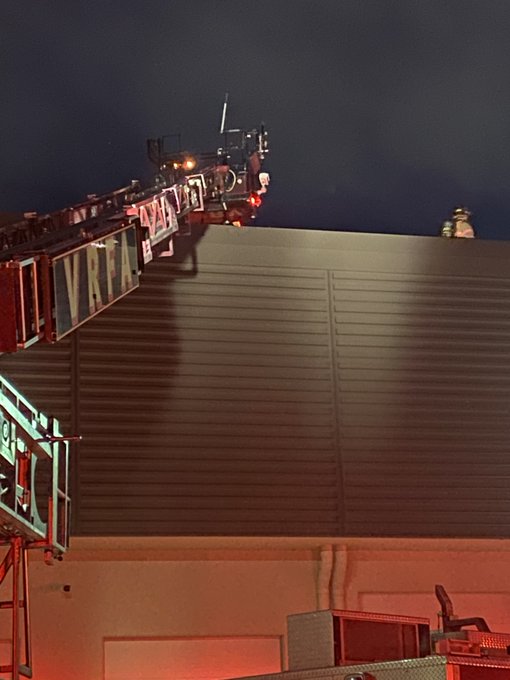 OPERATIONS – SUMMARY
First Due units arrived reported seeing a large smoke column on the midspan of the roof. Firefighters were then tasked with pulling a 2.5″ on the alpha in the initial stages but throughout the incident would pull up to three lines.
Battalion assumed Command and drove around the building to complete a 360* view.
At 1839 hours PT, Command struck a second alarm request but would request units to stage two-blocks away from the Command Post. Firefighters checked to see what was on fire and for extensions. The fire itself was possibly being fueled by gas.
About 25 minutes, the gas was shut off and water on the fire. There was no heat or smoke on the inside; or visible extension found on the interior of the building.
A primary was completed on the first one-half of the building but could not finish due to members on the top of the roof. Also, this was stated is a warehouse with high piles of storage making it difficult for firefighters to search completely. It was reported that all employees safely evacuated from the structure.
A general safety broadcast was made during the incident that this is a high piles storage facility and there are pallets under the fire area, which appeared to be leaning and all members needed to be aware and careful. An exterior search was tasked instead of interior at the time-being.
Resources were still working on the fire ground when the incident timer showed 73 minutes at 1934 hours. Due to the extent of this fire and the large structure it was in, would imagine they will remain on-scene for quite some time. Unknown if they will be foaming it down and/or conducting fire watch throughout the night.
While this fire was ongoing, Dispatch notified Command of possible smoke related incidents from their fire but they were too far away to be connected. A brush fire and smoke investigation call were dispatched as separate calls.
The building manager is on-scene.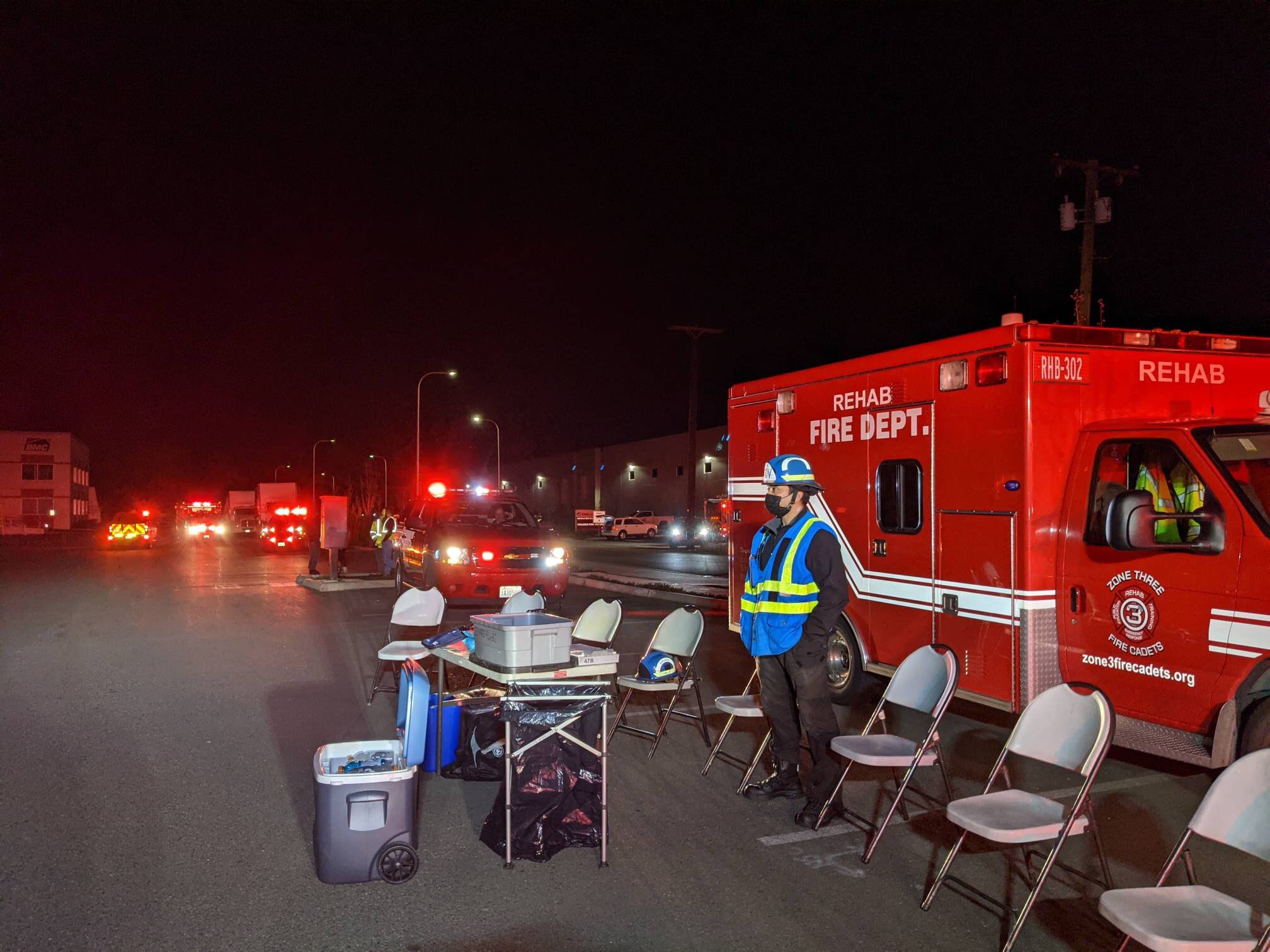 UNITS DISPATCHED
Fire personnel and assets were dispatched from IAFF2595, Puget Sound Fire, South King Fire & Rescue, Valley Fire Department, IAFF 1352, and IAFF 2024 at 1820 hours PT. Units were VRFA TIMER2, 4TG, L364, M6, MSO1, Z3RHAB, FM333, BCC, Z3PIO, AFPIO and L331, E371, E338, E332, E374, E334, A371, B331, and D307.
ALPHA DIVISION – West Valley Highway Command (Command)
Firefighters with A317 did a complete 360* walkaround and found no smoke, heat and no visible extensions visible.
CHARLIE DIVISION – E374, B362, L364, E374, E334
Another stick was provided in the area to help with getting water on the fire. Two exterior doors on the Charlie side were opened and stated there was a high piles storage close to the door. It was difficult for crews to search the second half of this division but would later be able to complete their primary search and finding nothing.
ROOF DIVISION – L364, B374, B362, E365, E333, E338
They were tasked with water supply on the Charlie side, cutting a 60 x 60 hole around the fire area and checking for extensions in the initial fire attack. They forewarned Command and other crews that may be working in Interior Operations of possible panels dropping from down below. Thankfully, there were no crews on the inside of the structure.
The fire was knocked down at 1905 hours PT and reported they were checking for extensions in the attic. It was finally tapped at 1921 hours PT but crews found there was still smoke in the air on the interior but no heat or flames.
INTERIOR DIVISION
Engine companies 333 and 373 were busy conducting primary on the interior.
MEDICAL GROUP – M6, REHAB 303, MSO 1
Medic 6 was tasked with Firefighter Safety and REHAB 303 as Supervisor. No firefighter or civilian injuries were reported or heard over scanner feed during the incident.
STAGING – Medic 7
Medic 7 was released from the incident at 1902 hours PT and returned back to quarters.
SOCIAL MEDIA
To check out our play-by-play on this incident, see our Tweets on our page @nwfireblog
For future incidents and to follow up on our fire chasing adventures, check us out on Twitter and Facebook @nwfireblog and on Instagram under NW Fire Blog. Thanks for reading our post!
(c) 2021 NW Fire Blog – Updated 3/11/2021 2045 hours PT