Tuesday, March 23, 2021 – 6pm PDT
Firefighters are battling a 4th alarm fire in the 800 block of NW 4th Street in downtown Oklahoma City, Oklahoma that ignited today from an unknown ignition source.
Fire Station 1 that is about one block from this incident location had firefighters walk outside and see smoke. After responding, they could see heavy smoke and flames. The incident was quickly escalated eventually to a 4th alarm.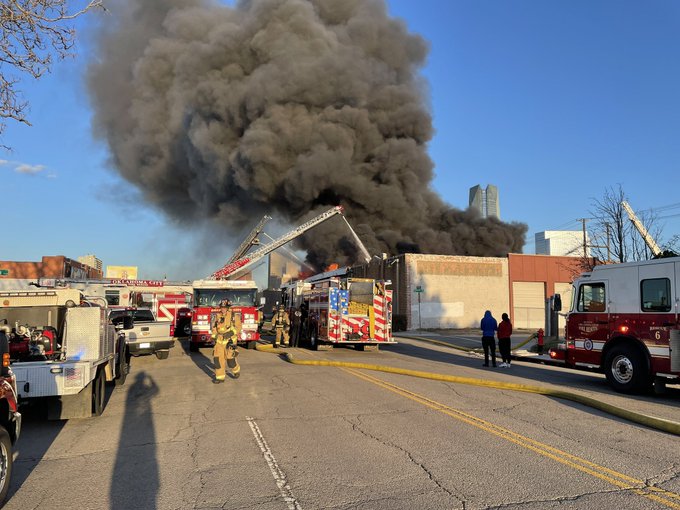 Firefighters rescued a female who was inside the rear of the building and trying to escape through a window with bars on it. After she was extricated from the building, fire swept over the area. She is said to possible have possible smoke inhalation and no burns was transported to a nearby hospital.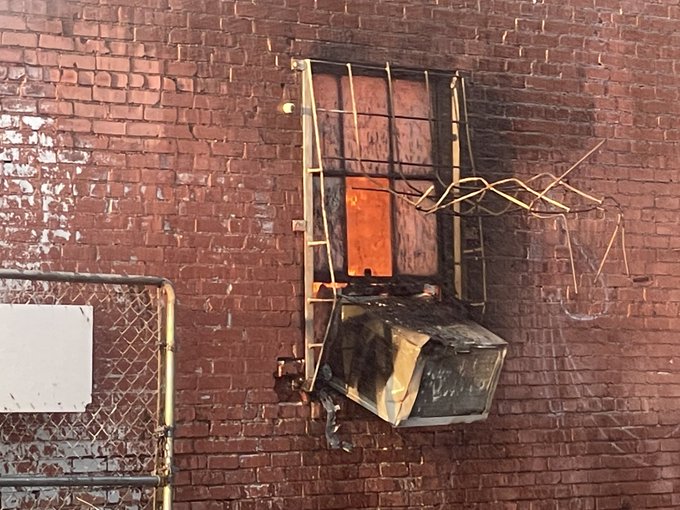 A partial collapse on side alpha occurred at 1755 PDT and Command immediately ordered a PAR from all units on the fire ground. All units reported PAR or also known as Personnel Accountability Report.
On the interior of the unit, it is said that this large building has a heavy fire load and being used as a storage facility with furniture, vehicles and other flammable materials. Most of the building is being reported as a heavy loss
ALPHA side of the Fire building poor fire conditions prompted firefighters to exit out of the building around 1829 hours PDT.
Concerns of the Charlie-Delta side of the building were of note, as well as exposures Charlie and Delta.
CHARLIE exposure was listed as a separated building in an alleyway. Walls in the Charlie side of the fire building were said to have its walls at 67*F degrees with smoke showing on the interior. Winds would change course causing more smoke to be visible on the exterior.
DELTA exposure had embers impacting the building. Around 1824 hours this evening, fire was reported through the room.
The City's water department asked if the pressure to nearby communities could be returned back to normal operations. If they needed additional pressure, Command would need to get permission from the Fire Marshal. All water pressure was restored and no additional pressure was needed. Some of the water supply was diverted to one of the exposure buildings.
Firefighters will remain on-scene for an undetermined duration of time. Due to this being a large incident, it will take awhile for members to get the fire under control, out, overhauled, investigated and most likely, under fire watch.
Current weather conditions at 1829 hours PDT, are 54*F degrees, mostly clear with a 0% precip and relative humidity of 65%. Winds are at 7 mph.
Stay tuned for more updates as information is received or something significantly changes.
ABOUT THE FIRE BUILDING
The Fire building is said to be located at 820 NW 4th Street, which is considered as an office building approximately 2,000 square feet that was built in 1926. It is a two-story, C-class-rated building that was previously listed as for sale but has since been taken off the market.
(c) 2021 NW Fire Blog