UPDATE 1 – FRIDAY
A wildfire is burning approximately 10 miles west of Surprise, Arizona, which has scorched about 80 acres of State Trust land and now in a nearby park.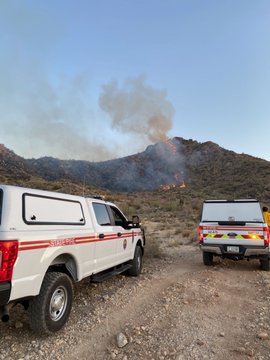 Multiple fire agencies within the Maricopa County are on-scene assisting with fire attack activity as well as a helicopter, from above. Lead Agency: AZ State Forestry.
A wildfire incident broke out with the same name in Arizona with an unknown location almost to the same day as today's incident. That fire also named the White Tank Fire burned on May 21, 2020.
There is no reports of injuries to citizens, residents or firefighters.
The cause of the wildfire is also under unknown at the time of this report.
(c) 2021 NW Fire Blog