SEATTLE (KING), WASHINGTON
INCIDENT SUMMARY | Seattle Firefighters were called to a working Fire in Building call just before 1600 hours on Tuesday, May 8, 2021. First due units confirmed a working fire in the vacant and another derelict structure.
LOCATION | For easier mapping, it is located in the 500 block of Harrison Street and northbound of Denny Way to Republican Street and right across from the Seattle Center, a favorite and iconic City tourist locale.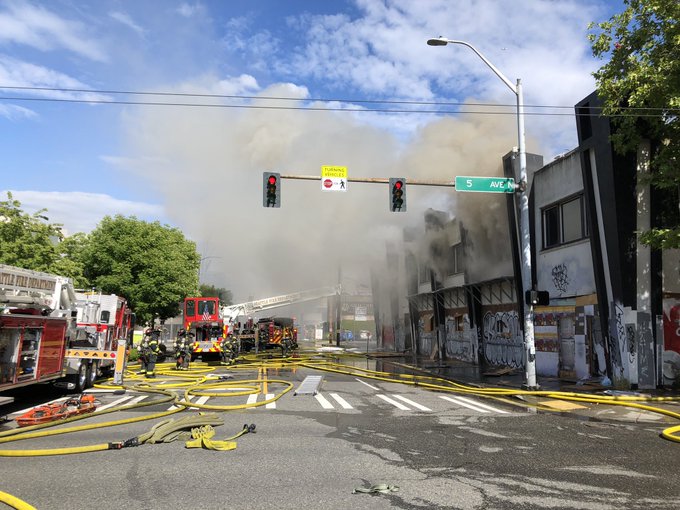 RESOURCES | Units were dispatched via the Fire Alarm Center or FAC at 1558 hours PT.
Air Units — 240, 240-260.
Battalions — 2, 5, 6, 55.
Engines — 5, 6, 8, 9, 10, 17, 20, 22, 25, 31.
Command Staff — PIO, DEP1, SAFETY2, STAFF10.
Ladders — 1, 3, 4, 6, 10.
Medical Group — MEDICAL GROUP | M44 (Supervisor), M10, A25, REHAB1.
OPERATIONS | Timeline for this incident
1601 — Crews were investigating reports of a fire in a vacant building.
1604 — Water on the fire.
1608 — Changed strategy from defensive to offensive position after a possible person reported inside the building.
1711 — 10 fire engines, 5 ladder trucks and additional support units on-scene. 70 firefighters fighting the first alarm blaze.
1713 — Reports of a person in the building but crews checked with thermal imaging cameras (also known as TICS) from the outside. They were unable to locate anyone. At this time, firefighters were unable to enter the interior of the building due to heavy smoke and for firefighter safety due to a possible structural collapse.
1715 — Operations in a defensive strategy and a collapse zone.
1732 — Upgraded to a 2nd Alarm. PIO arrived on-scene. Heavy smoke in the area.
1823 — Alpha-Delta. Collapse of wood façade on the corner of the building.
1900 — RMC clearing and going back in service.
1901 — REHAB1 back in service.
1904 — B6 back in service.
1913 — PIO in service.
SIGNIFICANT EVENTS | Highlights of this Incident
Person reportedly inside the building was never located.
Heavy flames and smoke could be seen from all around Seattle.
Refueling of apparatus completed during the incident.
Upgraded to a 2nd alarm.
Collapse zone established.
Fire Watch is in effect and will remain on-scene overnight to watch for hot spots and rekindling.
FIRE BUILDING | This is a masonry constructed with low quality built in 1929, is approximately 12,855 square feet. It is listed with the King County Tax Assessor as a Restaurant/Lounge as its present use. However, we see that it has been unoccupied for awhile and boarded up. It is located near the Seattle Center and Space Needle.
This building was remodeled in 1999 and 2004.
Building assessed value is just over $4 Million Dollars from $3.5 Million Dollars in the previous assessed year, per Tax records.
CLOSURES | Issued by the Seattle Department of Transportation
5th Ave N NB closed at John St.
5th Ave N SB closed at Republican St.
Broad St EB closed at John St.
Thomas St closed EB & WB between 5th Ave N & Taylor Ave N.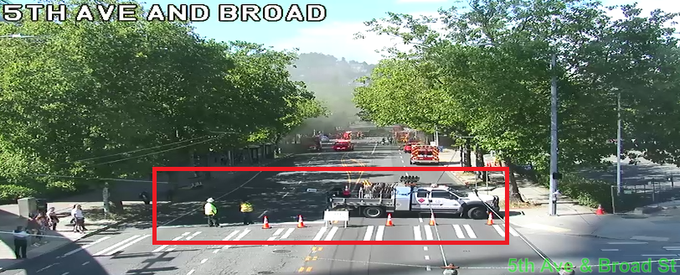 SEEN THROUGH THE EYES OF SOCIAL MEDIA | What People Are Saying
"Really hazy at Mercer and Dexter"
"Sad to see that. It's been boarded up for awhile, but I would not be surprised if there was some temporary occupation going on."
"Oh that's a big fire in Seattle…"
"That burning vacant building used to be a dance club back in the day."
"[SFD] still fighting the flames inside this vacant building that used to house popular nightclubs."
there is a massive fire in a vacant building right below. CRAZY!"
This fire was covered by local, national news and in our nearby neighbors in Portland, Oregon.
INJURIES | None reported that we are aware of.
CAUSE | Unknown, under investigation.
PROPERTY/CONTENT LOSS | Unknown.
#SeattleFire #VacantBldgFire #FireInBuilding
(c) 2021 NW Fire Blog –Updated 6/8/2021 1925 hours PT