UPDATE 1 | JUNE 24, 2021 | 2300 HOURS PT
INCIDENT SUMMARY
Just over 24 hours ago on Thursday, June 24, 2021 (0130 EDT/2230 PT), a 12-story, mixed commercial structure with residential (condo) building, named the Champlain Towers lost two-thirds of its structure and came crashing down from an unknown cause.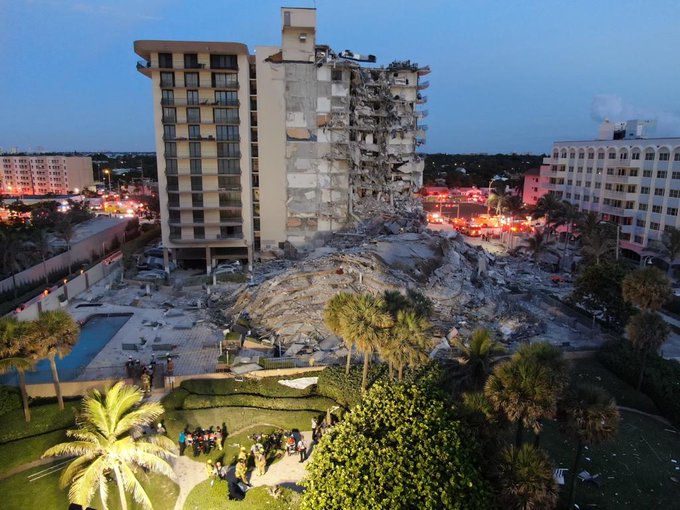 The building is located at 8777 Collins Avenue (Miami Dade County) in Surfside, Florida.
First due Fire units reported the northeast corridor of the building had sustained a partial collapse. About 55 condo-units were impacted by the collapse.
OPERATIONS
Miami Dade Police Department has assumed all things related to the investigation of this incident at 0430 hours PT on Thursday, June 24, 2021.
Just before 0800 EDT, SAR units with search dogs began to search for survivors. Firefighters were able to help save 35 occupants from the interior of the building. Out of the 35 survivors, 10 of them were treated for injuries and two were transported to area hospitals.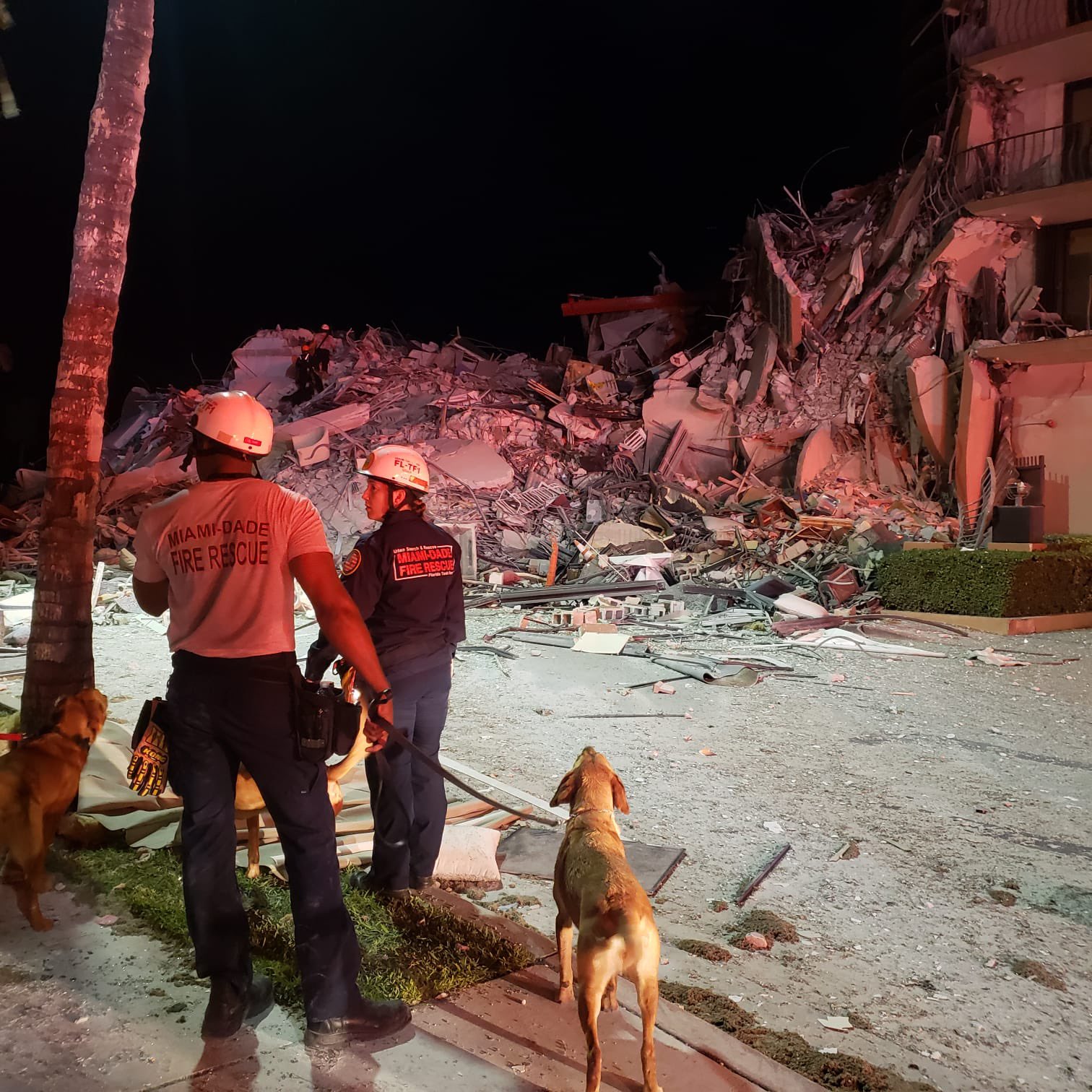 TRAFFIC IMPACTS
>> Collins Avenue from 85th to 92nd Street and Harding Avenue from 85th to 90th Street have been temporarily closed (Miami Dade PD)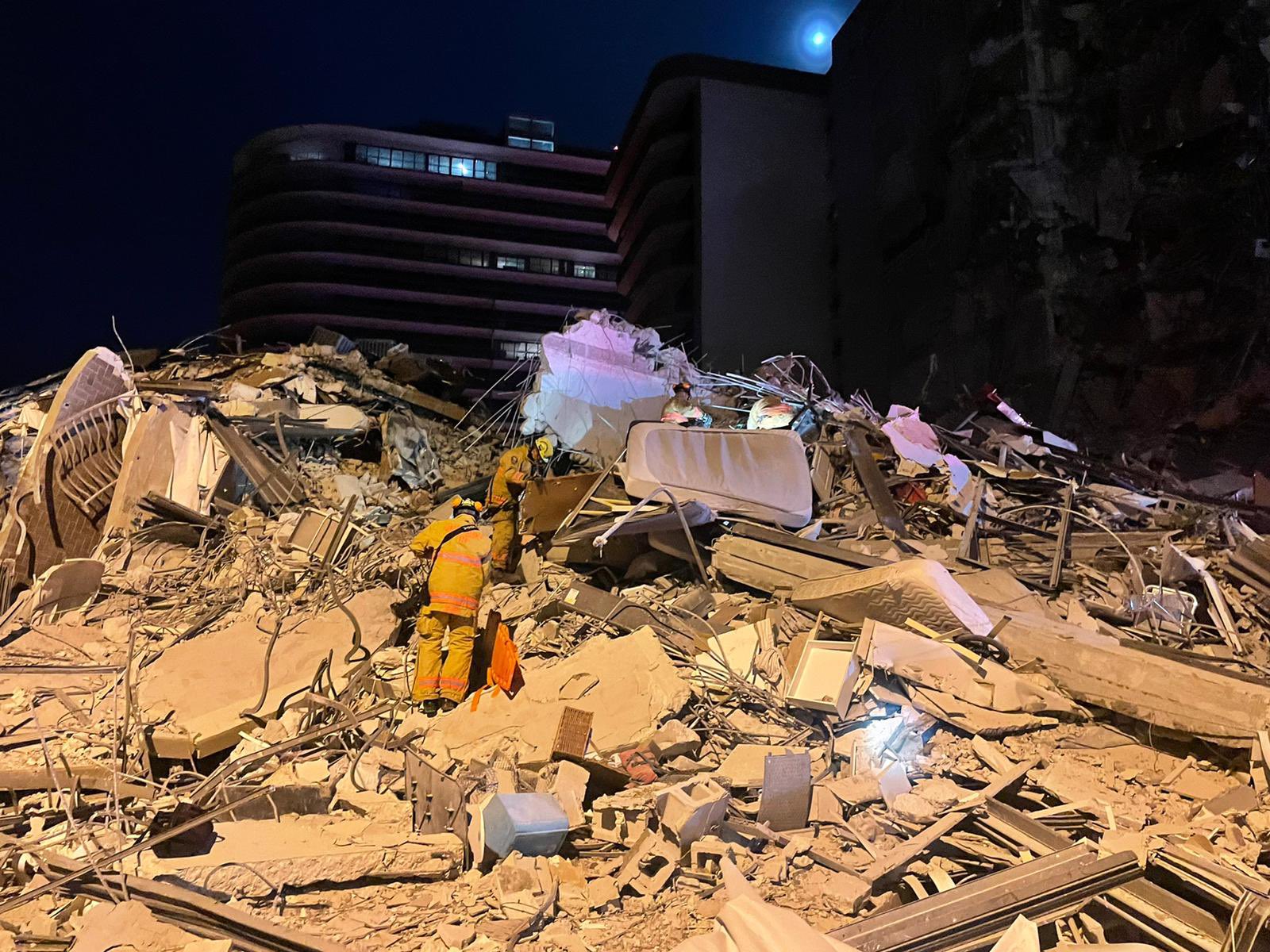 PUBLIC INFORMATION
Residents
"If you live at the Champlain Towers at 8777 Collins Avenue, Surfside, Florida please complete a Wellness Check Form as part of Miami-Dade County's efforts to ensure all tenants of the building are located: https://bit.ly/2TYsvUD " – MDPD
REUNIFICATION CENTER
Families are able to check-in to find out about loved ones unaccounted or missing by visiting the Family Reunification Center located at 9301 Collins Avenue or can call #305-614-1819.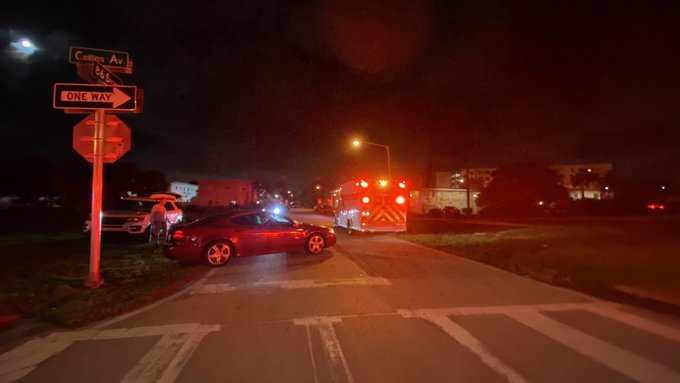 INCIDENT COOPERATORS — MDFR, MDPD, MD EOM, WC Kitchen
RESOURCES
Financial Assistance — miamidade.gov/emergency
ABOUT STRUCTURE
The Champlain Towers were built in 1981 and have 136-units with a penthouse at the top of the building (per Zillow). Residents enjoy ocean views, located right on the sand, enjoy the beach scene and spectacular scenery from your balcony or step right onto the beach.
The building is said to have gone through many major renovations and said to be the most elegant building in Surfside. The Community offers beach and tennis center, fitness center, rec room, valet parking, 24 hours security and hurricane shutters.
Some of these units are said to be valued at $700k – $2.5 Million or more and with a few being rented out from $2,000 to over $7,000 per month.
The HOA says this building is steps away from the Atlantic Ocean and is nearby nightlife.
SOCIAL MEDIA
@MiamiDadePD
@MiamiDadeFire
#SurfsideBuildingCollapse
(c) 2021 NW Fire Blog – Updated 0025 PT 6/25/2021