SPOKANE COUNTY, WASHINGTON | JULY 5, 2021 | 2045 HOURS PT
Spokane County has several wildfires burning in it's county that all seemed to have resources and assets dispatched to them hours apart. We are including a single post due to so many, we just did not want to set your Social Media ablaze!
__________________________ SPECIAL ALERT: LARGE COUNTY FIRE BURNING _____________________________________________
1116 PT — ANDRUS FIRE — 12900 block of South Andrus Road, near Cheney. Local County resources VA9 and V21 were dispatched at 1111 hours, while the rest were deployed at 1116 hours PT which include: AR 62 AR 7404 AR 7411 AR 7412 BC 51 DNR 33 E Zone 10 FB 201 FB 202 FB 206 FB 207 FP 10 Fuels 1 HI 40+Crew HT 286 LOA 15 NE 10 arrived on-scene at 1200 hours.
300 acres of grass, shrub, timber and understory destroyed. Firefighters are making great progress. Closures and Evacuations are still in effect.
Level 3 evacuations in effect for about 50 homes.
> Andrus

> Spotted West to Soda

> Melville Road

> Chalet Drive

> Mount Carmel north to Thomas Mallen

GO NOW!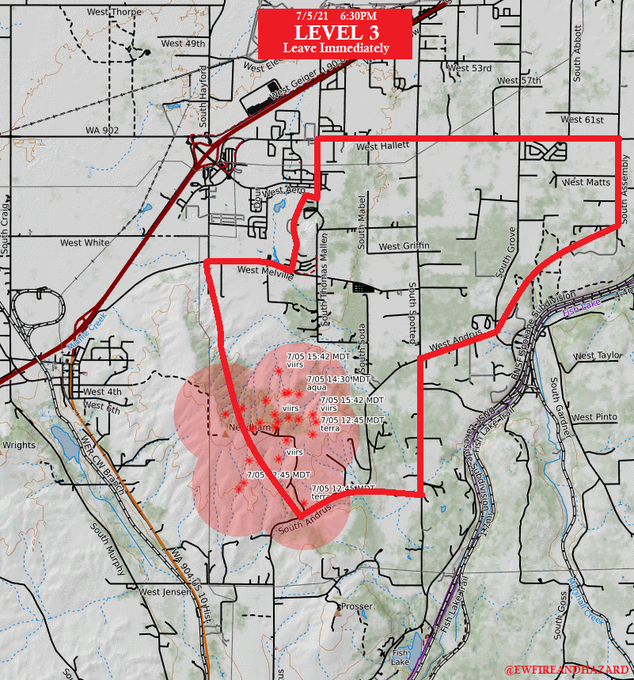 Red Cross Shelter: Medical Lake HS Cafeteria. 200 E Barker, Medical Lake, Washington.
Livestock Shelter: Spokane County Fairgrounds.
Aircraft resources include; 5 fire bosses, 2 scooper planes and multiple helicopters.
Incident Cooperators: Spokane County Emergency Management, WSP, Spokane Regional Emergency Communications, Spokane County Fire District 8
____________________________________________________________________________________________________________________________
#AndrusFire #WAwildfires #WAFireSeason2021
(c) 2021 NW Fire Blog