UPDATE 1 | SUNDAY | AUGUST 22, 2021
Another potentially large wildfire is burning about 16 miles northeast of Plymouth (El Dorado County) east of the Omo Ranch and south of the community of Grizzly, California.
It is burning land owned by the USFS in the El Dorado National Forest, which management of the fire is currently under Unified Command with the CAL FIRE Amador-El Dorado Unit's Team 6, a Type 1 IMT and the El Dorado National Forest.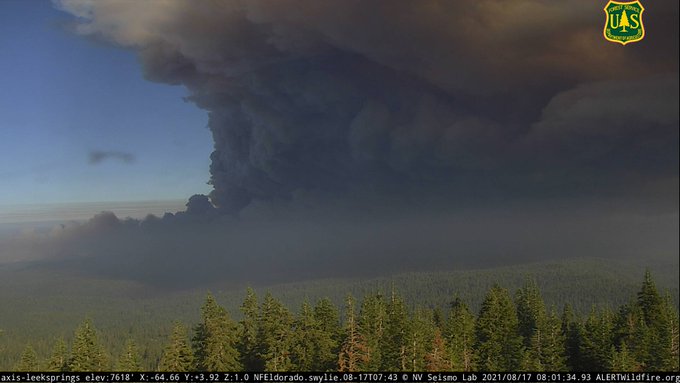 The cause is unknown and under investigation.
Fire behavior is very active with long-range spotting, torching and crowning. Several communities, structures and infrastructure are under direct threat prompting evacuation mandatory and other types of orders. Evacuation information can be located on the CAL FIRE incidents page here — https://www.fire.ca.gov/incidents/2021/8/14/caldor-fire/
This wildfire which started on August 14, 2021, has now burned through 104,309 acres in about eight days. Fire personnel have reached a 5% containment status.
About 22 structures have been damaged and 475 structures destroyed.
Currently, there are 1,618 total personnel along with 20 copters, 207 engines, 22 dozers, 15 water tenders and 32 crews assigned to this massive and destructive firestorm.
Through the Eyes of Social Media
"What they are saying on the fire ground."
August 16, 2021 | Monday
"Fire can be seen from Fair Play, about three miles west of the fire ground." – Resident
August 17, 2021 | Tuesday
"Caldor Fire grows to more than 98,000 acres and the U.S. see 94 active large wildfires nationally." – Media
"The (Fire) exploded overnight and is still uncontained. I have never seen anything like it before." – Actor
"Fire can be seen from Pollock Pines." – News Media
"Smoke can be seen on the Lake Tahoe cam. It looks apocalyptic." – Resident
"Media shouldn't be out here without a chainsaw and a fire shelter w training on how to use it." – Great advice from a well-seasoned photojournalist covering wildfires.
"Near Grizzly Flats in the Sierra foothills." – Weatherman
"Fire can be seen from the Sky Park Rec area." – News media
"This is terrible. Everyone needs to take this seriously. This is a major major life threat." – Media
"It's a scary scene here in Apple Hill." – Resident
August 18, 2021 | Wednesday
"Beautiful clear skies in Lake Tahoe yesterday, while about 40 miles southwest of Tahoe, the Caldor Fire rages at 54,000 acres and a zero containment status. This new normal really sucks." – News Media
"The Caldor Fire is in the Sierra Nevada, halfway between Sacramento and Lake Tahoe." – Media
August 21, 2021 | Saturday
"Fire resources move into structure protection mode to protect a 76-Gas Station, west of Kyburz as the fire is approaching the highway." – Media
"Fire can be seen east of Kyburz view on the north side of Hwy 50. Spectacular." – Media
August 22, 2021 | Sunday
"It's another day of thick, unhealthy smoke over Lake Tahoe." – Weatherman