UPDATE 3 – 12/12/2021 2200 PT -SUNDAY
INCIDENT SUMMARY – A high number of tornadoes ripped through U.S. States AR, IL, KY, MO, TN and IL. The City of Mayfield in KY was the hardest hit. Due to the sheer volume of damage in all six states, we are reporting by each State as time allows.
STATEWIDE
Animals – Support The Kentucky Humane Society here –> https://www.humanesociety.org/animal-rescue-team or to the Mayfield-Graves County Animal Shelter. Website –> https://www.mayfieldshelter.com/?fbclid=IwAR23FgITdqZCknm42w5ET6bNZTF4Q2nmy2gL-W4A6TavpBj2IZS7iu2scUg or call #270-251-0130. They are both in desperate need of many items. Please visit their websites.
Damage Surveys – How are those damage surveys conducted? "This tornado event has been particularly difficult to survey due to communication outages. Additionally, we do not want to interfere with active search and rescue operations. Please bear with us over the next few days." – NWS
Donations to help Victims – A list of helping others and ways you can make a difference upon a LIfe or community. https://wfpl.org/heres-how-you-can-help-tornado-victims/ (Source: 89.3 WFPL)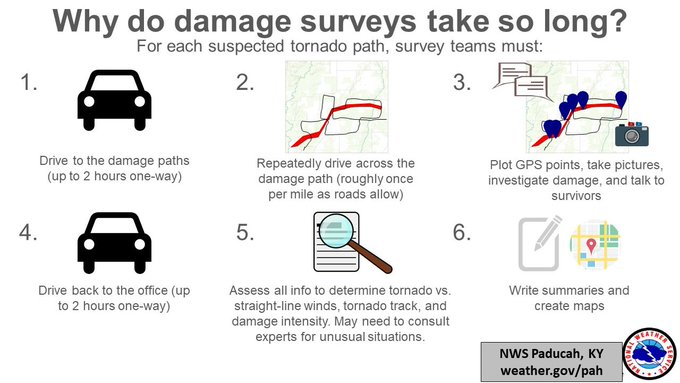 Emergency Housing – Housing links. Please visit for housing options and resources. https://www.hud.gov/states/Kentucky/library/disasterrelief (Source: US Dept. of HUD)
Humanitarian Efforts – World Central Kitchen is helping provide meals and identifying food needs with the assistance of local partners, such as LEE Initiative, Ramiro's, Biscuit Love, and Big Al's Deli. They will be on the scene in the days and weeks to come. (Source: Jose' Andres)
Infrastructure (Utilities) – Utilities are working to restore power and repair damaged equipment in counties impacted by the tornadoes. Here is a graphic to learn more about the restoration process. (Source: KYEM)
KY State Update (video) – TeamWKYReliefFund.ky.gov
KY Lt. Gov. Jacqueline Coleman – The destruction seen across Western Kentucky is unimaginable, but the strength and compassion of our people outweigh any challenge we face. I saw that first-hand today in Muhlenberg. We are Team Kentucky and we will get through this together. (Source: Lt Gov. Office)
KY National Guard – Both the Air and Army National Guard have been deployed. KY Guard states: "Our Soldiers with the CERFP and the 223rd MP's finished up another long day here in Mayfield assisting in search and rescue and traffic control. We're refueling for another long day tomorrow!"(Source: KY Guard)
Price Gouging –  In response to the tornadoes and severe weather in Western and Central Kentucky, Attorney General Daniel Cameron today activated the price gouging hotline.  Kentuckians can report price gouging by calling 888-432-9257 or by visiting ag.ky.gov/pricegouging.  Due to service issues from the storms, if Kentuckians have trouble connecting to the hotline, they can also report price gouging by calling 502-696-5300. (KY Government)
BENTON COUNTY
FEMA – Earlier this morning, FEMA was briefed on the SAR efforts as well as clearing debris status. (Source: FEMA)
GRAVES COUNTY
MAYFIELD
Federal Officials – Federal Officials from FEMA, HLS and KY EMA survey the damage in Mayfield. (Photo Credit/Source: HLS)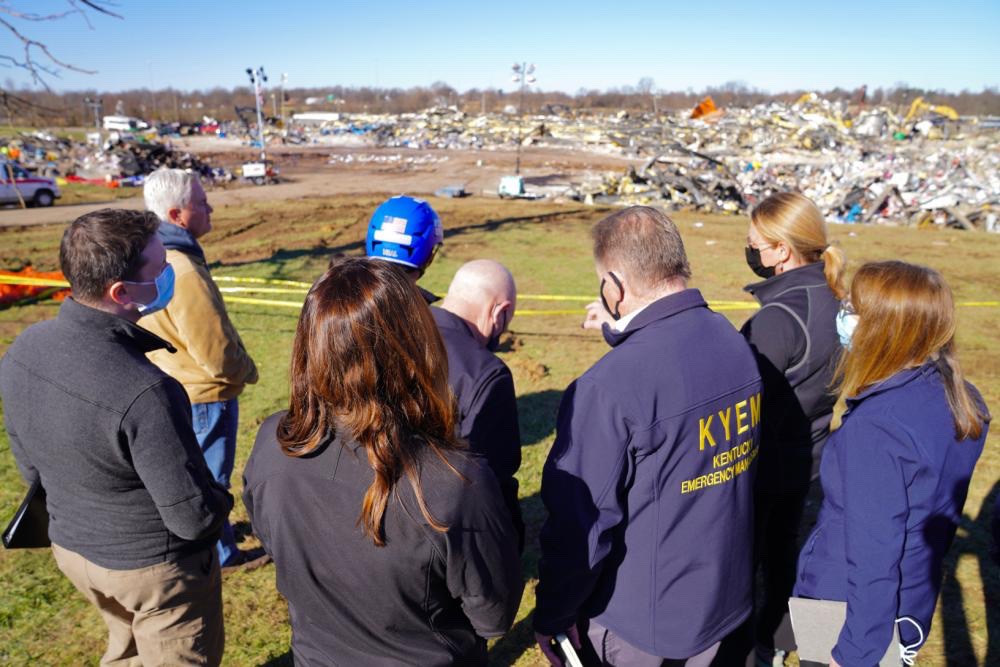 Candle Factory SAR Operations – Indiana USAR TF1 – conducting SAR operations this morning at the Mayfield Consumer Products Candle Factory in Mayfield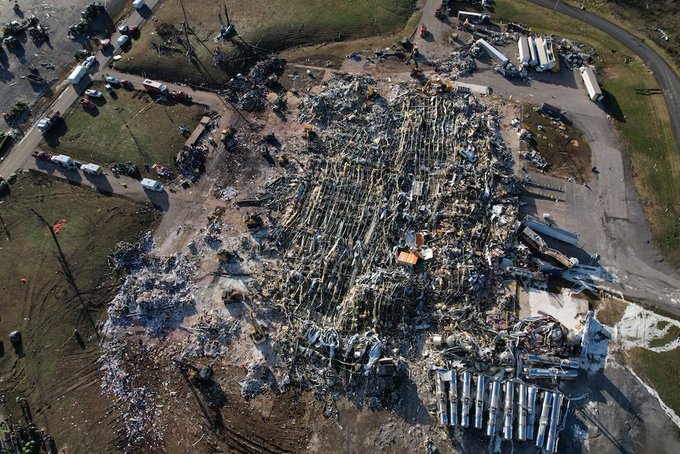 WARREN COUNTY
TRANSPORTATION
Road Closures – https://www.facebook.com/kytcdistrict3/posts/232749492331911?notif_id=1639358314389270&notif_t=feedback_reaction_generic&ref=notif (Source: KYTC District 3; 1914 CST)
INFRASTRUCTURE
Utilities (Power) – As of 1915 CST, there were only 2,831 customers without power. Tri-County Electric is working to restore additional homes.
Utility Payments – Warren RECC's internet is currently down. We are unable to process any credit card payments (online, phone, SmartHub app). We apologize for the inconvenience. (Source: Warren RECC: 1655 CST)
BOWLING GREEN
Internet Service – Fiber Customers: We don't anticipate that internet or phone services will be back up until Tues. pm. We are working hard to rebuild infrastructure. Thank you for your patience. We will continue to update as we know more. (Source: BG Municipal; 1824 CST)
Sheriff's Office, Justice Center – The Warren County Sheriff's Office (429 East 10th Street) and the Warren County Justice Center (1001 Center Street) will be operating during normal business hours this week. Unless we are notified otherwise, all court proceedings will take place as scheduled. (Warren Co. SO)
Blood Drive – Two locations for blood donations tomorrow! Donors are highly encouraged to schedule an appointment at http://bloodassurance.org/schedule
Monthly USDA Commodity Food Distribution – We have extended the time of our Warren County Distribution, 12/13/21, so that we can help those that have suffered from the recent storms. Please share!
12/13/2021. 0900-1200 CST. Ephram White Park, 885 Mt. Olivet Rd., Bowling Green, KY 42101.
INCIDENT COOPERATORS, OPERATIONS
Governor Andy Beshear – Federal Assistance Approved. "We've just received some good news, Kentucky. @POTUS has approved an emergency declaration for the commonwealth, ordering federal assistance to help with local response efforts. Thank you @POTUS Biden for your commitment to helping our people recover." – Gov. Beshear.
FEMA – FEMA Administrator Deanne Criswell, "Earlier today getting briefed on ongoing SAR efforts on the ground here in Mayfield by the IN USAR TF1. Thank you to our first responders who are working diligently to save lives."
Homeland Security – Secretary of HLS Alejandro Mayorkas surveyed the damage around Kentucky.
National Weather Service Paducah, KY
Indiana USAR Task Force 1
Resources deployed – 8 INTF1 Civilian Specialist team members with (4) Sodrel drivers, (2) mechanics, (3) INTF1 SAR dogs, Jake, Eddie and Virgil who are highly trained and specialize in Live finds and human remains detection.
Sworn Fire personnel – Members with the TF1 are from various FDs that make up this team and other teams just like them. Here are the departments that make up this overall SAR team.
Kentucky State Police
(American) Kentucky Red Cross – Safe and Well (safeandwell.org) – Go to this site and choose "Kentucky Tornadoes, December 2021". Report that you are "safe and well" so your loved ones can find you. If you cannot connect, the Red Cross gives Tips for Finding People After Disasters.
HOW YOU CAN HELP THE TORNADO RELIEF RESPONSE, RECOVERY OPERATIONS
Team Western Kentucky Tornado Relief Fund – http://TeamWKYReliefFund.ky.gov – This is a single fund connected with the state that will help fund the ground efforts taking place right now and the relief efforts our families will need to rebuild. (Gov. Beshear)
Red Cross Blood Donation – https://www.redcrossblood.org/give.html/find-drive
(c) 2021 NW Fire Blog