Published 1/9/2022, Sunday, 1200 PT
NEW YORK — About 200 FDNY firefighters are still on scene of a 150 x 75 foot, privately owned 19-story apartment building where a 5-alarm fire broke out this morning before 0800 hours in the 300 block of East 181st Street in the Bronx.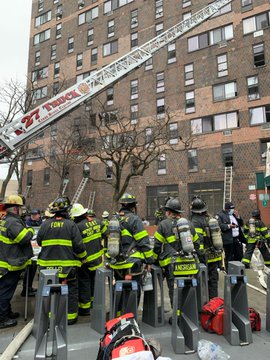 There are currently 31 serious injuries with a total of 59 civilian injuries, fire officials released on Sunday. Several were reported after they allegedly were jumping from the building, while many others were found by firefighters in cardiac arrest on every single floor.
An unknown number of residents were killed, but City leaders are expecting a high amount due to the horrific conditions in which victims were found.
The GNY Red Cross was helping large numbers of displaced residents.
The cause of the fire is unknown and is still under investigation.
Follow us for updates on this fire and other news stories.
(c) 2022 NW Fire Blog