Published Sunday, 1/10/2022, 1215 hours PT
NEW HAMPSHIRE — Keene Firefighters and mutual aid from around the area and some about 30 minutes away responded around 2200 hours ET (1900 PT) to a Saturday late-night fire of a two-story mixed-use brick commercial structure in the 100 block of Main Street in the downtown Keene business corridor.
Incident Cooperators: Keene FD, Keene PD, Westminister FD, Keene City Public Works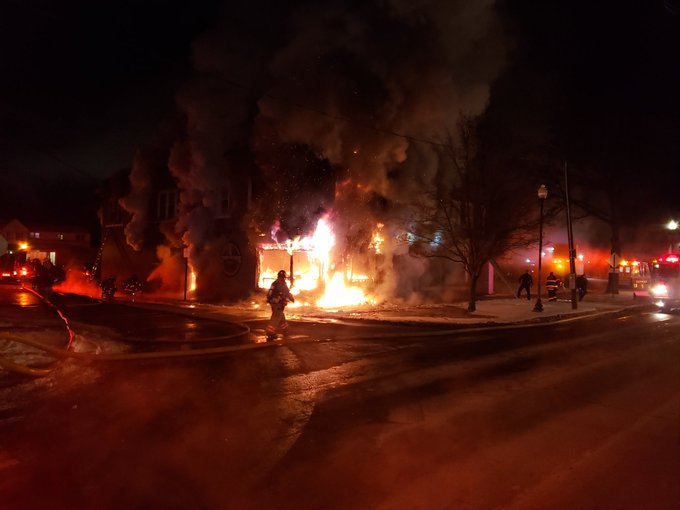 First due units reported heavy fire on all three sides of the commercial structure. According to fire scanner feed from other sources, rescues were conducted and a Mayday was transmitted just before 2329. Then all of the crews were told to abandon the building with the evacuation tones being sounded. Command cleared the Mayday and all crews were deemed to be safely out of the fire building at 2329.
A collapse zone was established on the bravo side (2339) and charlie side (2340).
During the firefight, fire crews rescued an adult female from the second floor, who was transported by EMS for smoke inhalation. Two firefighters were also transported for minor burns and have since been released from the hospital.
Multiple people were said to be displaced.
The building has three storefronts including the Cobblestone Ale House, Dominos Pizza, Piazza Ice Cream on floor one, and seven apartments on floor two.
The Keene Police Department closed off area roadways from Marlboro Street to Eagle Court (northbound) and Emerald Street to Winchester Street (southbound) until Sunday morning.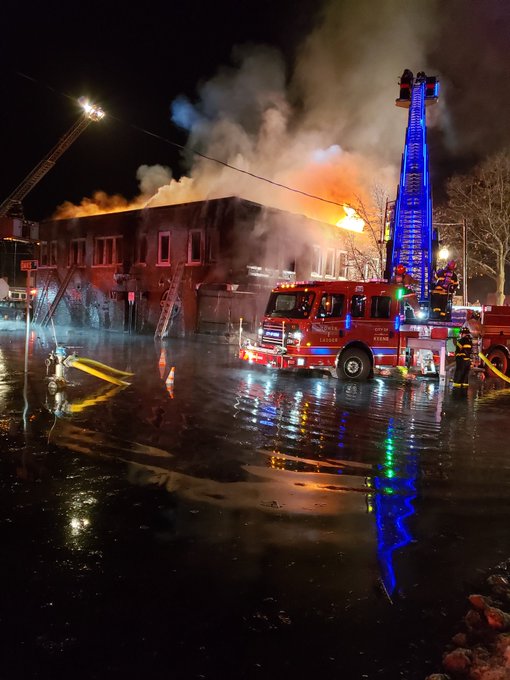 Photo Credits: Keene FD
It was reported estimated property and contents loss was around $1,000,000.
About the Keene Fire Department
The Keene Fire Department HQ is located at 31 Vernon Street. The Fire Department has two stations, which are mainly staffed by career firefighters. The Department has no volunteers but does have about 45 full-time and 20 part-time paid firefighters.
(c) 2022 NW Fire Blo