INCIDENT SUMMARY
On Saturday, September 12, 2015 around 1324 hours the Lake County Sheriff's Office Communications Center received the first report of a fire [now named the Valley Fire] in the area of Cobb Mountain. The fire is located off of High Valley Road and Bottle Rock Road in Southern Lake County, California.
This incident is being reported as a Disaster Event from many sources and being treated as such.
COMMAND
The Administrative Unit handling this fire incident is CAL FIRE Sonoma-Lake-Napa Unit
FIRE STATUS
The fire has burned 67,200 acres and is still threatening 9,000 structures. Approximately, 585 homes have been destroyed along with a confirmation of hundreds of "other" structures receiving the same fate.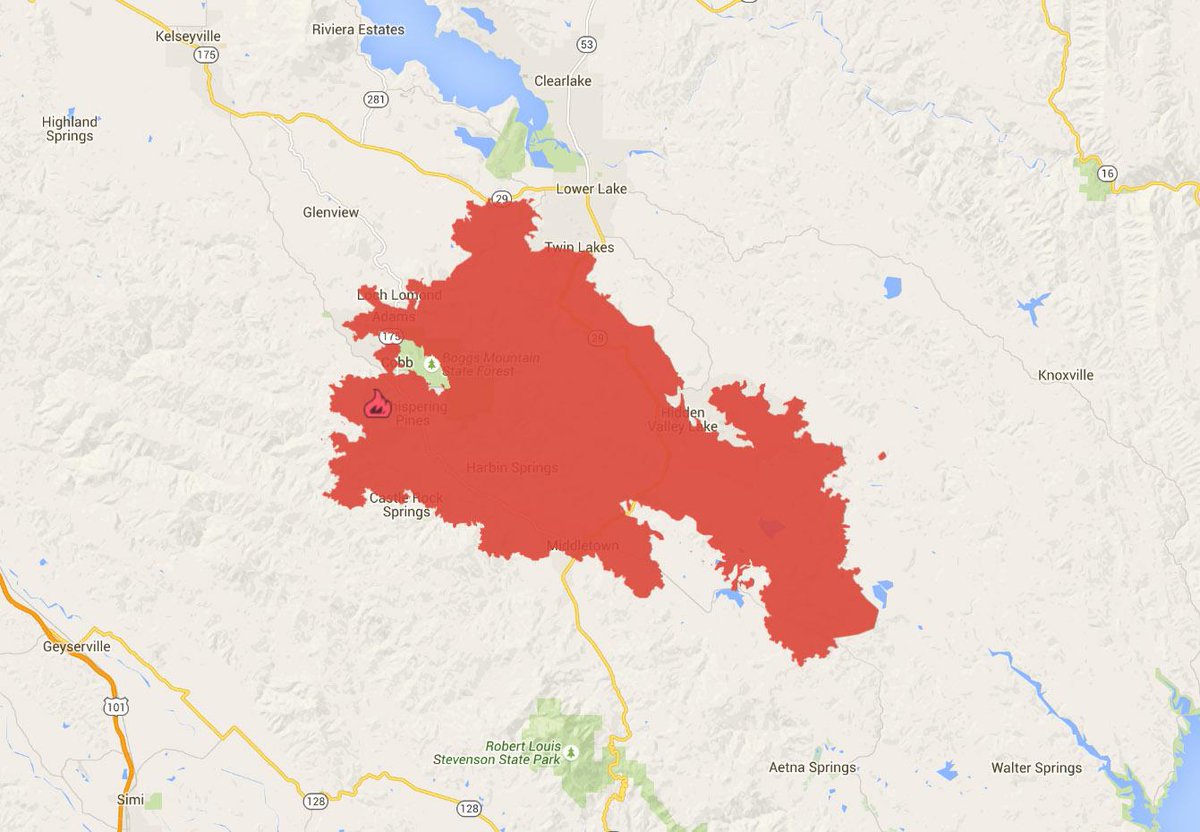 A containment of 30% has been reached.
Damage Assessment teams are still collecting information at this time, therefore there are not any preliminary numbers available.
RESOURCES
Personnel
There are approximately 2362 up from yesterday's 1795 fire personnel assigned to this event.
Equipment & Resources
The number of Engines have been steadily increasing from 125 on Sunday to Monday's count to 183, staffing up to Tuesday's apparatus of 258.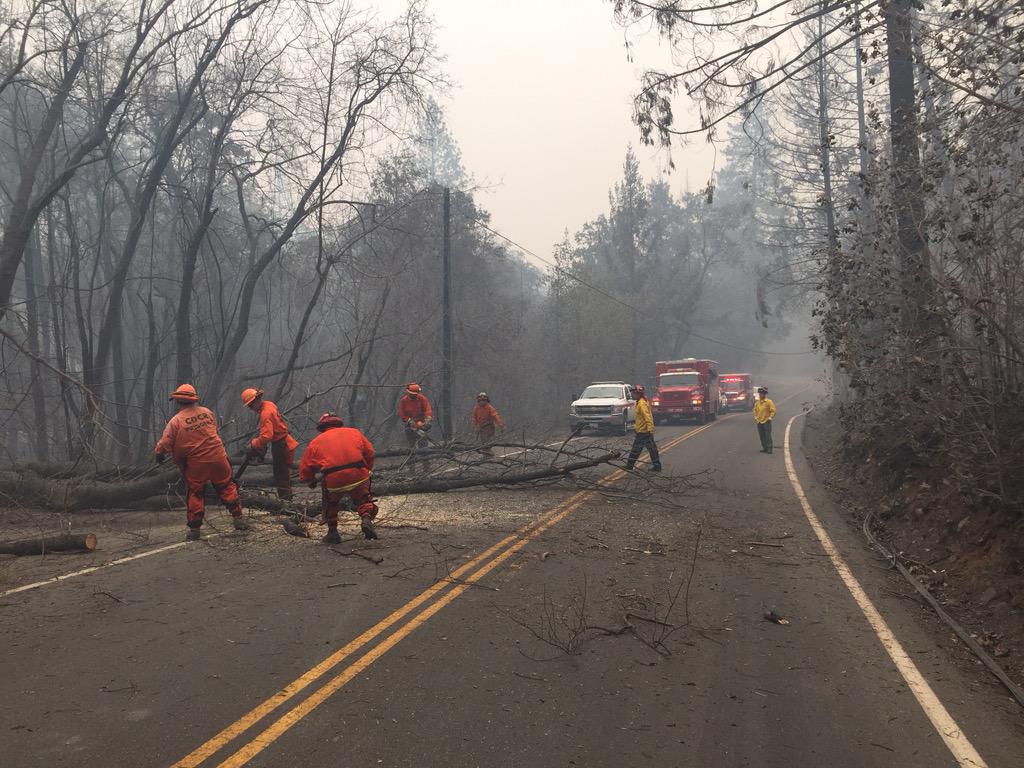 Fire Crew levels were at a staffing level of 30 on Sunday and slowly increased to 43 on Monday. Tuesday's number reached a high of 54.
Eight [8] helicopters were assigned to this fire, while there previously 7 on Monday.
Sunday resources included 16 Dozers and almost doubled on Monday with 28. Tuesday is showing slightly increasing to 31.
On Monday, the number of Water Tenders rose from 15 to 65 on Tuesday.  Wednesday is now showing it has slightly increased to 67.
Incident Cooperators
Mandatory Evacuations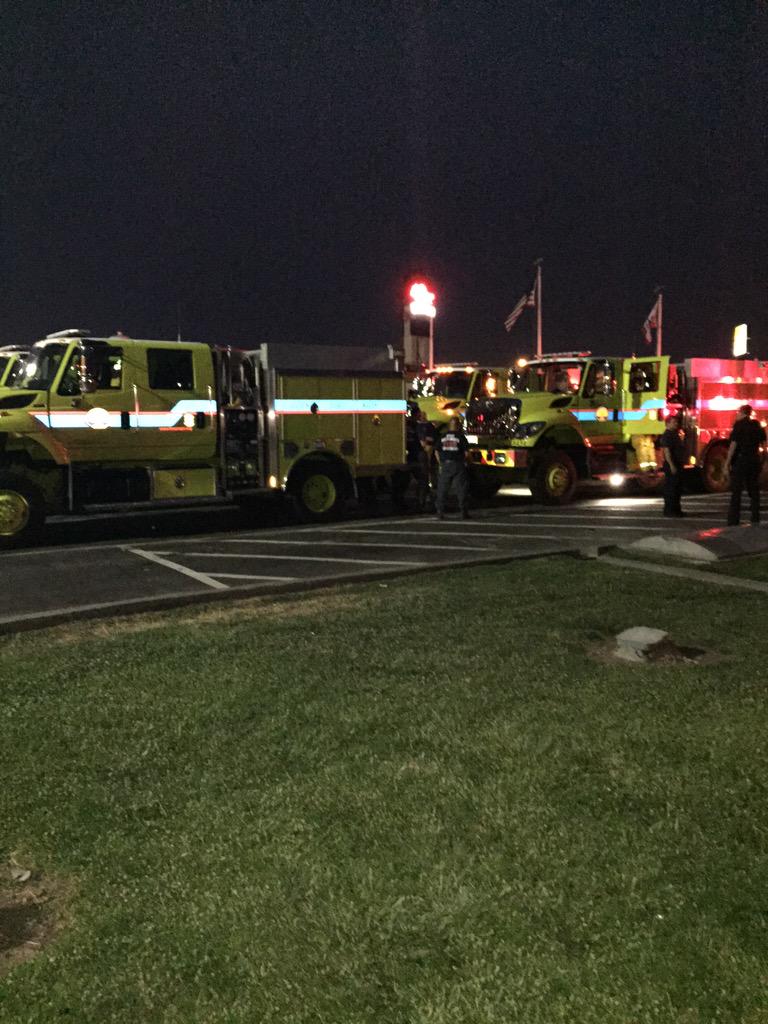 Hwy 29 x Hwy 53
South on Hwy 29 to Tubbs Lane in Napa County
All of Hwy 175 in the Cobb area
Point Lakeview to Soda Bay on Hwy 281
All of Bottle Rock and High Valley Roads.
Butts Canyon Road from Hwy 29 to Napa County line (including all of Berryessa Estates).
The communities of Twin Lakes, Hidden Valley Lake, Middletown, Aetna Springs, Seigler Canyon, Loch Lommond, and the Riviera Areas.
Advisory Evacuation
Napa County: Pope Valley and parts of Angwin.
SHELTERS
Red Cross 
Kelseyville High School 5480 Main Street in Kelseyville
Napa County Fair Grounds 1435 N Oak Street in Calistoga
Lake County
Highland Senior Center, 3245 Bowers Center in Clearlake
Big Valley Rancheria Gym, 1002 Osprey Court in Kelseyville
ROAD CLOSURES
Hwy 29 X Bottle Rock
Hwy 29 X Hwy 175 (Middletown & Kelseyville)
Butts Canyon Rd at Aetna Springs Rd
Hwy 29 X Red Hills Road, Hwy 29 x Hwy 53
Hwy 29 at Robert Louis Stevenson State Park
Soda Bay & Riviera West
Hwy 29 x Hwy 281
Hwy 29 x Live Oak
SIGNIFICANT EVENTS
4 Firefighters with burns
1 Citizen Fatality
585 homes destroyed
Hundreds of "other" structures destroyed
9,000 structures currently being threatened
DONATIONS
Small Animals Donations
Being accepted at Wasson Memorial Vet Clinic, 3083 Hwy 175, Lakeport, 707.263.5380. [9/15/15]
Large Animal Donations
Being accepted at Main Street Veterinary Clinic, 2530 S. Main Street, Lakeport, 707.263.6232.
Red Cross
Call 1-800-Red-Cross and say "California Wildfires." OR Text the word "REDCROSS" to 90999 to make a $10 donation.
Stockton Fairgrounds
Volunteers in Stockton are taking donations for fire victims in Lake, Amador and Calaveras counties at the San Joaquin County Fairgrounds. [http://www.capradio.org/articles/2015/09/15/donations-for-fire-victims-collected-at-stockton-fairgrounds/]
Supporting Burn Centers
UC Davis Health System/Burn Unit
https://secure.ucdmc.ucdavis.edu/giving/donations/online.
Firefighters Burn Institute
https://www.networkforgood.org/donation/ExpressDonation.aspx?ORGID2=237364927&vlrStratCode=gT0ehrnKCCqY%2bfLVxVPdEsP%2fT1y8bzi%2f3hh15EhJXOnUnDSeXnyVJLb4lqDNjmAs
Lake County's State Senator Mike McGuire has launched a donation drive to help those affected by Valley Fire.
A check may be dropped off to the Lake County Fire Victim Donation Drive Up between 5 p.m. to 6:30 p.m. at the Rattigan State Building, 50 D Street in Santa Rosa. Contact: Karlene Rebich  Karlene.Rebich@sen.ca.gov or (707) 576-2771
The Redwood Credit Union is also collecting funds. Checks can be made payable to Redwood Credit Union and sent to RCU Lake County Fire Relief, c/o Redwood Credit Union, P.O. Box 6104, Santa Rosa, CA 95406.
EDITOR'S NOTE:
We Offer our sincere apologies, thoughts and prayers that you all are going through this.  We don't know why this is happening to you but be reassured we are here for you.  If you are a First Responder and feel overwhelmed, there is 24 hour/365 day support through many organizations.
We recommend @safecallnow.org.  They are a national non-profit organization and understand your pain and what you have seen.  We ask that you seek help, if not for yourself but for your fellow First Responder[s]. Together, we are one big Family that looks out for each other, night or day, 24/7 365 days a year.
For those who are non-responders and may need to talk to someone, reach out to those at the Shelters, churches, to your friends or to a Professional.  We can reassure you, that many care about you and your family and this is something that is affecting those directly and indirectly.  We want to let you know we are here to support you and provide you with any resources or pointing in the right direction to seek assistance.
You all mean a lot to us and we again are so sorry for what you are going through.
If you wish to share your story, you may drop us line at nwfireblog@comcast.net. NOTE: We are not mainstream media and this would be an informal phone call or email – whichever is easiest for you.  Thank you and God Bless.
– Lisa Swenson
"FOLLOW US ON SOCIAL MEDIA!"
Facebook
Twitter [@nwfireblog]
Become a Blog Follower here
Check out our sister Facebook Page, "Stop the Violence Against Firefighters, EMS and First Responders"
[c] 2015 The NW Fire Blog