Please SHARE with your Friends, Family, Co-workers, Public Safety Members and on Your Social Media Channels to help bring this Child back to his parents and community.
SEARCHING FOR DAVID PUCKETT
SUMMARY
At -Risk (due to his age) David Puckett, 6, was last seen at his home in Aurora, Colorado last night around 1745 Hours MST (New Year's Eve) and has not been located as of yet.
Criteria used to activate an Amber Alert has been deemed this case simply does not qualify it as one, deemed by the Colorado Bureau of Investigation. (CBI). It appears that he just simply wandered off from his home.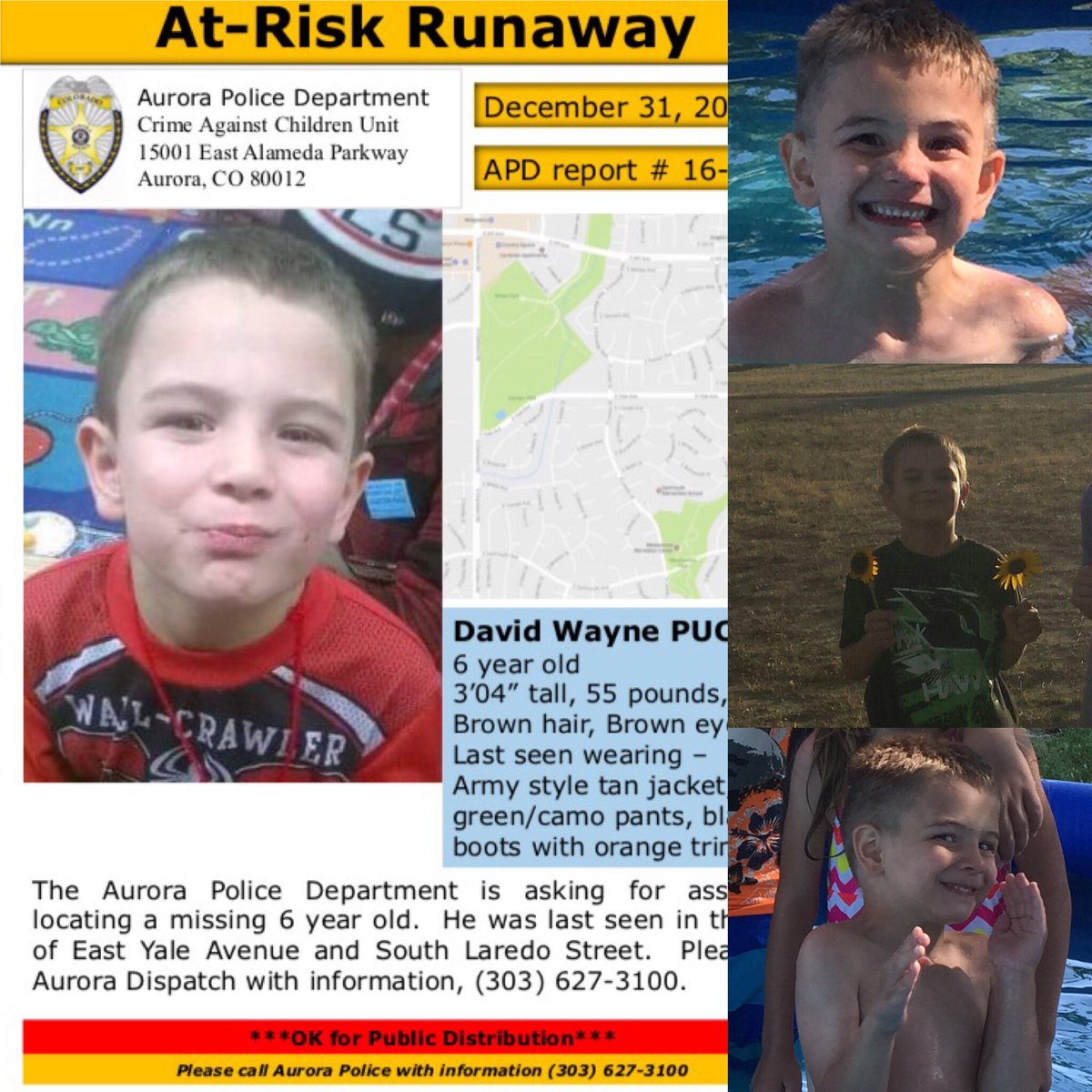 DESCRIPTION
David Puckett, 6, is described as a white male as 3'2″, 55#, brown hair and brown eyes.  He was said to be wearing green camo pants, black t-shirt,  orange trim on his black boots and a light Girl's tan army style jacket.
He is a student at Dartmouth Elementary School.
RESOURCES
On December 31st when David was reported missing, a huge presence of Law Enforcement Officers, personnel and volunteers came out in full force representing such units as Major Crimes, Citizens Missing/Abducted Response Team (CMART), Arapahoe County Deputies, Jefferson County K9 Team (1 Bloodhound) and over 400 volunteers from the Aurora Citizens Police Alumni Association and Aurora PD patrols.  Dallas PD's Air One with a mounted FLIR also assisted from the air.
Resources searched well into the night but still were unable to locate the missing child.
On New Year's Day, David still had not been found, resources from APD (Aurora)'s ERT, SRT, Crimes Against Children Unit, FBI have all been involved in this case.
BEHAVIOR PATTERNS
David Pucket is considered as an At Risk child (due to his young age) who has gone missing (wandered off) two times before but was returned with the assistance of a concerned citizen or has gone inside a store for help.
POLICE RESPONSE
Police have sent out three (3) reverse 9-1-1 calls that have expanded to a 2.5 mile radius reaching 27,000 residents within Aurora, Colorado. Police are also providing updates through their Social Media Channels, such as Facebook and Twitter.
They are asking all of us to help them get the word out there by RT broadcasts, etc.
PRESSER
The next presser will be at 0800 MST on Monday, January 2nd or if they find David, whichever occurs first.
REWARD
A $5,000 reward is being offered by the Metro Denver Crimestoppers for any Tips or the location of David Puckett.  You can call them or the Aurora Police Department at 720-913-STOP (7867).
TIP LINES
To relieve pressure from the 9-1-1 Communications Center, three (3) Tip Lines have been set-up @ 303-739-1870, 303-739-1865, 303-739-1868.  Those who wish to remain unanonymous can still report any information to Law Enforcement to collect the Reward.
SOCIAL MEDIA 
We are using the hashtag established for this missing child's case as #FindingDavid. Please follow us on our Social Media channels (Twitter, FB) for more updates.
ABOUT AURORA, COLORADO
The City of Aurora is the 3rd largest city in the State that boasts a population of 353,108 (2014 census) residents.  It is 100% urban and 0% rural.  It is proud of its award-winning Public Safety partners.
The Aurora Police Department currently has 682 Officers with 141 Civilians.
The Aurora Fire and Rescue has 346+ (2014 census) personnel working in various disciplines. It responded to 54,000 calls in 2015.  They are a Department that staffs all fire apparatus with 4 personnel.  There are 15 Fire Stations in the City.
(c) 2017 The #NWFireBlog – Updated 2315 Hours PST / 0015 Hours MST