SEATTLE, Wa.  |  A crane on the top of a building toppled on to several cars below in the area of Fairview Avenue North and Mercer Street on  Saturday afternoon, April 27, 2019.
INCIDENT SUMMARY
Seattle Fire and Police were dispatched to the area as a Mass Casualty Incident or MCI as it is more commonly called.  Seattle Fire's CAD system showed the incident as a heavy rescue – major.
'"The incident at Fairview Ave N and involved a crane that fell into traffic. 5 cars were crushed. There are a total of 4 fatalities, and 3 injured patients that have been transferred to the hospital."
– Seattle Fire Department PIO
RESOURCES
Fire Units
At 1527 hours or 3:27 pm, West Coast time, Seattle Fire resources included:
Air Units 10 and 240-260.
Battalions 2, 5, 4 and 6.
Deputy 1, Safety 2, Staff 10, PIO and Chaplain 7. MCI 1.
Aid Units 2, 5, 14 and 25.  Medics 1, 10, 17, 18 and 44 (Supervisor).
Engines 2, 5, 8, 9,  17,  20, 21, 22, 25 and 34.
Ladders 1, 4,  6, 9 and 10.
Heavy Rescue 1.
Majority of fire resources were starting to go back into service around 1700 hours PDT, while others were still assigned to the MCI Incident.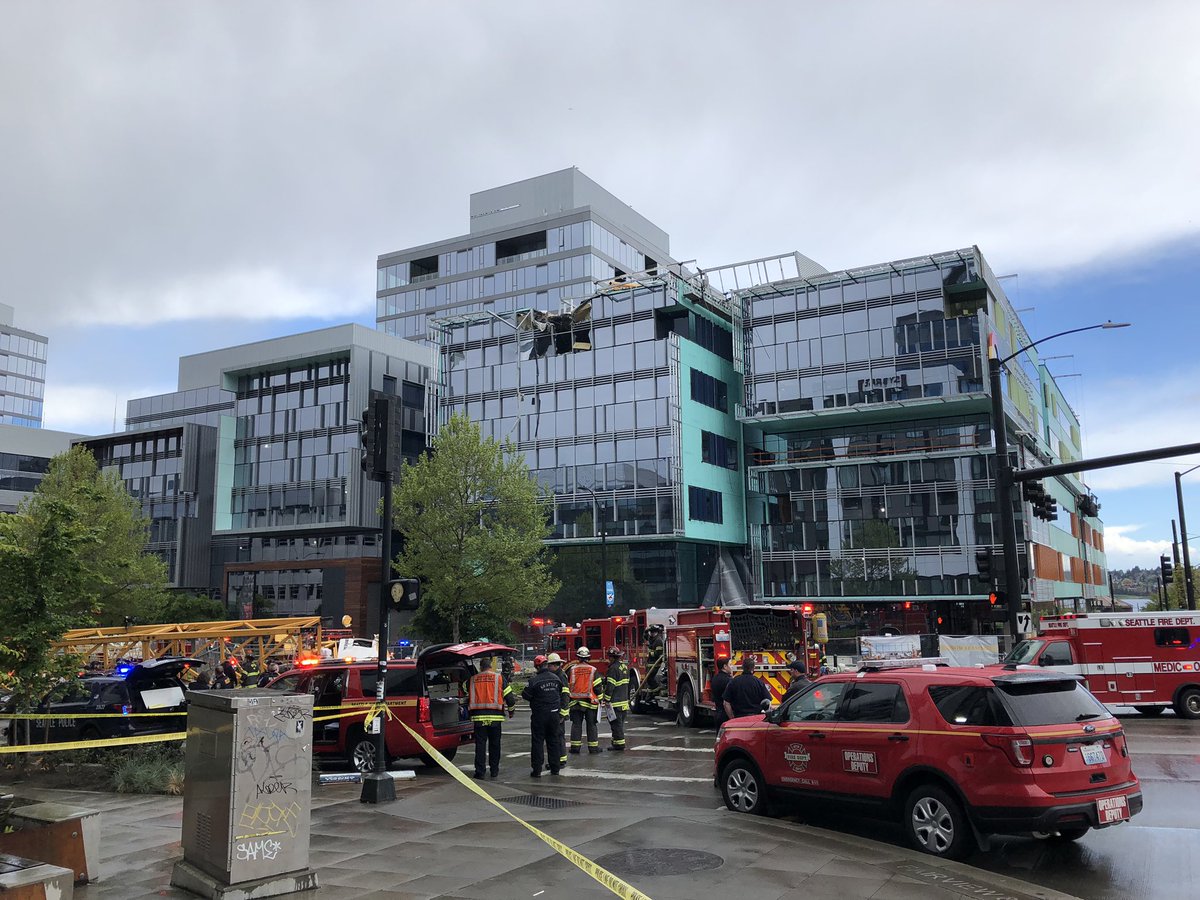 Seattle Police
WSDOT 
Several Incident Response Team personnel were dispatched to shutdown the Mercer Street on/off ramp off of I-5.  (WSDOT)
TRAFFIC ALERTS
Mercer Street
All WB and EB lanes closed at Mercer St at Fairview Ave. Fallen crane on west side of Fairview Ave N and Mercer St intersection. (SDOT 1533 PDT, Alert expected to expire 2359 PDT)
Please avoid travelling near Fairview Avenue and Mercer Street. Roads are closed while emergency personnel respond to a fallen construction crane. Expect and plan for traffic impacts in the surrounding areas. PIO Michaud en route to the scene. (Seattle Police)
SR99
NB | On the SR 99 northbound off-ramp to Mercer St (MP 33) there is a disabled vehicle partially blocking the ramp. (WSDOT 1635 hours PDT)
I-5 
SB | On I-5 southbound at Anderson Rd (MP 225) there is a collision blocking the right lane. The Incident Response Team and the State Patrol have arrived on the scene. (WSDOT 1619 PDT)
NB | Update 4:09 PM : On the I-5 northbound off-ramp to Mercer St (MP 166) there is an incident blocking the ramp and the left general purpose lane. Medical Aid, Fire Assistance, the Incident Response Team, and Seattle Police have arrived on the scene.  (WSDOT 1610 PDT)
SIGNIFICANT EVENTS
Construction crane toppled from top of multi-story building.
Crane fell atop of multiple number of cars, killing several people.
Heavy equipment was seen laying across several lanes of traffic.
All lanes blocked.
4 people killed, 3 others injured.
CAUSE
The cause of today's accident is unknown but we will update as soon as investigators determine it.
SOCIAL MEDIA
Thank you for reading this post and following our Blog.  We wish all of you safety wherever you are, day or night, always.
You can follow us here on our "Official" Blog, on Twitter (@nwfireblog) and on our Instagram account.
(c) 2019 NW FIRE BLOG – Updated 4/27/2019 @ 1715 Hours PDT