This is a quick early AM Update on Wednesday happening all around California from overflowing spillways to severely damaged roadways to water rescues.
Hwy 267 – Brockway Summit
I-80 Near Summit
Closed: I-80 closed due to blizzard conditions over summit. Caltrans crews trying to clear snow. E/B drivers stuck in Colfax. (Media)
Closed:  Vehicle traffic released on EB I-80 & Hwy 20. Trucks being turned at Applegate. Chain controls remain in effect. Take it slow! (CAL Trans District #3 @ 2230 PST)
Alameda County
 Flash Flood Warning issued for Niles Canyon area near Alameda Creek. (Fremont PD)
Morrison Canyon will remain closed due to mud and land slides until early March. Please do not drive up the road. (City of Fremont)
Bay Area
Closed.  Highway 101 being closed in both directions in #sanjose from 880 to 680/280 due to flooding. Reopening ETA unknown. (Media @ 1150 PST on 2/21/2017)
Bridal Veil Falls (near)
TRAFFIC ALERT:  Roadway REOPEN after repairs completed. (Media)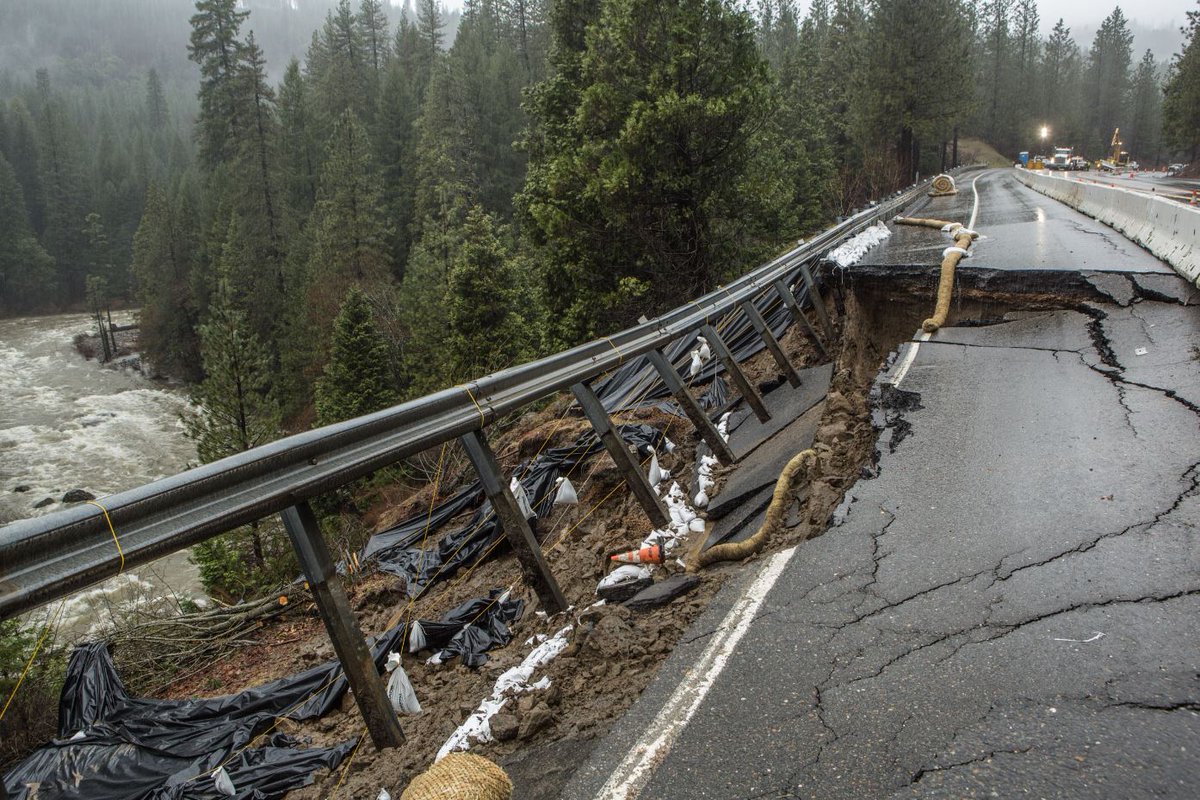 CHILI BAR
Closed.  Hwy 193 is closed in the ChiliBar area from Rock Creek Rd to Hwy 193/49 Junction due to multiple unsafe mudslides. Detour available ,No ETA. (CAL Trans District #3 @ 2230 2/21/2017)
SAN JOSE
Mandatory Evacuations:

 T

he area in San Jose subject to Mandatory Evacuation due to flooding along Coyote Creek has expanded. The area is along Coyote Creek, in the Coyote Creek 100 year flood zone plus approximately 250 feet, running from north of 280 to south of 101.

  

(SanJose.gov) 

Coyote Creek:  A San Jose house submerged in water! Several more homes on S. 17 St in trouble with lower level flooding bc of overflowing coyote creek. (Media @ 1140 PST 2/21/2017)
Preparedness Resources for Evacuees
Evacuation Shelters – Red Cross Shelters
Mayfair Community Center located at 2039 Kammerer Ave
Shirakawa Community Center at 2072 Lucretia Ave
 James Lick High School – 57 N. White Rd 95127
Evergreen Valley High School, 3300 Quimby Rd in response to the Coyote Creek flooding.
Homeless Encampments
The San José Housing Department conducted extensive outreach to alert people living outdoors along Coyote Creek about dangers associated with camping by the creek. The City has opened its four winter overnight warming centers as it regularly does during periods of cold and wet weather.
Tully Community Library – 880 Tully Road
Bascom Community Center – 1000 S. Bascom Avenue
Biblioteca Lationamericana – 921 S. 1st Street (ADA Accessible)
Washington United Youth Center – 921B S. 1st Street (Designated for Families)
Downed Trees
To report downed trees and flooding, call (408) 794-1900 (24/7 number). If a tree is in the roadway, please call 911 to make the report immediately. To reach PG&E to report lines down and obtain updates on power outages in your area, please call 800-743-5000.?
Road Closures
Quinn Ave – Senter Rd to Will Wool Dr
Rock Springs Dr – Nordale Ave to southend of Rock Springs Dr
 Wool Will Dr – Wool Creek Dr to Quinn Av
Will Creek Dr – Senter Rd to Eastend
Welch Ave – Nordale Ave to Needles Dr
Needles Dr – Senter Rd to Rock Springs Dr
Nordale Ave – Senter Rd to Rock Springs Dr
Bevin Brook Dr – Senter Rd to eastend of Bevin Brook Dr
Phelan Ave – East of Senter Rd to Bevin Brook Dr
Berryessa Rd – Sierra Rd to Commercial St.
Keyes St – Senter Rd to Roberts Ave
 Tully Rd – Lucretia Ave to Senter Rd
Williams St at 16th St
Senter Rd – Tully Rd to Story Rd
Rock Springs Rd – Phelan Ave to Needles Dr
Bailey Ave – IBM Eastbound to Santa Teresa Blvd
Santa Teresa Blvd Southbound – Bayliss Dr to Bailey
Coyote Ranch Rd – Monterey Rd to Coyote Creek
Open one lane: Foxworthy Avenue – from Rubino Dr to Hillsdale Ave
Open one lane: Berryess Rd Westbound – Sierra to Commercial
Sandbag Locations
 San Jose Happy Hollow Park , 1300 Senter Road (this is ½ mile north of the Central Service Yard, which is no longer accessible because of road closures) .
  Mabury Service Yard, 1404 Mabury Road
Santa Clara Valley Water District Winfield Warehouse, Winfield Boulevard between Blossom Hill Road and Coleman Avenue
(More Preparedness Tips –> http://sanjoseca.gov/index.aspx?NID=4789)
Water Rescues
10th St. Rescue Group Supervisor requesting 2-3 more swift water teams. More victims trapped in houses. (2059 2/21/2017)
Flooding News
SOCIAL MEDIA
Near death experience:  Tree falls on Caltrans vehicle north of Nevada City; Caltrans worker escapes alive and starts directing traffic! (Media @ 1631 2/21/2017)
Road Closures:  Still no estimate for when Highway 37 will reopen. (Media @ 1932 PST on 2/212017) Note:  Pictures showing it appears more like a lake than a roadway.
Damaged Roadways:  Pfeiffer Canyon Bridge on Highway 1 in Big Sur beyond repair. (Media @ 1933 PST on 2/21/2017)
San Jose:  Flooding hits San Jose area as firefighters and rescue teams help residents affected by the rising waters. (Media @ 1340 PST on 2/21/2017)
San Jose Flooding:  Flooding forces hundreds from homes. (Media 0200 PST)
Twitter User:  California is drowning. 101 is closed, San Jose, Morgan hill, and gilroy are basically entirely flooded. santa cruz is falling apart. rip CA.
Twitter User:  Californians are facing severe storms, with over 200 San Jose residents taken to dry land amidst flooding.  (1644 PST on 2/21/2017)
(c) 2017 The #NWFireBlog – Revised 10/22/2017 1038 Hours PDT