Another day has come and so have more problems for California residents, visitors, businesses and the government alike.  Here are the latest disaster happenings in this State by location.
Hwy 267 – Brockway Summit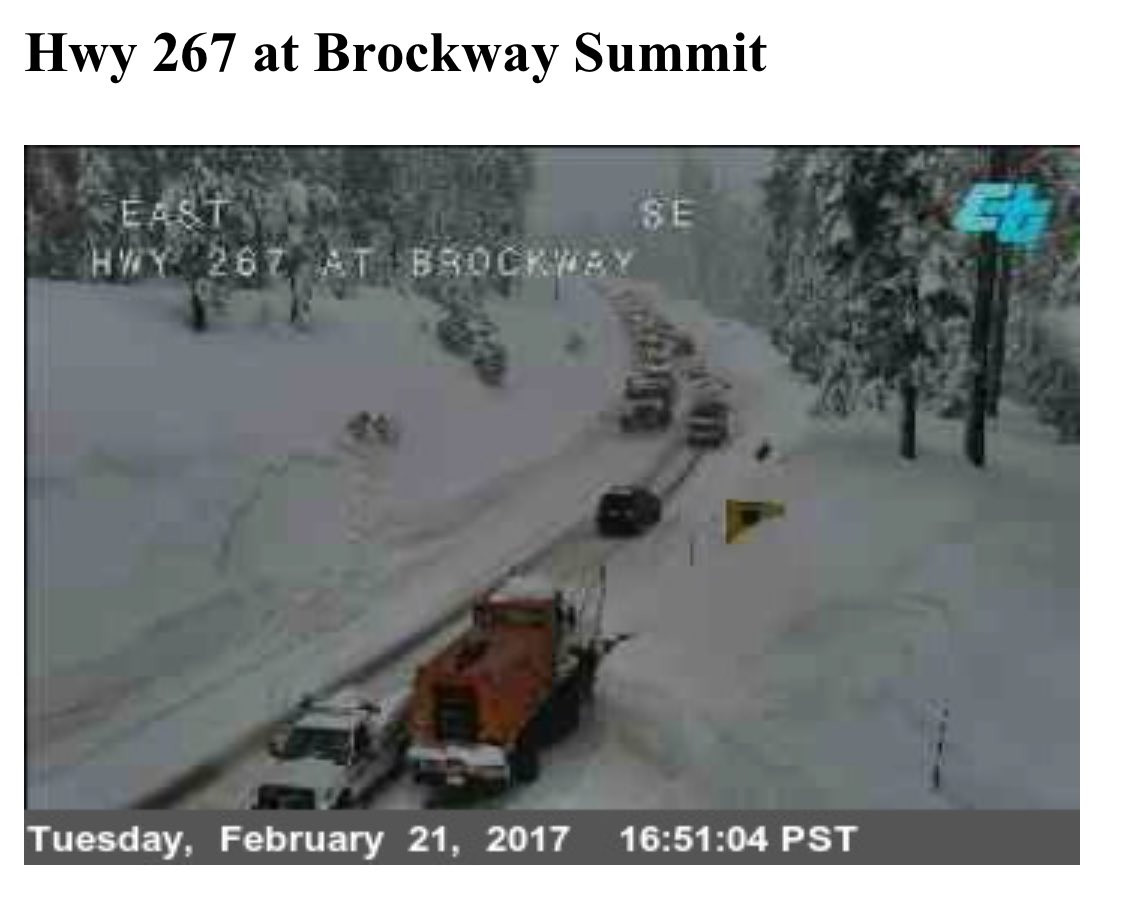 I-80 Near Summit
Closed: I-80 closed due to blizzard conditions over summit. Caltrans crews trying to clear snow. E/B drivers stuck in Colfax. (Media)
North/Central Areas
Weather:  Neat loop of an atmospheric river on water vapor bringing *more* rain to Northern and Central California. (NOAA)
Alameda County
 Flash Flood Warning issued for Niles Canyon area near Alameda Creek. (Fremont PD)
Morrison Canyon will remain closed due to mud and land slides until early March. Please do not drive up the road. (City of Fremont)
Bay Areas
A Break? More Showers still hanging on across the #BayArea & #MontereyBay areas. A break will come soon. (Citizen via Twitter)
Bridal Veil Falls (near)
TRAFFIC ALERT: Highway 50 near Bridal Veil Falls is 1 lane in each direction due to a roadway slip out. Expect delays. (CAL Trans)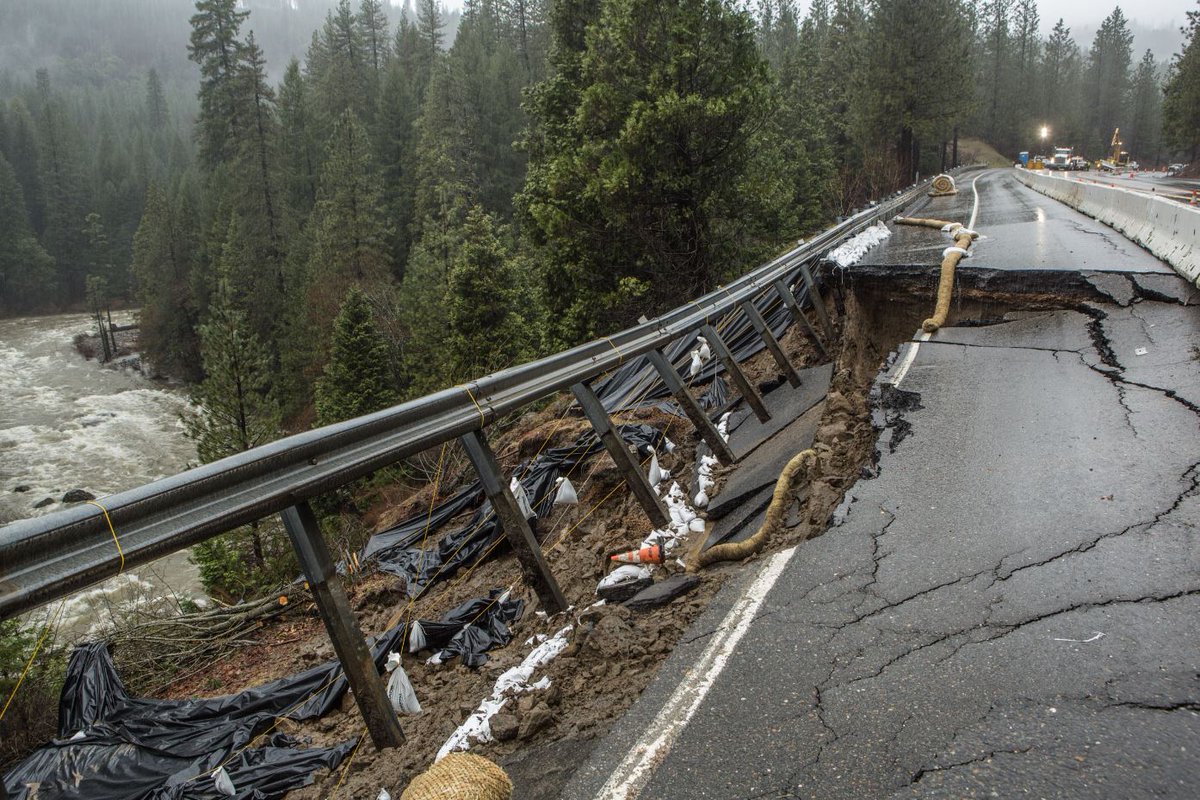 Donner Summit
Road Conditions:   Visibility improving – snow/ice removal will take time. (CAL Trans District #3)
Lake Berryessa Spillway
Above Spillway:  This afternoon #LakeBerryessa Morning Glory Spillway at 3 1/2 feet above top of spillway. About 5,000 cfs coming out at the bottom.
Los Angeles County
Northerly winds to develop Wed across mtns, desert & #SantaBarbara area. Winds could spread into other parts. (NWS Los Angeles)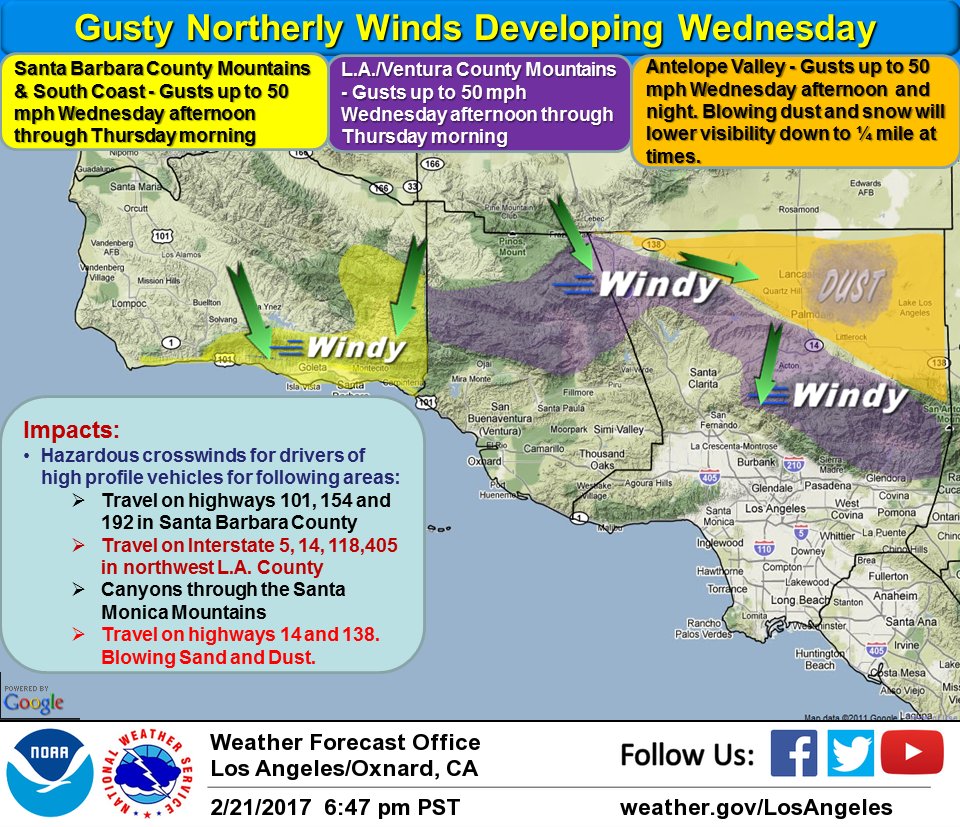 SAN JOSE
Coyote Creek (Near)
San Jose residents in low-lying areas close to Coyote Creek should be prepared for evacuation due to flooding. If your home is very near Coyote Creek, please take necessary precautions now to be prepared to leave.
Homeless Encampments
The San José Housing Department conducted extensive outreach to alert people living outdoors along Coyote Creek about dangers associated with camping by the creek. The City has opened its four winter overnight warming centers as it regularly does during periods of cold and wet weather.
Tully Community Library – 880 Tully Road
Bascom Community Center – 1000 S. Bascom Avenue
Biblioteca Lationamericana – 921 S. 1st Street (ADA Accessible)
Washington United Youth Center – 921B S. 1st Street (Designated for Families)
Downed Trees
To report downed trees and flooding, call (408) 794-1900 (24/7 number). If a tree is in the roadway, please call 911 to make the report immediately. To reach PG&E to report lines down and obtain updates on power outages in your area, please call 800-743-5000.?
Preparedness
High stream flows in Coyote Creek are expected to cause low-lying areas near Coyote Creek to flood. Peak flows from the Anderson Dam spillway are expected on Tuesday, and this will affect the downstream areas of Coyote Creek .
Red Cross Shelters
 James Lick High School – 57 N. White Rd 95127
Evergreen Valley High School, 3300 Quimby Rd in response to the Coyote Creek flooding.
 Shirakawa Community Center – 2072 Lucretia Ave 95122
 Mayfair Community Center – 2039 Kammerer Ave 95116
Road Closures
Quinn Ave – Senter Rd to Will Wool Dr
Rock Springs Dr – Nordale Ave to southend of Rock Springs Dr
 Wool Will Dr – Wool Creek Dr to Quinn Av
Will Creek Dr – Senter Rd to Eastend
Welch Ave – Nordale Ave to Needles Dr
Needles Dr – Senter Rd to Rock Springs Dr
Nordale Ave – Senter Rd to Rock Springs Dr
Bevin Brook Dr – Senter Rd to eastend of Bevin Brook Dr
Phelan Ave – East of Senter Rd to Bevin Brook Dr
Berryessa Rd – Sierra Rd to Commercial St.
Keyes St – Senter Rd to Roberts Ave
 Tully Rd – Lucretia Ave to Senter Rd
Williams St at 16th St
Senter Rd – Tully Rd to Story Rd
Rock Springs Rd – Phelan Ave to Needles Dr
Bailey Ave – IBM Eastbound to Santa Teresa Blvd
Santa Teresa Blvd Southbound – Bayliss Dr to Bailey
Coyote Ranch Rd – Monterey Rd to Coyote Creek
Open one lane: Foxworthy Avenue – from Rubino Dr to Hillsdale Ave
Open one lane: Berryess Rd Westbound – Sierra to Commercial
Sandbag Locations
 San Jose Happy Hollow Park , 1300 Senter Road (this is ½ mile north of the Central Service Yard, which is no longer accessible because of road closures) .
  Mabury Service Yard, 1404 Mabury Road
Santa Clara Valley Water District Winfield Warehouse, Winfield Boulevard between Blossom Hill Road and Coleman Avenue
(More Preparedness Tips –> http://sanjoseca.gov/index.aspx?NID=4789)
TEHAMA COUNTY
Weather Forecast
Scattered showers persist across #NorCal this evening. Of note, a strong thunderstorm has formed in Tehama County. (NWS Sacramento)
Ventura
Raining – It has rained a little over one inch in the past 2 days in the Ventura foothills.  (Twitter eyewitness)
(c) 2017 The #NWFireBlog – Updated 2100 Hours PST