SANTA CLARITA, CALIFORNIA
Incident Summary
On Sunday, June 25, 2017, a vehicle flipped off the 14 Freeway and landed on to the Sierra Highway and Placerita this afternoon, sparking a massive wildfire in Santa Clarity, California.
With hot, dry and windy conditions, the fire quickly jumped both sides of the 14 Freeway and Sierra Highway had a rapid rate of spread (ROS) that would prompt vehicles being sent in the wrong direction off the freeway to homes being evacuated within minutes.
The wildfire is currently at 870 acres and fire crews have successfully reached a 50% containment status.
Resources
Resources were from CAL Fire, Los Angeles County and City FD, Sheriff's Office and the Red Cross.
Evacuations
Mandatory evacuations were conducted by the Sheriff's Office of Running Horse Road to Tender Foot Trail Road. Voluntary evacuations were issued for the Lost Canyon Road, Cardinal Drive, Ravenger Road, Cambria Streets Lane, Via Princessa, Winter Pine Way, Pineview Road and Placerita Canyon Road.
Damage Assessments
1 home in the Disney Ranch community was destroyed, along with damage to an unknown bridge in the area.
The flames were said to have threatened the Golden Valley Shopping area and are still burning close to the Target store in Santa Clarita.
Casualties
No injuries have been reported.
Significant Events
A news van covering the wildfires, had a fire of its own and completely destroying its vehicle.  The driver/photographer was said to have escaped serious injury. (PC: Brenda  Crezette/via internet).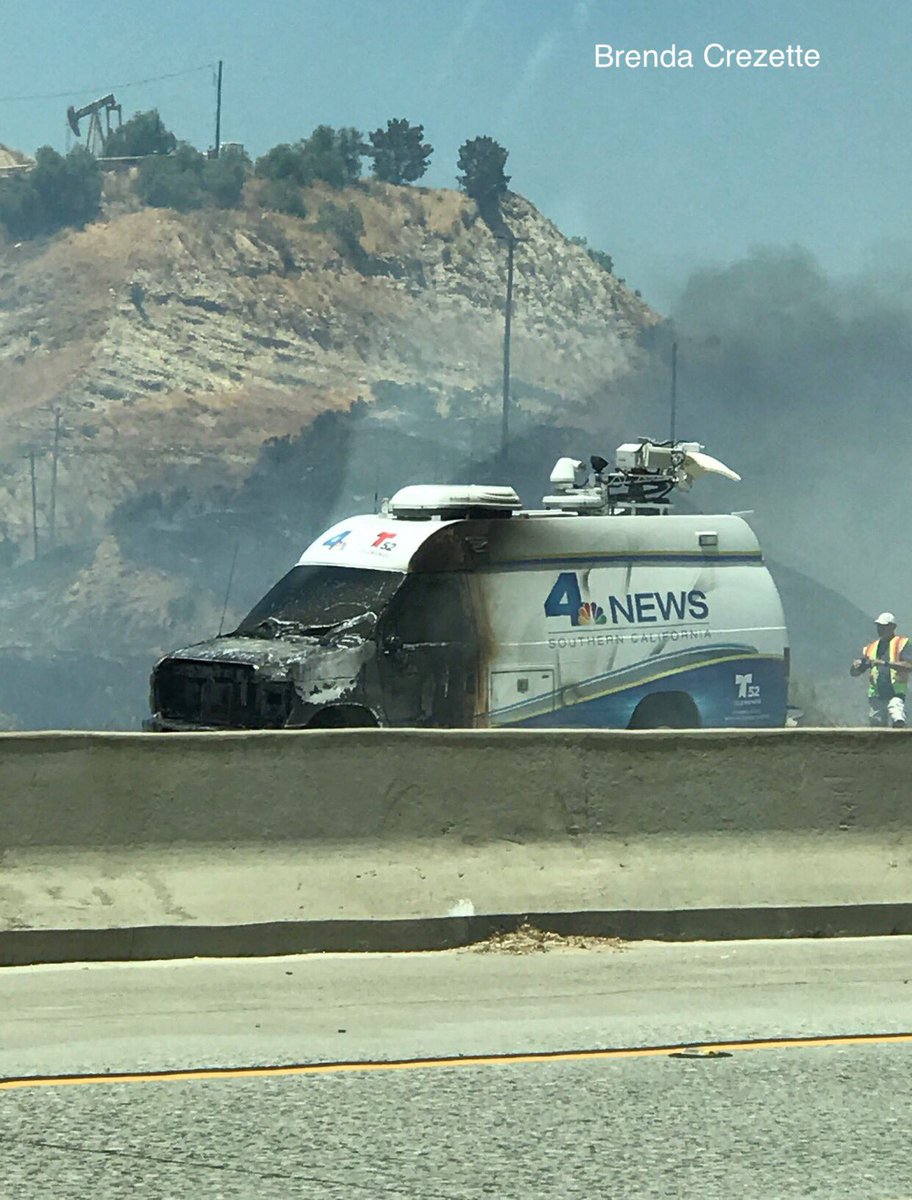 Current Fire Status
The wildfire is still burning but fire crews have been working super hard all afternoon to get it under control with the aid of many resources, both ground and by air.
Featured Photo Credit: Brett @linkinbrett (Published with permission)
(c) 2017 The NW Fire Blog