CHELAN & DOUGLAS COUNTY, WASHINGTON STATE
LIGHTNING SPARKED FIRES
A surprising and an unexpected lightning storm burst through Chelan and Douglas Counties in Washington State on Monday, June 26, 2017.
Multiple lightning-caused starts ignited with one becoming a large wildfire (Spartan), prompting the immediate deployment of both fire suppression ground and air resources  around 1600 hours PDT
CHELAN COUNTY WILDFIRES
#AlcoaFire
The Alcoa Fire is located West of the Alcoa Highway and North of Clockum Road in Chelan County has burned up to 500 acres and is continuing with a forward progression that has 0% containment.
No update as of yet fro June 27th.
#SpartanFire
Located SE of Wenatchee (Chelan), Washington State has consumed around 4,397  acres and has a zero containment status. 80 homes are considered  under direct threat and  Level 2 evacuations have begun (Get Set to Go).
State Mobilization was approved last night.  No word on which resources and from where are being deployed to this incident.   An interagency Type 3 incident management team from SE WA has taken over on Tuesday, June 27th at 0600 hours.
DOUGLAS COUNTY WILDFIRES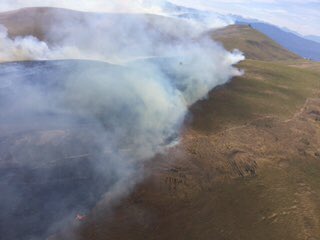 #SoutherlandFire
5 wildfires are burning for a total 300 acres in Douglas County, near Palisades.  BLM, DNR and air support are on-scene, as of 1800 hours PDT.
No update yet for Tuesday, June 27th.
(c) 2017 The NW Fire Blog