VENTURA, SANTA BARBARA COUNTIES, CALIFORNIA 
Incident Summary | The Thomas Fire ignited vegetation on December 4, 2017, in the areas of Highways 150 and 126, north of Santa Paula, California from an unknown cause.
Size, Containment | The fire has consumed 259,000 acres and has a 40% containment status.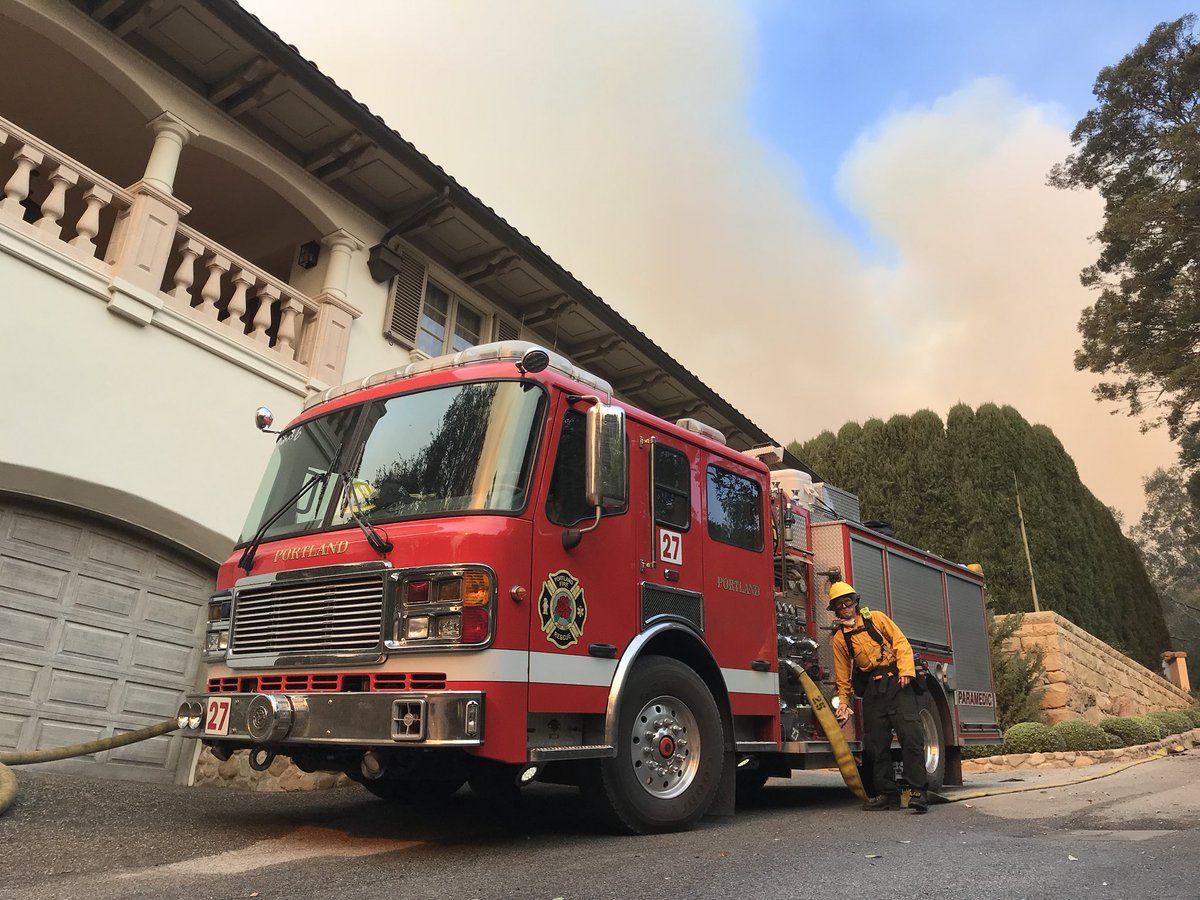 Command | Command is still in Unified Command with CAL FIRE, VCFD, VCSO, LPNF and City of Ventura.
Fire Resources | 8,370 fire personnel along with 973 fire engines, 161 fire crews, 32 helicopters, 77 bulldozers and 92 water tenders.  CAL FIRE IMT -4 is in command.
Incident Cooperators | CAL FIRE, VCFD, VCSO, SBCFD, SBCSO, VFD, VPD, USFS/LPNF, CAL OES, CHP, CA DOC, SPPD, SPFD, VC OES, SB OEM, Rd Cross, SoCaEdison, SoCaGas, Crimson Pipeline, Wildfire Defense Systems, CA Resources Group.
Mutual Aid Resources | 11 U.S. States including WA, ID, OR.
Damage Assessments | 1,009 structures destroyed.  240 structures damaged. 18,000 still threatened.
Fatalities | 1 CAL FIRE Firefighter.
Current Fire Status (Santa Barbara) | Firefighters to continue building direct fireline where possible with support from fire resources, working to tie in to the Tea and Jesusita Fires footprints and remain engaged in structure protection operations.  Carpinteria, Summerland, Montecito and Santa Barbara communities are still being threatened.
Current Fire Status (Ventura County) | Firefighters on the east side, are working to improve fireline that has been established to fire out of nearby community of Fillmore.  They will additionally extend north from Fillmore in preparation of future firing operations.
On the north side of the fire, will be closely monitored by crews. Fireline construction north of Camino Cielo with light fuels in the Zaca Fire footprint will continue where lines have never been established. 
Hashtags | #ThomasFire #CaliforniaWildfires #CALFIRE #VenturaCounty #OEM #OES
(c) 2017 NW Fire Blog – Updated 12/16/2017 – 1100 hours PST