ELLICOTT CITY, Maryland – A preventable tragedy has struck the City of Ellicott City in Maryland yet again and folks are pretty tired of how much it has pretty much destroyed their livelihoods.
CLIMATE CHANGE
Some are calling it due to Climate Change as some of the proof will show, while other say that the area is prone to flooding and the government officials sit idly by with no anti-flood planning.
Media reports this is the 15th catastrophic flood in Ellicott City since 1768.
This photo (below) shows how Main Street is flooded.  This time in 1972.
Floods in the City
1768, 1817, 1837, 1901, 1917, 1923, 1942, 1952, 1989.
1868 | Patapsco River flooding. 43 people killed. 14 homes destroyed.
1972 | July 12 from Hurricane Agnes with waters at 14.5 feet.
1975 | September 30 from Hurricane Eloise.
2011 | September 7 from Tropical Storm Lee.
2016 | July 30 from heavy rains.
2018 | May 27 from heavy rain and thunderstorms.
A SCENE UNIMAGINABLE
Here are a few photos of the incident unfolding before the eyes of those in Ellicott City, located just outside of Baltimore, Maryland, to those in Media and to those around the Globe.  The horrible images that flashed themselves over mainstream media, to the web and anyplace these could be posted to.
MULTIPLE SIMILAR SCENES
We found ourselves saddened by the people stuck in their vehicles, first responders working tirelessly to save them, the Police Department just as overwhelmed as the Fire Department with both of them running from call-to-call and to Dispatchers staying calm for those out in the field.
Photos Tell a Thousand Words
It was one of the worst scenarios visually unimaginable.
Stay Out of the Area
Fire and Government officials pleaded with residents, bystanders and any other individual they could send their message to not come into the City.  They were making regular unscheduled and often times emergency rescues.
= MISSING PERSON ALERT =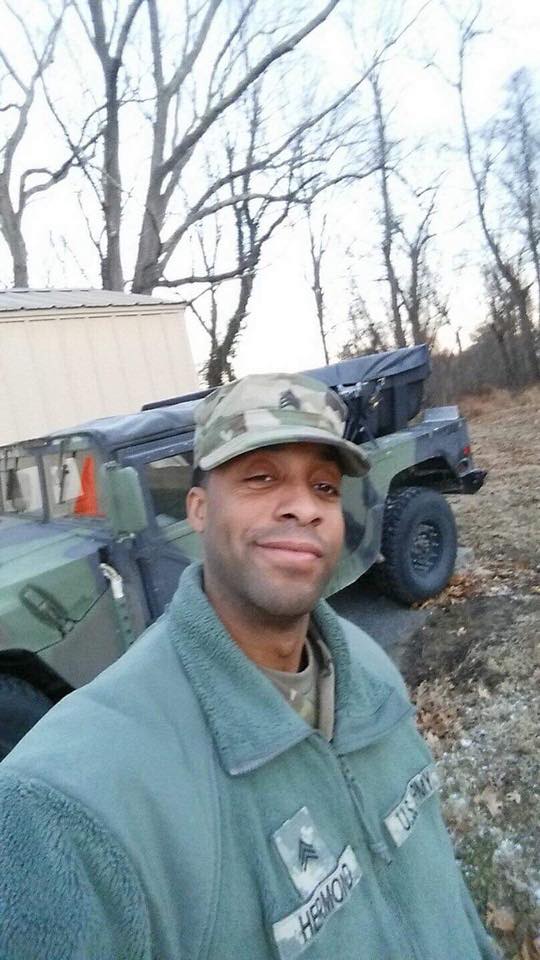 A Missing Person alert was put out by Howard County Police on Monday, May 28, 2018, for Eddison Hermond, 39, of Severn.  He is described as a black male, 5'10" and 160#.
He was last seen at about 1720 hours EDT on Sunday, May 27, 2018 in the area of La Palapa.
Officials confirmed this photo (Credit: Howard County Police) to the left is Eddison.  The Police are asking that if you see him to call 9-1-1.
RECOVERY BEGINS. AGAIN.
Today, is a new day for recovery and picking up the pieces both physically and emotionally. First things first.
Dangers Lurking
Response teams are now descending upon the City and area asking folks to stay out of the area as they do recovery work, searches, damage assessments, structural investigations for any and all other disaster recovery efforts.
Some of the obstacles, first responders may find themselves in though they have been fully trained and know what to do but can be just as deadly to the Gen Pub if entering this Disaster site.
Some of these lurking dangers could be downed power lines and damaged electrical systems, contaminated food, contact with polluted water, fire/explosion from dislodged propane tanks, entering unsafe/unstable structures and with roads or sidewalks being damaged or collapsing.
The Avalon area of the Patapsco State Park (which includes the Avalon, Glen Artney and Orange Grove were closed on Monday, May 28, 2018, due to significant flood damage.  It was sustained on Sunday in and around Ellicott City and further down the Patapsco River to Elkridge.
An Impacted Community
What those impacted are saying on Social Media and how they are directly impacted, is disheartening to see them going through another forseen tragedy.
"I am a business owner in Ellicott City and just witnessed the second "thousand-year flood" in less than 2 years.  The County says development has nothing to do with it.  They keep building above the town.  All of my friends and I have lost everything. Again."
"They've got like 300 years of weather records in Elliott City and flooding like this isn't common. Back-to-back disasters, no business will ever have the chance of getting insurance now (if they were even able to after 2016)."
"Everyone wants to live in Howard County. When you build homes where trees once stood, the water has to go somewhere."
"Several abandoned vehicles enveloped by flood waters."
Mental Health Help Line
For those who find that it is too emotionally to bear another flooding catastrophe, there is hope and someone to talk to.  Grassroots Hotline is available for you 24/7 at 410-531-6677.  There are many resources and people who can step and provide that much-needed assistance.
WAYS TO DONATE
Go Fund Me pages are starting to show up on Social Media.  Residents, volunteers and others are beginning to start the recovery process all over again, knowing this could happen again like it did in 2016.
This time in 2018, the impact was much greater and more intense like no other flooding that hit the area.
Donate to the City Directly
The Ellicott City Partnership which supports Old Ellicott City businesses, has a website where you can make a donation to help merchants to help with Flood Relief efforts.  http://visitoldellicottcity.com/ec-partnership/donate/
Ellicott City Strong
We will be posting information on how you can the residents and business owners in Ellicott City, Maryland.  Please remember to keep all of them in your thoughts and prayers, just as we are doing.
INCIDENT COOPERATORS
Preservation Maryland, Howard County Police, Howard County Fire & Rescue, Ellicott Volunteer Fire Department, Maryland Responds/OPR, BACO Emergency Management, MDEMA, MD Governor and 9th Lt. Governor.
HASHTAGS
#EllicottCityFlooding #EllicottCity #EllicottCityMD #MDFlooding
(c) 2018 NW Fire Blog