11/8/2018 – THURSDAY – 2115  PST
INCIDENT SUMMARY
JARBO GAP, Calif. — A wildfire broke out on Thursday, November 8th at 0633 hours PST on Pulga Road at Camp Creek Road near Jarbo Gap in Butte County, California, from an unknown cause, says CAL FIRE.
RESOURCES
The fire is in Unified Command with CAL FIRE – Butte County Fire, Butte County Sheriff's Office and Paradise Police Department.
There are a total 2289 fire personnel along with 303 fire engines, 59 crews, 11 helicopters, 24  bulldozers and 11 water tenders.
Lidar Definition can be found here —> https://oceanservice.noaa.gov/facts/lidar.html
FIRE STATUS
The fire has burned 20,000 acres. There is a 0% containment status.
Firefighters continued to be challenged with extreme fire and weather conditions including strong winds and long-range spotting.
About 15,000 structures are currently under direct threat.
Fire weather is currently strong Santa Ana winds gusting to 50 mph combined with single digit RH which will bring expectation of increasing extremely critical fire weather conditions this evening and throughout Friday. (Source: NWS Los Angeles)
2111 PST:  Social media users posting.  Fire to impact 32 and reach Chico. Evac order just confirmed by CalFire for Canyon Oaks. Fire is also making a run at Magalia/Paradise Pines. Winds est. 35mph on peaks. Honeyrun Canyon area has burned as well.
1750 PST:  Many reports stating that hundreds of structures up to thousands have been destroyed in Paradise.  The town's population of 27,000 residents have reported that many are injured and missing.   (Sources: News media, many outlets)
RESOURCES
Alameda County Fire
8 ACFD firefighters on CAL OES engines 8233 and 8235 are part of STrike team 2870C.  (Photo Credit:  ACFD)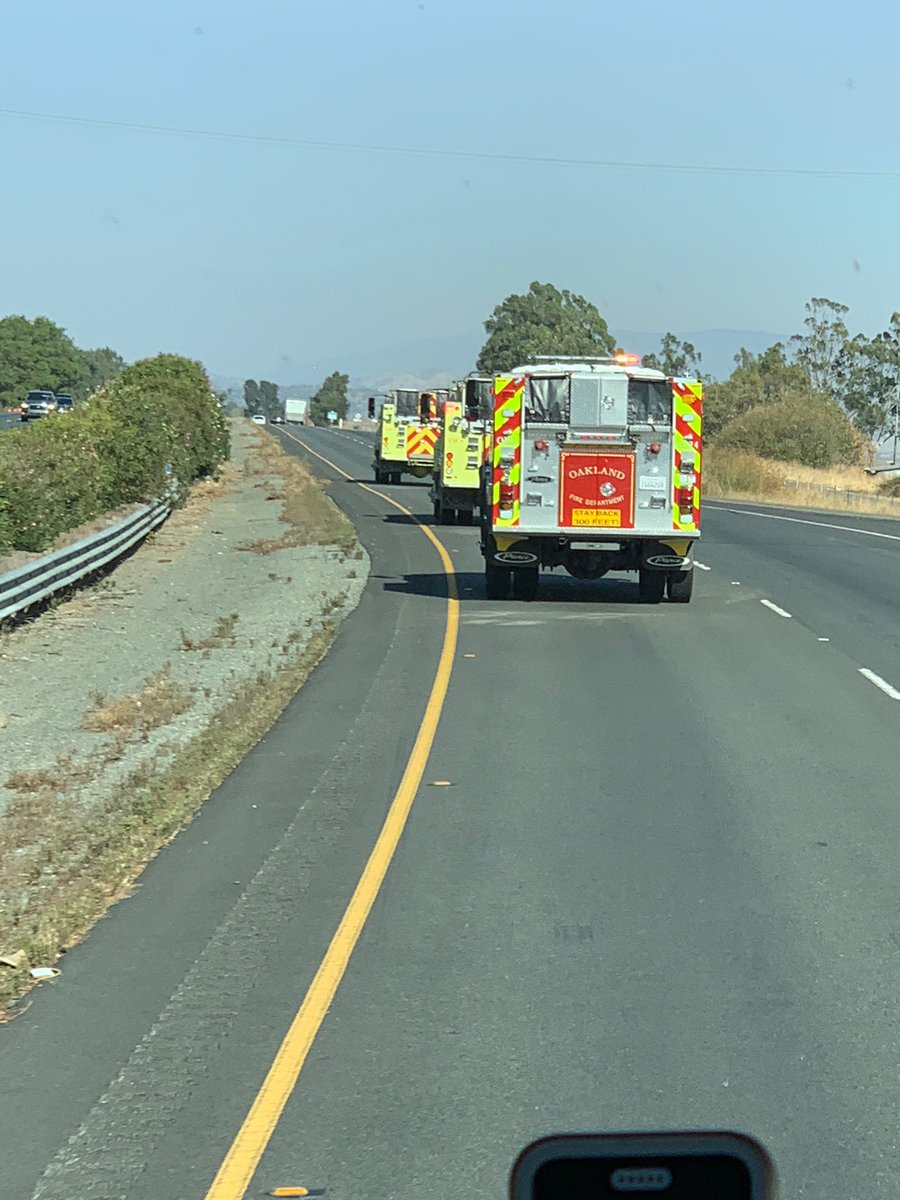 CAL FIRE – Butte Unit / Butte County Fire Department
Fire resources were on-scene of this fire incident and pleaded with the Public to evacuate upon request and stated that this is very dangerous.  This photo (below) was taken on 11/82018 around 0900 PST.  Photo Credit: CAL FIRE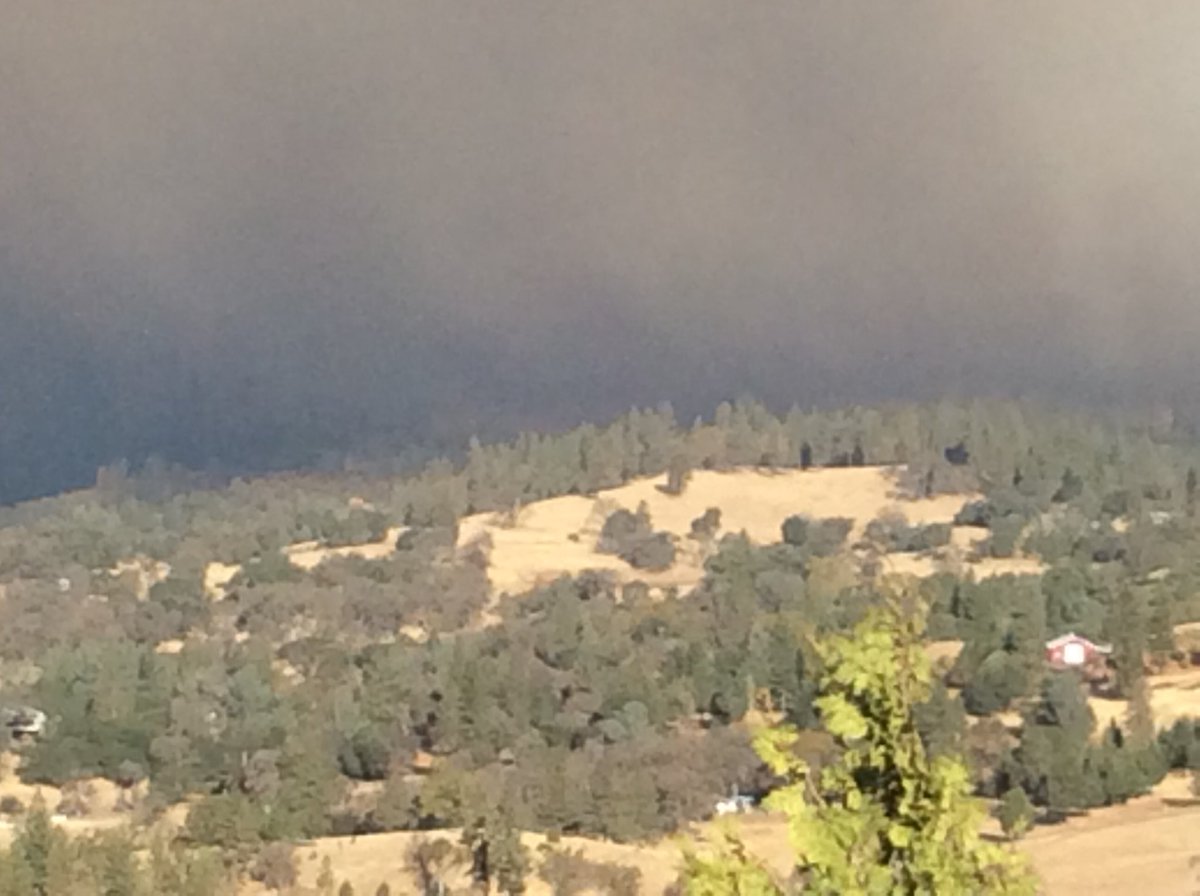 —> EVACUATIONS <—
Mandatory
Bruce Road to the east between Highway 32 and East 20th Street in Chico.  Posted 11/8/2018 @ 2113. (Source: News media)
Paradise, Magalia, Concow, Butte Creek Canyon and Butte Valley.
Both sides of Oro Chico Highway from Durham Dayton north to Estates Drive.  Posted 11/8/2018 1951 PST. (Source: Butte County Sheriff Office)
Area of Cherokee from Hwy 70 to the Lake, south to Table Mountain Blvd.  Posted 11/8/2018 1949 PST. (Source:  Butte County Sheriff Office)
The Evacuation Warning for Hwy 32 at Nople Avenue down to the Chico City Limits HAS BEEN UPGRADED TO AN ORDER. This still does not include the City of Chico. Posted 11/8/2018 1830 PST. (Source Butte County Sheriff Office)
 Warnings
Forest Ranch.
Area west of 99 from 149 north to chico City limits, west to the Midway. Posted 11/8/2018 @ 1938 PST. (Source:  Butte County Sheriff Office)
—> ANIMAL RESCUE <—
NVADG, an animal rescue group.  Call to help rescue your pets.  Hotline –> 530-895-0000. (Source:  Social media poster)
—> SHELTERS <—
People
Church of the Nazarene, 2238 Monte Vista Ave, Oroville.  (Source: CAL FIRE)
The Chico Elks Lodge. 1705 Manzanita Avenue, Chico, CA 95926. Opened at 2030 hours PST.  (Source:  Butte County Sheriff Office)
Yuba-Sutter Fairgrounds.  442 Franklin Avenue, Yuba City, CA. (Source:  Butte County CA)
Animals
Small Animal – County Hospital, 2279 Del Oro and Mono, Suite #E. (Source:  CAL FIRE)
Large Animal – Butte County Fairgrounds, 199 E Hazel St, Gridley, CA 95948. (Source: CAL FIRE)
—> NOTIFICATIONS <—
Shelter Full – The Neighborhood Church, 2801 Notre Dame Blvd, Chico, CA. (as of 11/8/2018 @  2018 PST)
—> CLOSURES <—
 Roadways 
Hwy 70 between Pentz Rd to Plumas County line.
Skyway
Highway 99 from 149/99 Junction to 9th ST.
Highway 191 and Pentz Road.
(Source:  CAL FIRE.  Updates –> http://www.dot.ca.gov/hg/roadinfo/Hourly
SOCIAL MEDIA
We will be providing updates as information is received.  You can also follow us on our Twitter page @nwfireblog for additional updates.
(c) 2018 NW FIRE BLOG