WASHINGTON STATE WEATHER EVENT
Update 1 – Saturday, December 21, 2019
Weather reports are starting to be received in with some alerts on some Rivers reaching above flood stages:
Major Flood Stage | Skokomish River near Potlatch; Snoqualmie River near Carnation.
Minor Flooding Stage | Stillaguamish River at Arlington; Snoqualmie River at Snoqualmie Falls; Chehalis River; Newaukum River near Chehalis; Grays River near Rosburg.
There are many areas that have received three-inches and above in the last 72 hours.  A sample of those areas include (as of 0213 PST):
3.39″ – Orilla
3.60″ – Monroe Fairgrounds
4.22″ – Gig Harbor, McChord AFB
4.40″ – Glacier
4.98″ – Seatac Airport
5.70″ – Darrington Ranger Station
5.76″ – Snoqualmie Falls
5.80″ – Snoqualmie Pass
6.10″ – Rainier National Park – Longmire
5.85″ – Mt. Baker
7.15″ – Auburn
7.24″ – George Reservoir
10.44″ – Pe Ell
11.58″ – Hucklebery
12.01″ – Rock Creek – Willapas
Area Flood History
In looking back at some posts on Social Media, there were several events where flooding took place in November.  Here are two examples:
11/1/2015 – I405 NB @ SR169.
11/22/2011 – I405 NB after 44th Street exit in Renton/Newcastle.
Looking Through The Eyes of Social Media
This happened this morning at 1130 PST per WSP Trooper Rick Johnson who posted these photos on his Twitter page.  This is located on SR169 and Jones Road in the Renton area.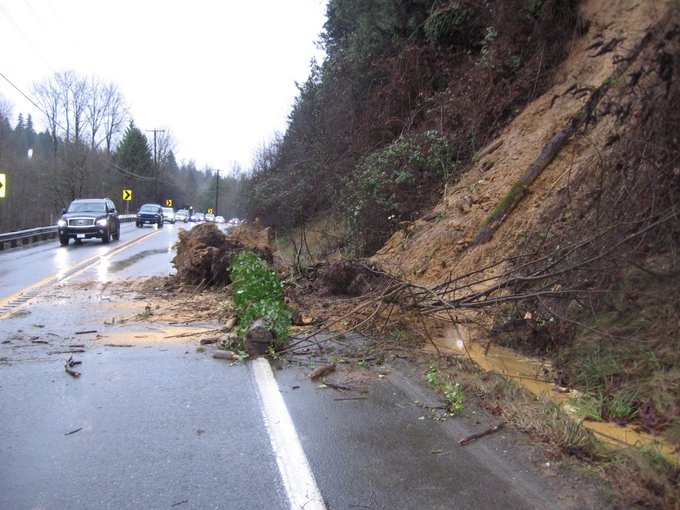 (c) 2019 NW Fire Blog – 0245 PST