Sit Rep 8 – April 18, 2020 – Saturday
Incident Summary
The Novel Coronavirus or COVID19 as it is more commonly known as, is a pandemic that was first discovered in China has spread like wildfire around the globe.  There is no known cure or vaccine for this highly infectious and deadly virus. It's origins are highly suspicious and its truth about where it came from is unknown.
Because of overwhelming information, we are breaking up our coverage into the Global coverage one post and our second on the United States.
Global
89 situational reports have been released the WHO organization. No  new countries or territories have reported new COVID19 cases but there have been from those previously calling in reports to the WHO organization.
Check out the numbers, significant events and news happening in each Country with total confirmed cases above 25,000.
Globally
2,164,111 total confirmed cases from over 100+ countries reporting in daily COVID confirmed cases, new cases in the last 24 hours, total deaths and deaths in the last 24 hours.
85,678 new cases in the last 24 hours (as of 4/19/2020 12midnight CEST)
146,088 total deaths.
6,170 total NEW deaths in the last 24 hours.
Spain
188,068 total confirmed cases and 5,252 cases in the last 24 hours.  Spain has had 19,478 total deaths with 348 passing on since Friday. (Source: WHO)
300 Spanish soldiers working with the U.S. Led coalition are leaving IRAQ at the request of their government.
27,000 healthcare workers have tested positive for the coronavirus
A story of a tax driver known for taking patients to the hospital for free gets a call to pick up a patient from a hospital.  He is greeted by a standing oviation by doctors and nurses and collected donations given to him in appreciation.
20,000 liters of disinfectants is reportedly donated by Poland to Spanish. It has just arrived today in Madrid. (Soure/Photo Credit: Poland Embassy in Madrid)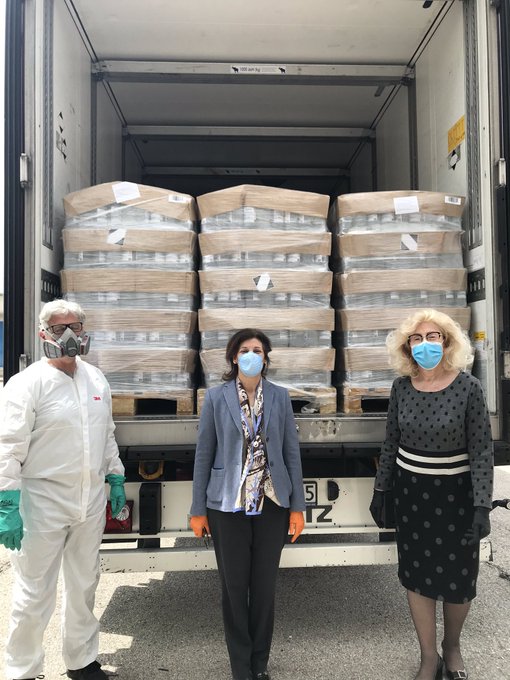 Street art in communities showing soldarity.
Government is said to allow people to protest without any Social Distancing.
Spanish prisons reporting high number of inmate confirmed cases
Spain is in their 34th day of the State of Emergecy originally declared on March 15, 2020.
A Spanish ICU doctor tests a prototype ventilator for COVID19 patients developed by a consortium of companes in Asturias.
Nuns of the Santa Magdalena monastery make handmade masks that are distributed to centers who need them. (Source: diocese of Mallorca)
On this day, Spain celebrates "European Patients' Rights Day", a tribute to all those battling the COVID19 virus.
Today is the 70th year anniversary of the establishment of dipolomatic relations between Spain and South Korea. (Source: News media)
Spain recognizes its biggest assets are their healthcare workers and the solidity of their health care system. (Source: Government)
Italy
172,424 total cases reported along with 3,493 new cases in the last 24 hours. Total death numbers rise to 22,747 and 575 more pass away in the last 24 hours. (Source: WHO)
Social Media video:  Shows 2 people playing tennis on the opposite rooftop of one another in Finale Ligure. (Source: News media)
Beautiful reminders all over Social Media why Italy is so attractive to tourists. (Sources:  Posters)
The country along with several others release inmates in light of the Coronavirus potential to spread in overcrowded prisons. (Source: Social Media)
Events such as football games have been cancelled well into the 2021 season. (Source: Italian Sports Teams)
Hungary has also donated donated 100,000 masks and 5,000 pieces of PPE. (Source: Hungarian FM Peter Szijjarto).
Small firms due to reopen given the green light to do so while they wait for an official governmental approval will move forward unless told not to after 100,000 requests put pressure on the Italian government. (Source: Italian Financial News)
Government lockdown due to expire May 3, 2020 (Source: Italian Government)
Reports via Italian government:  6% deaths (90+ yo), 42% are 80-89 yo; 35% are 70-79 yo and 16% are 60-69 year-olds. (Source: Social Media)
Germany
There has been 137,439 total cases confirmed and 3,609 new ones in the last 24 hours.  There has been 4,110 total deaths and 242 more in the last 24 hours. (Source: WHO)
Germans find an old iconic outside activity: drive-in  movie theaters.
Germany, the lead Country in testing for infections, aims to same the entire population for antibodies and hoping to learn how deeply the virus penetrates teh socieity, deadly it is and whether immunity might develop.
Hundreds of candles to form a giant cross in memory of over 4,000 COVID victims (Source: Social media)
14% of people in one town in Germany show their blood tests are now immune to the virus. (Source: Media)
Footage of non-compliance people who gathered against curfew restrictions are arrested by Berlin, GERM police. (Source: News media)
Video of those who choose to gather are sprayed by Police (more or less like Fire) masterstreams.
The country has greeted a group of unaccompanied children from an overcrowded refuge camp from Greece at a local airport. Their harsh conditions at the camps are cruel and inhumane even for any adult.(Media).
United Kingdom
108,696 total cases have been reported with an increase of 5,599 new cases in the last 24 hours. 14,576 total deaths have been reported with 847 in the last 24 hours (Source: WHO)
Good Feel Story:  A woman, 106 yold great grandmother is the oldest living person in the Country to beat the virus is released from the hospital three weeks after contracting it. She recovers nicely and is resting at her home. (Source: News Media)
The first time ever in the UK Parliament House of Commons' 700-year old history takes its first steps on April 16th  towards proposing a "hybrid" House.
Photo Credit:  UK Parliament/Jessica Taylor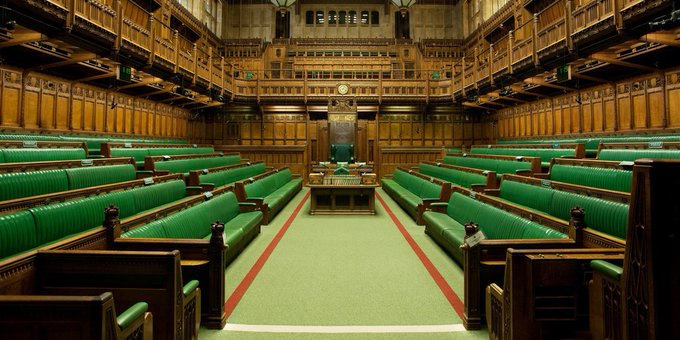 Legal proceedings return on April 21, 2020. (parliament.uk)
The Elizabeth Tower in Big Bend continues to restore the iconic building that started restoration in 2017 will soon be revealed.  Everything is still under wrap. (Source:  UK news)
The government calls out to Social Media companies to stop the practice of spreading COVID19 misinformation leading to those being threatened in the telecom and utility infrastructure professions. (Source:  Julian Knight, MP)
Queen Elizabeth II cancels the UK's traditional gun salute for her 94th birthday due to coronavirus concerns. Will instead celebrate instead on April 21, 2020. (Source: News media)
France
108,163 total cases in France along with 385 new ones in the last 24 hours.  There have been a total of 18,659 total deaths with 760 in the last 24 hours alone. (Source: WHO)
China
84,180 total confirmed cases w/31 new cases in the last 24 hours and the country has seen a total number of 4,642 deaths.  (Source: WHO)
Iran
79,494 total cases have been reported along with 1,499 new cases since yesterday.  There have been 4,958 total deaths with 89 new reports of more deaths in the last 24 hours. (Source: WHO)
Turkey
78,546 total cases have been reported with 4,353 new ones in the last 24 hours. There have been 1,769 total deaths with 126 since Friday. (Source: WHO)
Country send 400,000 surgical masks to UK or 84 tons of PPE with healthcare workers saying this is only enough for three days. (Source: Media)
Country has the highest capacity of treating patients requiring ICU care among the countries with the most COVID19 cases. (Source: Media)
Russia
36,793 total cases reported with 4,785 new ones in the last 24 hours.  There have been a total of 313 total deaths and 40 new ones in the last 24 hours.
Belgium
36,138 total cases were reported with 4,785 new ones since Friday.  There have been 5,163 total deaths reported and 306 in the last 24 hours.  (Source: WHO)
Belgium Singer Angele joins the #TogetherAtHome broadcast (Source: Belgium Singer)
Largest cases found to be in nursing homes. (Media on 4/16/2020)
Canada
507,701 tested the population found there are 31,872 total positive cases with 12 probable cases.  There have been 1,775 new cases since Friday. Along with that there have been 1,309 total deaths and 202 in the last 24 hours. (Sources:  WHO, Canadian Government)
Air travellers as of April 20th, must bring and wear own face covering when travelling. Not provided to them at the airport. If you don't have one, you will not be able to fly. Details:  https://www.canada.ca/en/transport-canada/news/2020/04/new-measures-introduced-for-non-medical-masks-or-face-coverings-in-the-canadian-transportation-system.html  (Source:  Canadian government)
US-Canada border closure extended another 30 days. Due to expire 5/18/2020. (Source: Deputy Prime Minister of Canada)
The country helps bring home its citizens from Eritrea, Guyana and the Philippines. Must self-isolate for 14 days. (Source/Photo Credit:  Travel.gc.ca)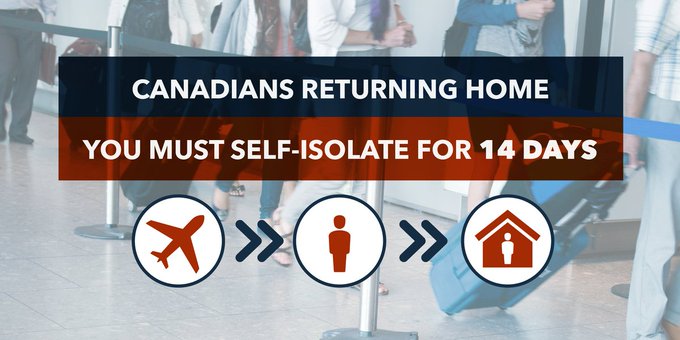 Canada is deeply concerned about the food security for the poorest and most vulnerable populations. A meeting was held by Minister Gould to counter this deadly virus. (Source: Development Canada).
Netherlands
30,449 total cases with 1,235 new ones in the last 24 hours; 3,459 total deaths reported along with 144 new ones since yesterday. (Source: WHO)
A flower grower had to throw away about 140 million tulips after demand plummeted and was forced to shutdown. (Media)
A strong suggestion was made on Social Media reporting that 3% of Dutch blood donors may be have developed antibodies to the COVID19 virus. (Source: Media)
Brazil
30,425 total cases;  2,105 new cases in the last 24 hours; 1,924 total deaths with 188 new ones reported in the last 24 hours. (Source: WHO)
Hundreds of people protest in front of one of their hospitals – not a thank you but protests.  (Media footage).
The economy could recover in the fourth quarter. (Financial news)
(c) 2020 NW Fire Blog – Updated 2200 hours PT