FEDERAL WAY (KING COUNTY), WASHINGTON STATE
South King Firefighters  and Valley Firefighters were dispatched around 1800 hours PT to a residential structure fire in the  800 block of 297th Place South in Federal Way, Washington.
First due firefighters reported heavy smoke and heat coming from the Delta side , a two-story side and smoke on the Charlie side, a single story. The two-story home 's three occupants were out of the home and away from the area.
Photo Credit | South King Fire & Rescue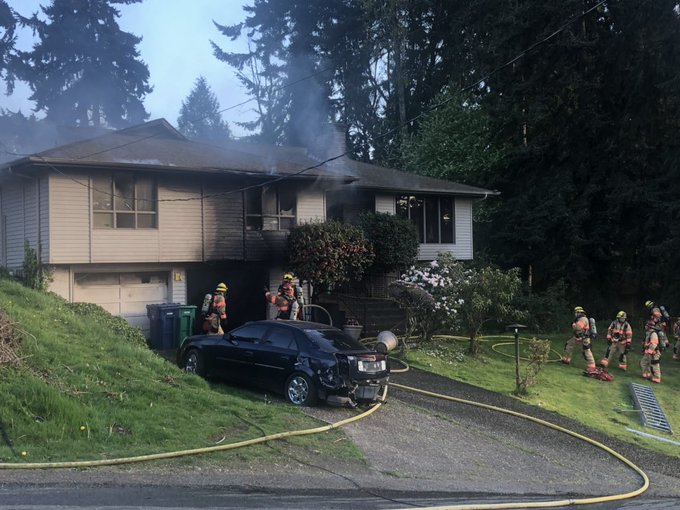 Federal Way Police were summoned to respond to the home.
Primary search on floor one was completed with nothing found.
A staircase that led up to floor two was found to be compromised.  It was broadcasted that they needed to be careful.
Active fire was coming through the walls on the stairwell on Alpha side. Engine 365 was in the midst of using their hoseline to put water on the fire.   Fire appeared to be active on floor two with some of it possibly penetrating  through the floor joist.
At 1842 hours PT, the timer had reached 30 minutes at which time Command stated they were still in offensive operations.
Command appeared concerned with the Alpha/Delta corner but the Safety Officer deemed it to be okay  for now.
Primary search completed on floor two with nothing found. Firefighters were addressing hot spots. (1848 PT)
Later Alpha/Bravo overhead became a concern to Command, when then assigned an unit to put some water on the corner, as some fire was visible. Fire was not in the overhang but from floor one and reported as in the walls.
Secondary search of all floors completed; nothing found. (1852, 1858)
Fire  contained to the void space.  Some firefighters are exiting the building.
Some of the resources Resources:  Ladder 364. Engines 362, 364., 365, 367. MSO. A362 from South King Fire, Valley Fire and King County  Medic One.
Ladder 364 cut two holes in the roof to allow the smoke and heat to vent. They exited the roof and recycled. Others were sent to REHAB.
Firefighters remain on-scene.  This is an active and ongoing incident scene.
Floor on the Alpha/Bravo side was starting to feel spongy. Crews went to check the floor joist above the garage on the Alpha side.
(c) 2020 NW Fire Blog – Updated 4/272020 1915 PT