A second BNSF train has derailed at the intersection of SR22 and Phillips Road, about two miles east of Mabton in Yakima County, Washington.
The 116-container train was derailed when it was hit by a semi-truck with a piece of farm equipment on it ripping about six box cars and three engines from its tracks.
This occurred on Wednesday, December 23rd around 1055 hours PT, just one day after another train derailed in Custer, Washington around 1140 hours PT. The cause of that derailment is still under investigation.
Images were taken of the train by the Yakima County Office of Emergency Management via using a drone of the disaster. The latter two photos are from the YCFDPIO.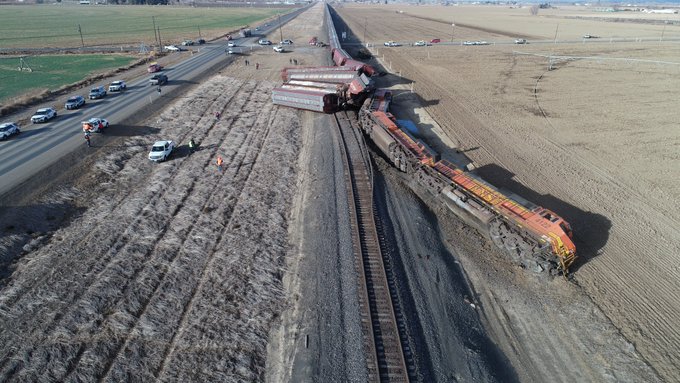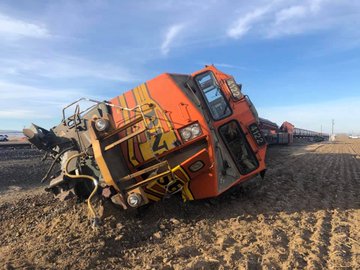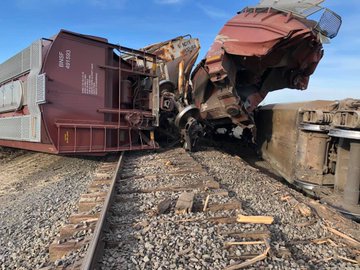 Currently, on-scene are the Yakima County Sheriff's Office, whose Deputies initially responding to scene and later requesting the Washington State Patrol, BNSF Railway personnel and the Washington State's Department of Ecology. Yakima County Fire Department also has first responders on the ground.
Washington State DOE is currently assessing the wreck for any potential fuel leaks.
There were reports of minor injuries to the train crew but no fire or HAZMAT issues personnel having to work with.
(c) 2020 NW Fire Blog – Updated 12/23/2020 1400 Hours PT