Firefighters and equipment were dispatched on Thursday, December 24th around 1146 hours PT to a fire in a building call. The fire was located in the 900 block of NE 50th Street in the University District area in Seattle, Washington.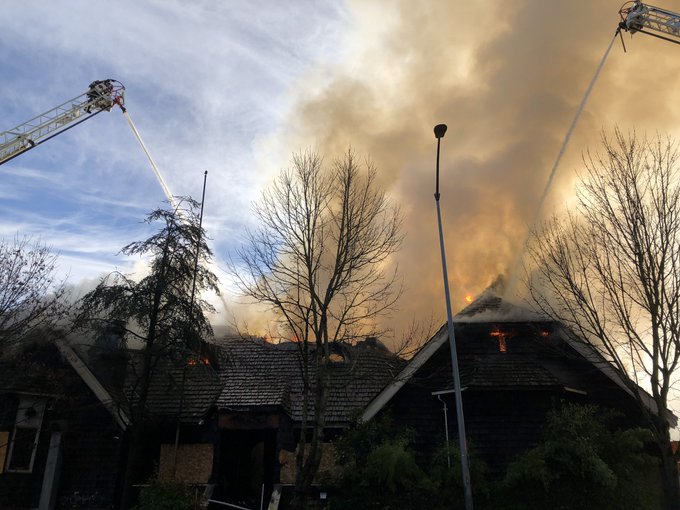 Units first arriving on-scene reported a fire near a commercial building at 1154 hours PT. Within three minutes of the report, crews confirmed smoke and flames were visible on the 2nd floor of the vacant commercial building, the former Seven Gables Theatre.
Due to hazardous fire conditions and deemed too dangerous for interior operations, Command called for defensive tactics by dumping large amounts of water resources over the fire building. Several other exposure buildings were being also being protected by personnel.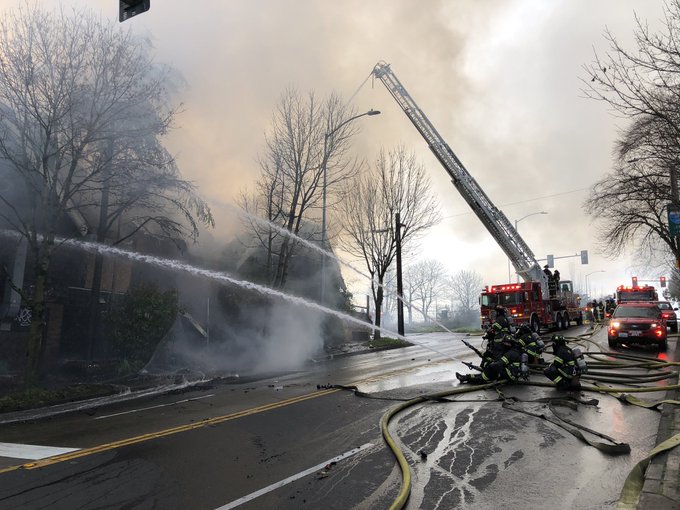 Still fighting the fire, at 1247 hours PT, Command escalated the need for additional resources through the City's Fire Alarm Center or FAC as they are called to bring it up to a 3rd Alarm incident. This prompts the FAC to dispatch a larger amount of personnel, equipment and the Department's Public Information Officer (PIO) to the scene.
About 110 minutes into the incident at 1358, firefighters were beginning to get a good knockdown on the fire and were hoping to have it brought under control within 15 minutes thereafter. They were dealing with a lot of hot spots.
At 1402 hours PT, Command asked for a PAR or personnel accountability report to verify all firefighters were accounted for, which they were.
Seattle Fire PIO states the fire was brought under control at 1410 hours PT with no injuries being reported.
Dispatched Units were all from the Seattle Fire Department: E31, B6, E38, L9, A25, Air240 and 260, B2, Deputy1, E21, E40, E9, L10, L8, M1, M44, Mar5, Rehab1, Safety2, Staff10, E16, M31, B4, E17, E22, E9, B2, E10, E18, E2, E25, L4, L5, PIO, E13, L3, E8, SQ10, E82 and M17.
Seattle DOT closed the eastbound and westbound lanes between 8th Avenue NE and Brooklyn Avenue NE, as well as southbound on Roosevelt being blocked at NE 55th Street and 7th Avenue Avenue.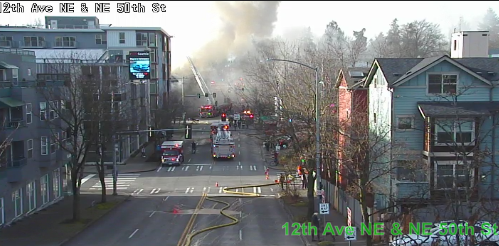 About the Fire Building
The Seven Gables Theatre was built in 1925 that was said to be originally an American Foreign Legion dance hall but would later be converted in 1976 by 7Gables Founder R. Finley into a theatre named The Seven Gables Theatre. At the time, it was said to be built with half-timber to resemble a Swiss chalet featuring a gabled roof and a brown-shingled facade. The main venue was said to have a romantic medieval fresco on the single-screen as it represented a castle and damsel.
The theatre was a very loved iconic local attraction with a one-of-a-kind vintage experience for film enthusiasts and known for showing a great variety of foreign and independent films.
Today, the 9,487 square-foot building is owned by 2929 Productions LLC, based out of Los Angeles, California and recently assessed by the King County Tax Assessor with an assessed value of $2.7 Million up in value from $2.3 Million in 2019.
The building closed in 2017 for refurbishment but has remained vacant for the last several years.
It is located in the heart of the University District on the corner of NE 50th Street and Roosevelt Way NE in Seattle.
This is a developing story. More updates will be provided as information is received.
FOLLOW US on Twitter (@nwfireblog), Facebook (nwfireblog) and on Instagram (nw fire blog)
(c) 2020 NW Fire Blog – Updated 12/24/2020 1525 PT