A wildfire ignited on Wednesday, December 23rd, which is burning off of De Luz Road and Sandia Creek Drive, northwest of Fallbrook (San Diego County), California. The cause is unknown at this time.
Fire has burned approximately 3,000 acres on land owned/managed by the Military Camp Pendleton base.
Command is Unified Command with Military Camp Pendleton, CAL FIRE and North County Fire.
At 0339 hours this morning, Camp Pendleton has issued a mandatory evacuation order for the DeLuz Housing, Wounded Warrior Battalion, and Lake O'Niel Campground areas due to a fire near Naval Weapons Station – Fallbrook. Affected personnel were relocated to Paige Fieldhouse.
An impressive but yet scary image of what firefighters are being challenged on the ground and during a pandemic.
Camp Pendleton released this statement at 0905 hours PT: "The fire is holding at 3,000 acres with 0% containment. Fallbrook gate is closed to all traffic except for emergency vehicles. PMO is guiding traffic away from fire."
"Fire is pushing southwest of De Luz Road further onto Camp Pendleton towards Ammunition Road. Road closure on De Luz Road at Sandia Creek. Area along De Luz Road under mandatory evacuation. Additional resources moving onto Camp Pendleton." – CAL FIRE/San Diego County FD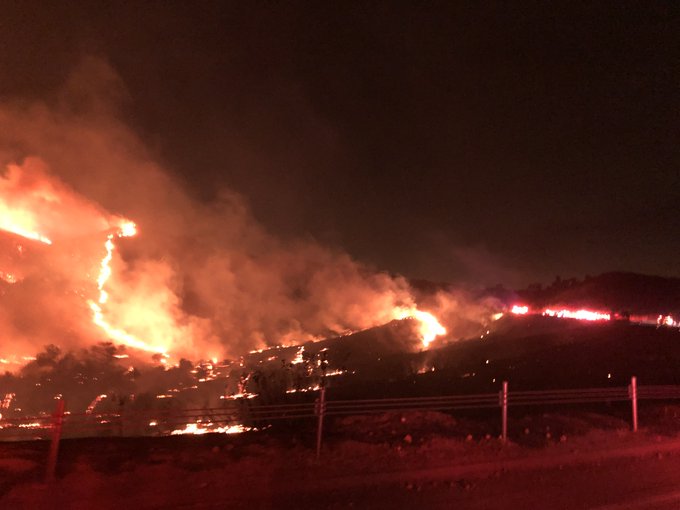 Through the Eyes of Social Media
"There is thick black smoke in DeLuz again, probably right where they're doing a "controlled burn" which is now under the high wind attack." (1626 PT)
"The wind is so bad right now. Just within the past hour it's picked up. I was starting to think this was under control." (1610 PT)
""The Creek Fire began late Wednesday night near Fallbrook and forced the evacuations of at least 7,000 residents from the community of 30,000 next to Camp Pendleton." (1233 PT)
This is a developing story. Check back with us for more updates or you can visit us on our channels at @nwfireblog (Facebook, Twitter), nw fire blog (Instagram) or find us here.
About Camp Pendleton
Camp Pendleton is a Marine Corps Installations West/Marine Corps Base/Air Station Camp Pendleton-Training/Supporting Marines since 1942
(c) 2020 NW Fire Blog – Updated 12/24/2020 1725 PT