WARDEN, WASHINGTON
Update 4 | 1/22/2021 0710 PT
A large fire ignited in the Washington Potato Company's processing plant's dehyrdator around 1730 hours PT on Thursday, January 21, 2021, that prompted originally Level 1 evacuations. Due to a possible ammonia tank explosion, Command urgently requested it be elevated to a Level 3.
The plant is located in the 1900 block of West 1st Street in Warden, Washington State.
Local, State and County and fire officials began going door-to-door and evacuating residents within a 1.5 mile radius around the commercial fire.
Fire Command reported several explosions inside the fire building, which was one of several on the commercial campus. Concerns of another tank, which held propane was also being taken as a precautionary measure.
Fire units from surrounding areas, such as, Royal City, Grant County Fire District #13, Ephrata, Moses Lake and a large response from others. As the fire behavior began to become more dangerous for members, Command advised all units to pull back from the fire and let it burn. Some retreated to staging, a mile safely away from the chaotic fire ground.
Residents were allowed to return to their homes after the imminent danger passed over. This occurred at 0048 hours PT, when Fire Command deemed it safe.
At the height of the Level 3 evacuation orders (LEAVE NOW), 1st Street Command observed that most of the ammonia that had leaked out had mostly vented all of the product out of it. Large amounts of water were poured over the fire building in what's call "Surround and Drown" tactics, where they basically position all of their ladders or water towers over what's burning until it goes out.
About 3,000 City of Warden residents, which is mostly their area's population was evacuated but have been allowed to return to their homes, just after midnight on Friday morning.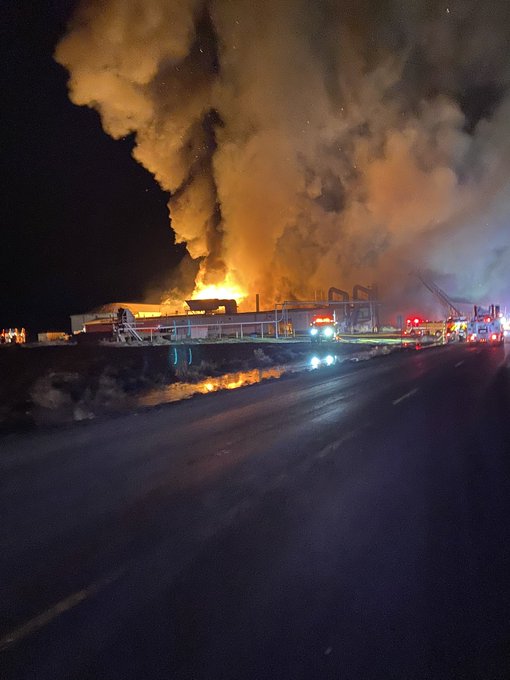 This plant is no stranger to having a history of several State fines for discrimination or other safety violations.
JUNE 2020. At the Pasco plant, the Warden's parent company was fined $92,400 by the Washington State L&I agency for the same violation over the last three years after a worker suffered a fractured wrist and partially amputated finger when his hand got caught in a conveyor while he was cleaning it. It is required for businesses to have a lockout/tagout system to prevent the machinery from starting or moving during service and maintenance. The penalty for repeat-serious lockout/tagout violations is $52,800. (news media)
JUNE 15, 2020. An employment firm reported to local news outlets, that layoffs at the Lamb West potato productions plants
JUNE 2016. The company was fined for repeated serious safety violations that resulted in a serious workplace injury. The fine was $213,160.This was the same violation as in 2020 and in 2014. The company was cited for five repeat-serious and three repeat-general violations, plus 15 additional serious violations. They have been flagged as a severe violator and is subject to future follow-up inspections to verify they are in compliance. (Source: Potato industry news article)
JULY 2009. The Company was cited by the EPA, when they failed to report approximately 300 pounds of anhydrous ammonia into the environment, according to a source that reports on EPA news. This facility was listed in the same location as this fire, which states they produce dried and dehydrated frozen potato products. The leak is said to have occurred when a circuit breaker failed, causing a pressure relief valve to open and releasing the anhydrous ammonia. The EPA says that Oregon Potato failed to immediately notify local and state agencies about the release. No injuries reported at the time of the incident but ammonia is said to be a pungent, toxic gas that attacks the eyes, skin, throat, and lungs that can cause serious injury and even death.
(Source: Environmental Resource Center – ercweb.com)
(c) 2021 NW Fire Blog