BOSTON, MASSACHUSSETTS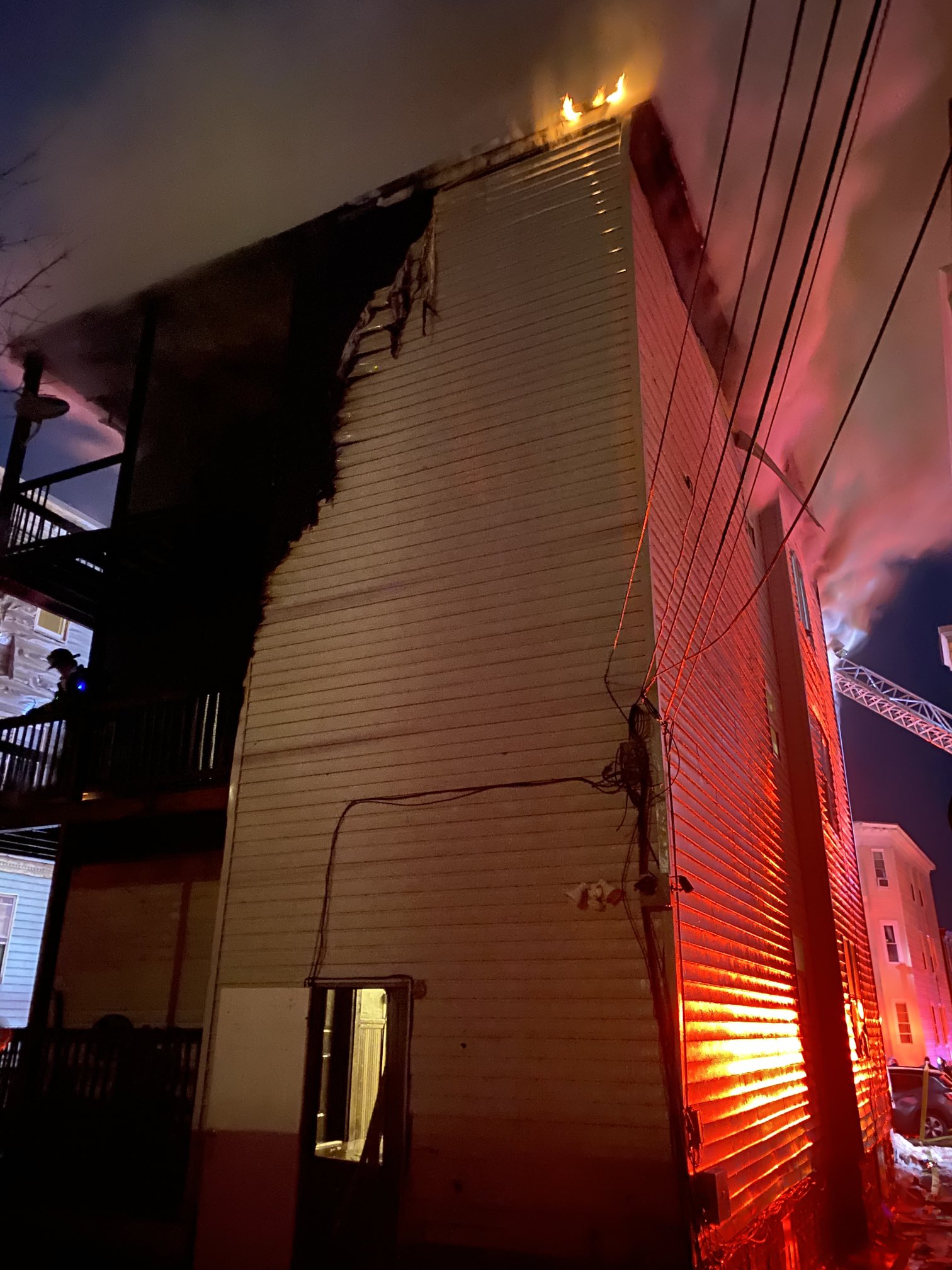 Firefighters were dispatched to a multi-level residential structure fire this evening, located at 47 Woolson (some reporting Woodson) in Boston, Massachusetts on Thursday, February 11, 2021.
Firefighters arrived to the fire at 1826 hours PT and immediately escalated the fire to a 2nd alarm. Shortly thereafter it was increased to a 3rd alarm, after crews were told to get off the roof immediately.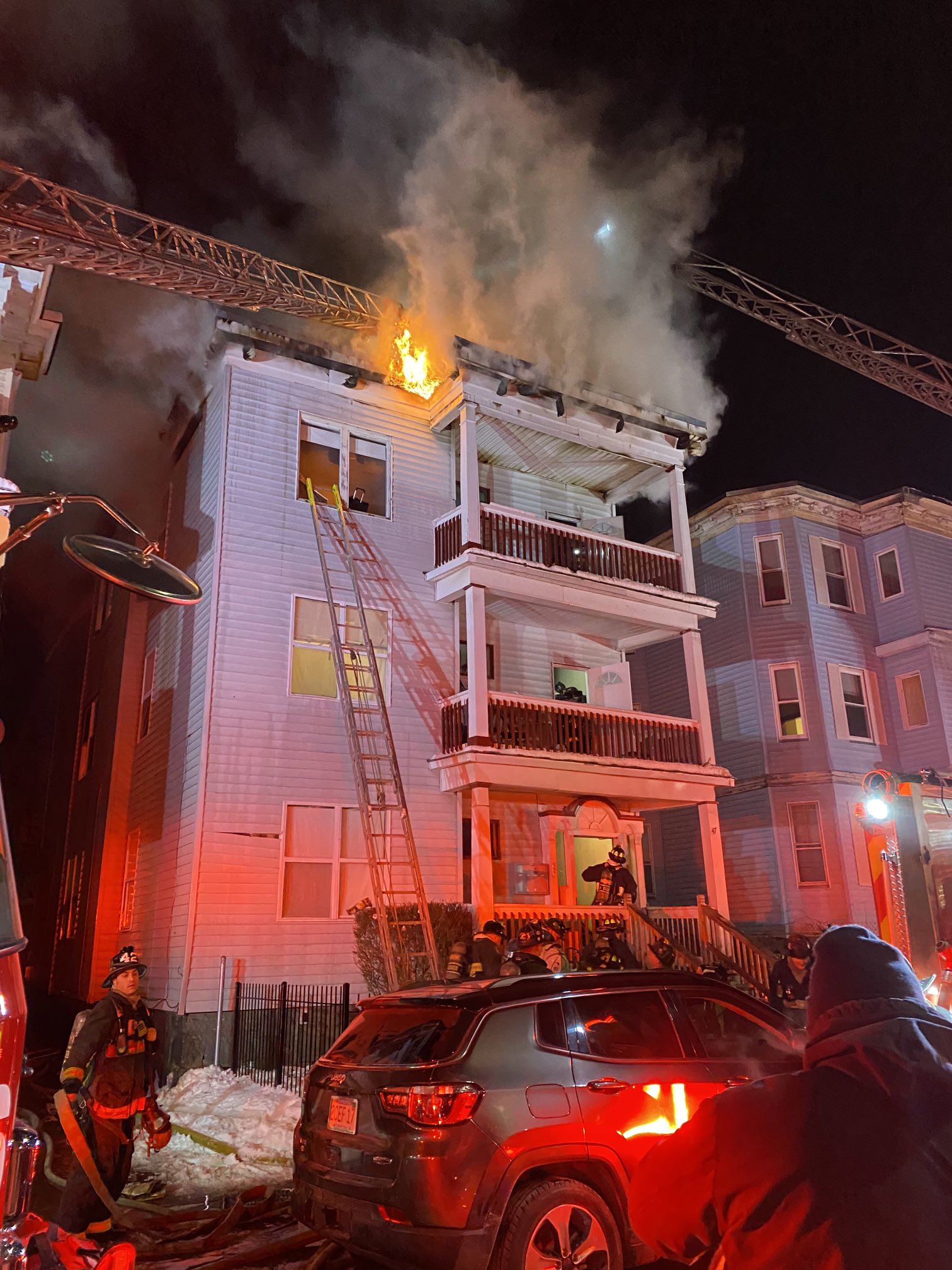 Reports of heavy fire were visible on the second and third rear porches with it through going through the roof.
Crews went to nearby structures with hoselines to hit the fire building from multiple angles. Fire was quickly knockdown and crews were working putting out hot spots and transiting over to extensive overhaul operations.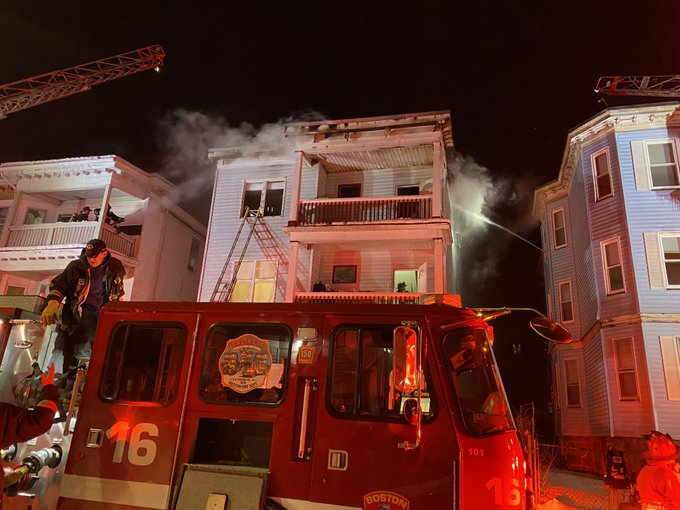 Current temps are 23*F with mostly clear skies and winds at 11 miles-per-hour. Humidity is 41-percent. Crews are working snow and ice on the ground at 1855 hours PT. At 1910 hours PT, temps had increased to a cool 28*F with increased winds at 14 miles-per-hour and decreased humidity at 36-percent. Skies were now being reported as cloudy at 1910 PT (2210)
COVID restrictions are in place.
Photo Credits | Boston FD
BOSTON FIRE DEPARTMENT'S FIRE, DISASTER HISTORY
BFD has had several multi-alarm fires in their City. Here is a sampling of some of those fires and events that date back to 1760 and to this present day.
1760 | The Great Fire of 1760. Destroyed 349 building on March 20, 1760.
1872 | Board of Fire Commissioners is created after the Great Boston Fire of 1872, destroys 776 buildings and killing 13 people. The City is faced with $75 Million Dollars in damage and destruction. Mutual aid arrived from New Haven, CT and Manchester, NH.
1887 | On March 14, 1887, the Bussey Bridge over South street in Roslindale collapse during the morning hours, killing 38 people and injuring 40. The bridge was built for two RR tracks but contained only one, collapsed after the train, tender and three cars had passed.
1889 | Two firefighters were killed during the Thanksgiving Day Fire which deemed to be an eight-alarm (never heard of one this big before) fire.
1942 | The Cocoanut Fire took place on November 28, 1942 at 2215 hours. Killed 490 lives and injured 166. Fire spread from an electrical box when it shorted out and ignited gas leaking from a faulty refrigeration unit.
1972 | Vendome Hotel Fire. On June, 17, 1972, at 1435 hours, a 4-alarm fire broke out and it took firefighters nearly three hours to control the fire, which the southeast section of the building collapsed. Nine BFD firefighters were killed and eight more injured.
2007 | Boston bomb scare when 2 men were working with a broadcasting company sent out flyers mistakenly as bomb threats causing wide-spread panic.
2013 | Boston Marathon bombing.
2014 | Beacon Street Fire. On March 26, 2014, two firefighters were killed when they were trapped in the basement in a Beacon Street Brownstone in Boston's Back Bay. 18 others were injured.
(c) 2021 NW Fire Blog – Update 2 2/11/2021 1955 PT/Update 1 2/11/2021 1855 PT