UPDATE 1 – MAY 2, 2021
Incident Summary
A wildfire named the SOUTHERN FIRE for its location around the 14000 block of Great Southern Overland, Aqua Caliente (San Diego) and about 10 miles southeast of Julian, California. This is the eastern portion of the County.
Started on Saturday, May 1, 2021.
Incident Cooperators
CAL FIRE/San Diego Fire Department (lead), San Diego County, SDSO, Red Cross (southern region), NWS San Diego.
May 1, 2021 Timeline
1631 | IC requests San Diego County Sheriff and State Parks to notify residents of the Butterfield Manufactured Home and RV Community to evacuate. Four additional engines and one additional water tender is requested.
1838 | 1,200 acres. 500 residents evacuated from Butterfield Ranch Campground to Agua Caliente. 3 structures destroyed.
2132 | San Diego County Emergency Management notifies the public, they are monitoring the community of Shelter Valley.
2143 | San Diego Humane Society on-scene of the fire incident supporting SD County's Department of Animal Services. They helped rescue rabbits, a donkey, goats, horses and chickens.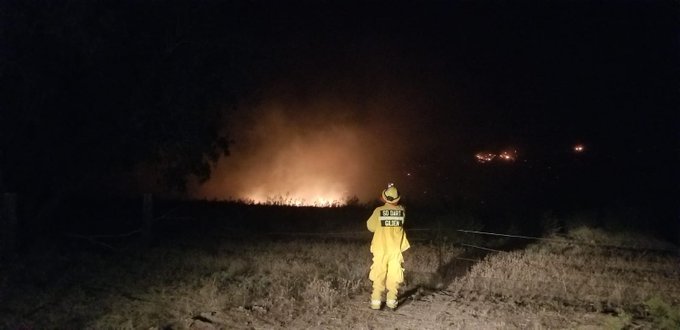 2233 | Animals have been sheltered at the Vallecito County Park. 37349 Great Southern Overland Stage Road, Julian, California.
May 2, 2021 Timeline
0218 3,000 + acres. Fire spreading near the Mason Valley Truck Trail near the airstrip.
0626 | 2,900 acres. 0% contained. Strong winds up to 40-60 mph observed overnight. Continuous construction of containment lines in effect.
0927 | Wind has changed directions multiple times.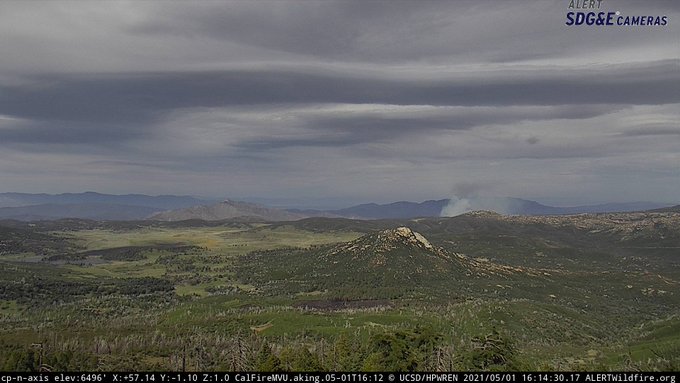 Credit: Alert|SDG&E Cameras
1013 | Red Cross provided 32 evacuees with meals and hotel rooms.
1247 | Air resource on-scene; A330, Inte 24 Copter 129. Helitanker 729 and Copter 12 are en route. Tankers were said to be unable drop due to strong winds over the fire line.
1435 | Fire has destroyed 5,184 acres. 25% containment. Fire crews continue to improve the containment line. They are working towards their 100% containment objectives.
1452 | Red Cross is currently providing emergency services including lodging, meals and more for 70-plus evacuees.
1948 | 800 acres. 5% contained.
Evacuee Resources
Red Cross (So Cal) | Providing evacuees with hotel rooms in El Centro. Contact the Red Cross at 571-595-7910 or visit the Red Cross Evacuation Point – Agua Caliente Campgrounds. 39545 Great Southern Overland Stage Route.
Evacuation Updates | @calfiresandiego
San Diego Humane Society | Partnering with San Diego County Department of Animal Services. 619-236-2341.
(c) 2021 NW Fire Blog – Updated 1615 PT