EVERETT, WASHINGTON — JULY 15, 2021 — 1400 HOURS PT
INCIDENT SUMMARY
WSDOT, Firefighters and Law Enforcement are on-scene of a 3rd Alarm Technical Rescue three foot deep and eight feet wide hole dug by an unknown person, just northbound of I-5 and under the Pacific Avenue offramp, where they are trying to locate if someone is still inside the manmade tunnel.
INCIDENT COOPERATORS
WSP, WSDOT, Everett Fire and other agencies on-scene.
OPERATIONS / TIMELINE
0800 hours PT – 911 received a call from a WSDOT member about a hole leading to a tunnel which was close to the northbound I-5 off ramp at Pacific Avenue. Personnel saw a person near the entrance of the tunnel the night before.
During the height of the call, there was concern that the tunnel had collapsed, but after rescuers were working, they found that were was dirt covering the entrance to the tunnel and found it to be fully intact. At this time, they say it does not appear the tunnel has been dug underneath the highway. Concerns of an individual being inside was of the essence to locate.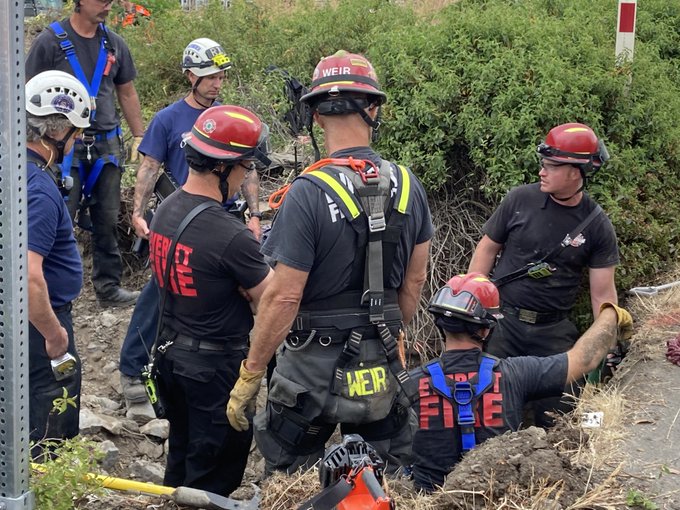 1022 hours PT – Seattle FD Squad 14 is dispatched to Pacific Avenue and Walnut as a single Red unit. We have reached out to Seattle FD to see if this is the unit that is up in Everett. We are not seeing any Battalion Chief or other resources dispatched as mutual aid in their CAD system.
1210 hours PT – Everett FD: "Working to remove dirt away from this tunnel to determine if anyone is inside. Nothing has been confirmed that it has collapsed or if anyone is entrapped inside the man-made dug tunnel underneath the I-5 offramp under Pacific Avenue in Everett, Washington."
1412 hours PT – Multiple Fire, LE, Public Works and DOT units are still on-scene and working to remove the dirt from the tunnel. It has been a long day for many of these first responders in their urgent search of a possible victim inside the man-made (dug) tunnel.
CLOSED
N I-5 offramp to Pacific in Everett, Washington. (via WSP)