UPDATE 1 — JULY 25, 2021 — SUNDAY — 1455 HOURS PT
INCIDENT SUMMARY
A wildfire called the THORP PRAIRIE HILL FIRE is burning in the northwest community of Thorp (Kittitas County), Washington. This time the fire ignited from an unknown on Sunday, July 25, 2021.
FIRE HISTORY IN THIS IMPACTED AREA
Today's fire is just one of many that have hit this area. Here is a compiled list of previous incidents.
July 23, 2021
THORP PRAIRIE CANAL FIRE. Call dispatched 1432 hours PT. Contained 1751 hours. Controlled 2134 hours. Brush fire on median and shoulders of I-90. EB I-90 shut down at MP 77. 5 miles west of Cle Elum. WB I-90 at MP 84 also closed. 27.7 acres. Incident Cooperators: KCFD1, KVFR, WA DNR.
2nd fire breaks out on I-90 near exit 93. 7 miles east of Cle Elum.
June 26, 2021
HORLICK ROAD FIRE. 3rd alarm brush fire. Located in Sunlight Waters / Thorp areas. Level 3 evacuations were ordered on June 26, 2021 then lowered back down to Level 1. Cause of the fire is unknown. All structures were saved by firefighters. Incident Cooperators: Kittitas County Fire District 1, KVFR, KCFD7, WA DNR, USFS, Kittitas County SO.
June 17, 2021
Brush Fire. Brush fire along I-90, mile post 95. Near Thorp Prairie Road. Call dispatched 1259 hours. Out. 0.5 acres. Incident Cooperators: KCFD1, WA DNR.
May 9, 2021
Wildfire. South of Cle Elum. Incident Cooperators; KCFD1, KCFD7, WA DNR, Roslyn FD.
September 2, 2020
EVANS CANYON FIRE. 12,900 acres with a 0% containment is notably covered on Social Media. Fire started in Yakima County and quickly moved into Kittitas County onto Thorp Highway. Incident Cooperators: KCFD1, Yakima Valley VFD, Ellensburg FD, Selah Fire, Easton FD (KCFD3), KCFD7 and Yakima County FD. Both Level 2 and 1 evacuations were ordered by the Kittitas County SO on September 1, 2020.
August 5, 2020
Fire located outside of Cle Elum. 2 acres. Incident cooperators: KCFD7, FD1, FD3, Roslyn FD, WA DNR and Cle Elum FD.
June 28, 2020
Brush fire on North Thorp Highway in Thorp. Dispatched time around 1330 hours PT.
July 20, 2019 – July 24, 2019
PIPELINE FIRE. Brush Fire. WB I-90, exit 101 at Thorp Road. 9 miles west of Ellensburg, near the Gladmar Road (Thorp Fruit stand). Gibson and Sons recognized for helping fire suppression efforts by running their excavator out to the fire line to spread out the piles that were causing fire objective challenges. Cause: unknown but large piles of wood and debris caught fire. Fire put out on July 23, 2021 and moved to Patrol status. Incident Cooperators: KCFD1, KVFR, KCFD7, WA DNR, WSP and Roslyn FD.
June 11, 2019
Brush Fire on Dudley Road in Thorp. Fire quickly knocked down, lined and mopped up. .25 acres burned.
August 23, 2018
Grass fire. WB I-90 at mile marker 104.
June 28, 2017
Brush Fire. EB I-90, mile post 94. 8 miles east of Cle Elum. Thorp Road is closed.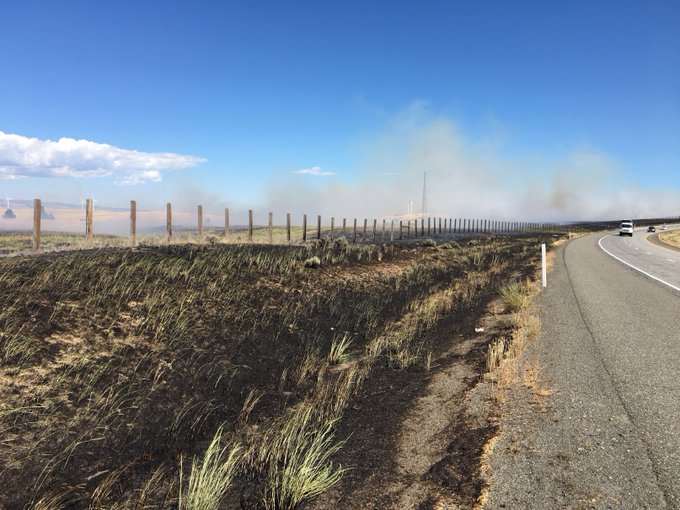 September 6, 2016
HAYWARD FIRE. Northwest of Thorp. 50 acres. Fire behavior is active with wind-driven runs and a rate of spread to grass fuels.
July 4, 2016
Brush Fire. 2 miles east of Thorp off of I-90. small fire in the median. Dispatched at 2345 hours PT.
August 25, 2013
MANASTASH RIDGE FIRE. Located in Thorp, Washington.
August 24, 2012
Fire consumes fuels around wind turbines just outside of Thorp. No damage done to mammoth turbines.
August 15, 2012
A wildfire in Cle Elum and Thorp has burned more than 40-square miles.
August 13, 2012
Thorp Fire. Limited info. Smoke and Air Quality broadcasts made.
RESOURCES
Resources sent to this wildfire incident are ALPINE-80 ALPINE-81 E-331 E-4201 E-4202 E-4204 E-4205 H-339 KIT-25 KIT-27 (IC).
Incident Cooperators: WA DNR, KCFD1, Local additional agencies.
(c) 2021 NW Fire Blog