UPDATE 5 — JULY 24, 2021 — SATURDAY — 2155 PT
Incident Summary
The BOOTLEG FIRE is located:
23 miles east of Chiloquin
28 miles northeast of Klamath Falls
11 miles from the town of Sprague River
On the Fremont-Winema National Forest
— COMMUNITY MEETING —-
JULY 25, 2021 AT 1400 HOURS (2PM) PT — VIRTUAL FACEBOOK PAGE —-
No account needed to watch. Hosted by the Bootleg Fire Operations Center
The BOOTLEG FIRE began on July 7, 2021 from an unknown cause at the time of the sparked wildfire. It is named after the nearby Bootleg Spring.
The LOG FIRE has merged in with the BOOTLEG FIRE and is under one incident only, including stats. This occurred on July 19, 2021.
Resources
There are 2,216 total personnel still assigned to this incident, along with 49 crews, 152 engines and 20 copters.
Resources and Incident Cooperators on this incident are the following. (NOTE: Some are either assigned or have been released).
American Red Cross
BLM Fire
South Central FMP
Fremont-Winema NF
Klamath County
Lake County
Oregon National Guard
WA National Guard
Civil Air Patrol
Fremont FD (CA)
SW Polk FD
NWS Medford
Metro Fire of Sacramento (CA)
Nevada National Guard
Baker Aircraft
Portland FD
American Forests
Tanker 10
NIFC
Kirkland (WA) FD
ODF
OR's 2nd District Congressman Cliff Bentz
Medford Tanker Base
Command is under the direction of an AK Type 1 Team, an Type 1 IMT.
There are 2,216 total personnel still assigned to this incident, along with 49 crews, 152 engines and 20 copters.
The Amazing Faces Supporting Firefighters and Other Incident Activities – Zuni Camp Crew
It takes a village to put out a wildfire, especially a large wildfire. In Silver Lake Spike Camp, we are supported by an amazing group, the Zuni Pueblo from New Mexico. The Zuni Camp Crew helps serve meals, keep the camp tidy and issue supply. – Bootleg Fire PIO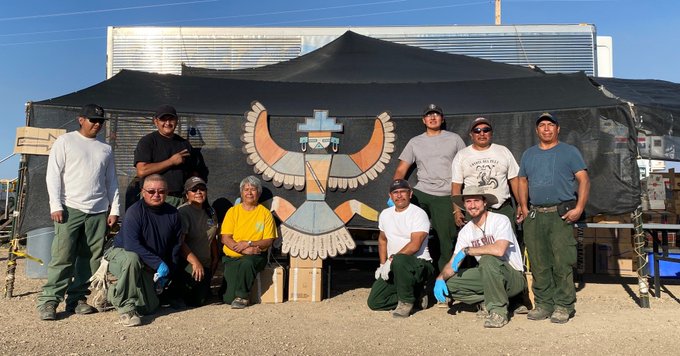 Current Status
The fire has increased to 408,248 acres and crews have made a significant amount of progress on this firestorm with reaching a 46% containment status.
Fire behavior at this time is extreme with running, flanking and group torching. Due to the extremeness of the fire intensity, it is creating its own fire weather. A stunning and rare event occurred on July 18, 2021, when a tornado appeared on the eastern perimeter of the fire.
Here is a photo of the aftermath and you can see what type of destruction it made on the land. Fire Officials and meteorologists will definitely looking at this phenomenal event for years to come.
Damage Assessment
Structure loss is holding at 184, but the cost-to-date expenses for fire suppression and containment has reached a whopping $48.7 Million Dollars.
Restrictions
Public Information — Fire Information Public Phone – 541-482-1331.
Stark Stats
July 15, 2021
2 million people are said to be under RED FLAG WARNINGS across California, Idaho, Montana, Washington and Oregon. Bootleg Fire deemed official "megafire" of 2021.
July 16, 2021
The Bootleg Fire creates its own weather and with that comes lightning strikes within the pyrocumulus cloud it produces.
Just on the same day, the weather produces a tornado on the east fire perimeter and clears out a whole area. This is very dangerous for those on the ground.
Very Large Tankers (VLATS) Tankers 910 and 912 arrive to the Medford Tanker Base.
July 17, 2021
The fire has burned two-and-a-half sizes of San Francisco worth of forest from July 13 – 17, 2021.
July 18, 2021
Fire grows to be 467-square miles, is about 40% the size of Rhode Island (US).
Mutual aid (fire agencies) respond from as far away as New York and Florida.
Fire continues to remain extremely active. Fire Officials ask the public to avoid the area as it puts their firefighters and people at risk.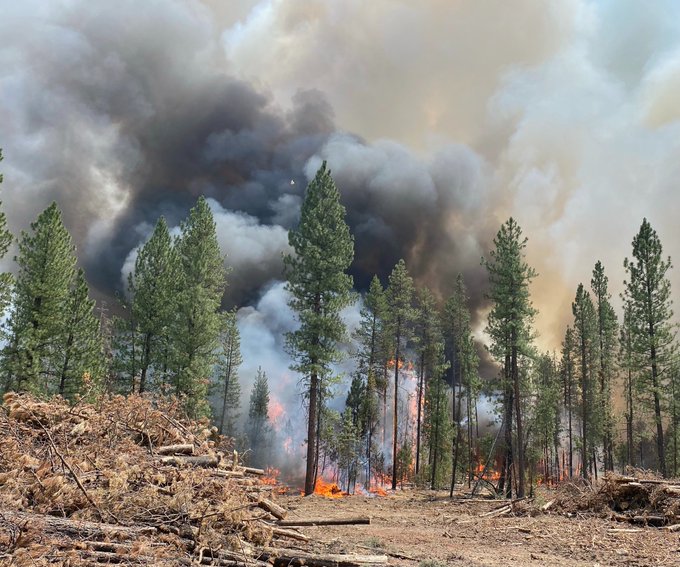 July 19, 2021
Deemed as one of the largest U.S. wildfires, is said to be not only creating its own fire weather but is disrupting up to higher elevations in our atmosphere.
Nationally speaking, wildfires were burning in 13 U.S. states where 80 large fires had burned a cumulative of 1,174,486 acres. More than 19,600 firefighters and support personnel were actively assigned to these events.
Red Cross volunteers have provided 3,409 meals and snacks, 565 total overnight stays, 145 emergency supplies since July 9, 2021.
The Bootleg Fire is deemed the 6th largest fire incident in Oregon's Fire History with others listed as Silverton Fire at 988,000 acres (1865), Siletz Fire at 800,000 acres (1849), Biscuit Fire 500,000 acres (2002), Long Draw Fire 557,000 acres (2012), Buzzard Complex 396,000 acres (2014) and the Bootleg Fire 303,791 (reported on this day) (2021).
July 20, 2021
Fire is deemed to be the 3rd largest fire ever in the State of Oregon's Fire History.
Fire burns into the The Nature Conservancy Sycan Marsh Preserve. The TNC works to protect its research station.
Nine wildfires continue to burn across the State. Gov. Kate Brown recognizes this fire is the 4th largest to burn in Oregon since 1900.
More than 900 airline flights into Denver (CO) are delayed mostly due to poor visibility from the smoke.
Smoke from this wildfire is said to be impacting Philly (PA).
Fire burns about one mile east Sprague River.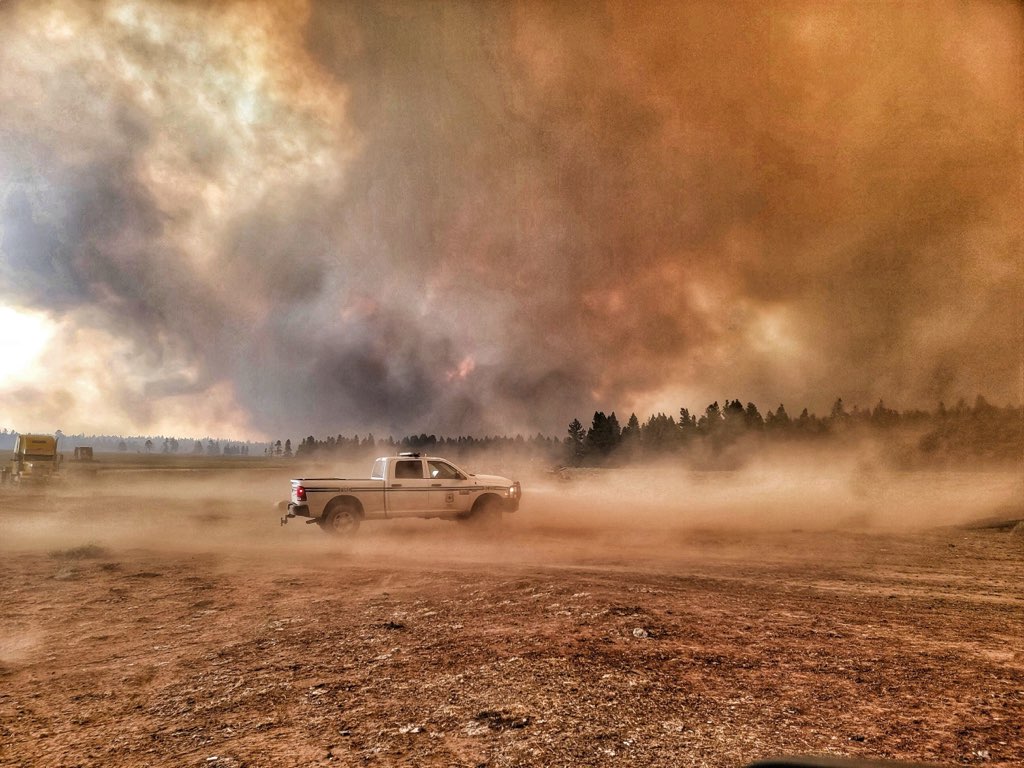 July 21, 2021
Lightning is determined to be the cause of this firestorm.
It's smoke, along with other wildfires has spread across the entire North American continent and is swirling across the Atlantic Ocean towards Europe.
The fire is thirteen-times larger than the City of San Francisco and the size of Los Angeles, California.
Fire is visible from the JMU campus.
Nevada National Guard pilot finds a missing Firefighter, only Nevada soldier assigned to this incident. Awarded by ONG's General for his heroic actions.
Hazy skies observed in Oklahoma.
Air Quality Alert issued in Nashville (TN).
July 22, 2021
General Daniel Hokanson with the Oregon National Guard thanks Guard members for supporting civilian agencies with firefighting efforts.
Nine firefighters test positive for COVID-19, are quarantined.
July 23, 2021
70 homes are burned.
Specialty local food cart: Anderson's helps provide vegan/specialty diets for their firefighters. These guys deserve a HUGE Shoutout and some support to their business!! – ED.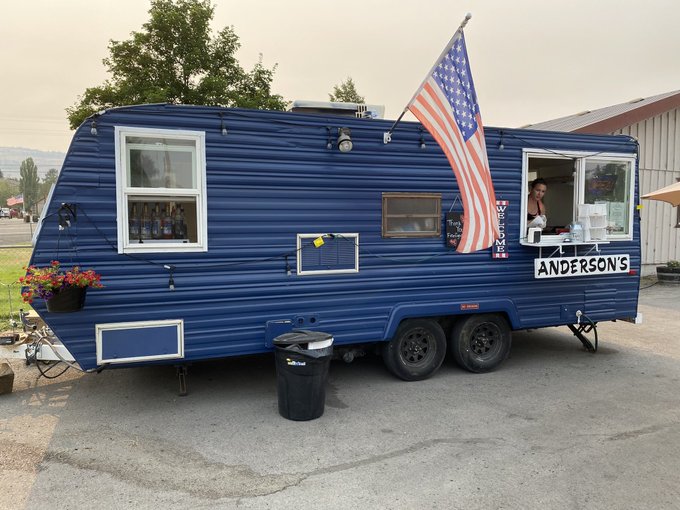 "Local food cart at #bootlegfire helps 1 of our vegan firefighters get meals to fit his dietary needs. They drove 45 miles to closest store to get supplies. Thank you Anderson's Food Cart." – Gaston FD
Kirkland FD's Lt. Dave Nelson and Captain Ryan Riedl are assigned as line EMTs. Their role is to provide urgent medical care to firefighters on the fire line.
American Red Cross is at this fire (70 are burning at this time) providing life-saving shelter, food and water services to anyone who has been forced to evacuate.
July 24, 2021
Fire containment increases to just 4% since this morning, but activity has continued to increase.
WA County (OR) Task Force 25 has been released from the incident after their 14-day deployment. They return back to their respective agencies and quarters.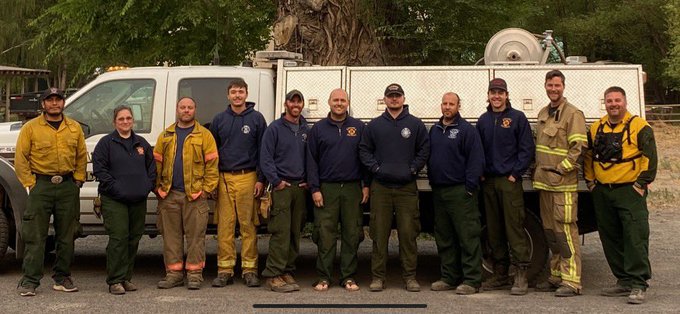 Firefighters were able to keep fire from moving east towards the towns of Summer Lake and Paisley (OR). Fire is said to be now longer than the I-5 corridor through Oregon at 321 miles.
Fire is burning ancient forests, lakes and wildlife refuges, so you can imagine its impacts on the area.
Montana Red Cross volunteer finds out one-week during his service on the Bootleg Fire that his own MT home is being threatened by the Harris Fire.
(c) 2021 NW Fire Blog