Published 12/11/2021 0234 PT – Update 1
KING COUNTY, WASHINGTON — Firefighters were dispatched to an early morning blaze on Saturday, December 11, 2021, to the 1300 block of West Newton Street, Seattle, Washington at 0048 hours PT.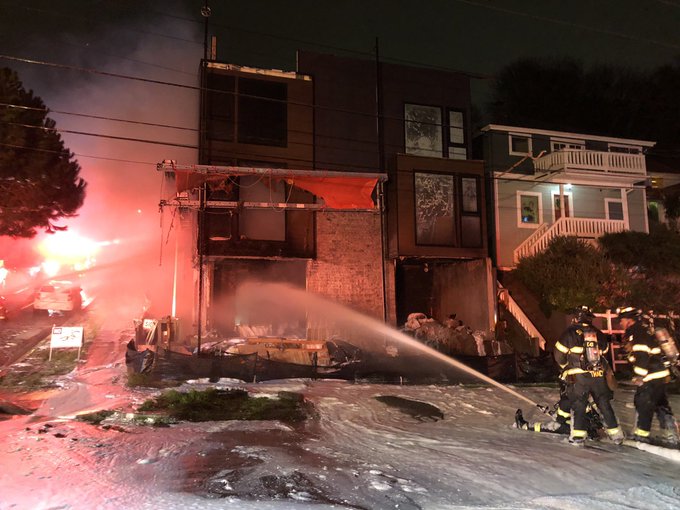 Units dispatched to the scene were A5, AIR10, B2, B4, DEP1, E18, E2, E20, E41, E8, L4, L6, L8, M18, M44, MAR5, REHAB1, SAFT2, STAF10. A second alarm was requested at 0147 hours PT, bringing an additional three resources.
Significant events occurred during this fire operation.
Scaffolding on Floor 2 wobbling caused a hazard for all firefighters working on the fire ground, which prompted Command to set a Collapse zone.
Collapse zone was 1.5 times of the building height then reduced.
Fire began spreading throughout the building then through the roof.
Windows had to be broken out by crews to get water on the fire.
A second alarm during the incident.
A ladder pipe began operating around 0224 hours PT. (on the Alpha/Bravo side).
A metro bus was requested for Firefighter rehab.
Fire was wind-driven with winds coming out of the South, would then die down.
The incident clock was stopped at 0154 hours PT.
PAR was conducted and all members were accounted for.
Fire building – Was being fought as a defensive fire with no entry. 360* completed and collapse zone.
Firefighters were finding that this fire would be burning slowly for quite some time. This is due to be a long-duration incident. You can check our tweets on our *Live Coverage* on our Twitter page @nwfireblog Check back for more updates on this incident.
(c) 2021 NW Fire Blog