Published 2/16/2022, Wednesday, 1725 Hours PT
Incident Summary
A wildfire designated as the AIRPORT FIRE is burning to the southeast of Bishop (Inyo County) and east of Hwy 395 in the Owens Valley area in California which ignited today from an unknown cause. Officials are currently investigating for a cause of determination.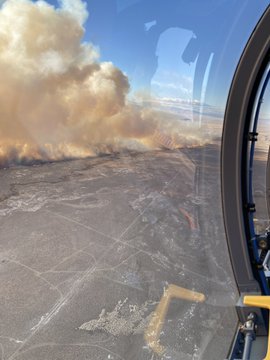 Fire Behavior
1656 PT: Fire reported to have jumped the Owens River and is in multiple spots.
Size Up
1645 PT: FIRIS Intel states fire is approximately 2,156 acres.
1647 PT: 2,150 acres, 0% contained per scanner feed via Intel 12. 1,500 acres via CAL FIRE BDU.
Evacuations in Progress
1657 PT: Inyo Sheriff Deputies are currently assisting with Big Pine evacuations on the reservation.
Structure Threat
A structure threat to Owens Valley Radio Observatory and the UC White Mountain Research Center. Evacuations are in effect for those in the area, where structures are currently being threatened. (1519 PT).
Evacuation Shelters
1656 PT: Bishop Senior Center. 506 Park Avenue, Bishop.
Aviation Assets
1616 PT: Tankers 73 and 86 back to Hemet. Unable to load and return due to visibility.
1701 PT: AA330 assumed command for aviation resources. Current aircraft includes T85, T88, T90, T100.
1715 PT: 5 Air Tankers approved for Thursday's Fire operations.
1722 PT: 5 Air Tankers are approved for Thursday at 0700 hours PT.
Incident Command
Lead Fire Agency is CAL FIRE BDU is in Unified Command with the Inyo County Sheriff's Office.
Incident Cooperators
Incident Cooperators include Bishop FPD, Independence FPD, Lone Pine FPD, Cal Trans District 9, Big Pine FD, LADWP, Inyo County Emergency Response, and Administrators.
Closures
Roads: East Line Street, Airport Road, Poleta Road, Warm Springs Road, and Collins Road.
(c) 2022 NW Fire Blog