INCIDENT SUMMARY
MWF-009 also known as #FortMcMurray Fire is located 3 miles W of Fort McMurray.
As of yesterday, there were 80 firefighters assigned to this unit along with 7 helicopters, 2 dozer groups and 2 air tankers.
Alberta Canada – While one fire burns nearby, another is enraged burning everything in its path.
60 Ontario Firefighters have been dispatched today to help with firefighting.
COMMUNICATIONS
Residents should tune into local media for updates. Residents can call the Regional Municipality of Wood Buffalo for wildfire information at 780-762-3636.
EVACUATIONS
The evacuation order is still in effect for all of Fort McMurray. Residents are not able to return to their homes.  Some homes have been destroyed by Fire.
Alberta Emergency Alert has issued mandatory evacuations now in effect for downtown except MacDonald Island, Thickwood, Gregoire, Abasand, Grayling Terrace, Beaconhill, Waterways and Centennial Trailer Park. Evacuation information can be found athttp://emergencyalert.alberta.ca/alerts/2016/05/3709.html
PRELIMINARY DAMAGE ASSESSMENT
The following is a compiled list of damage reports that have been received by the Regional Municipality of Wood Buffalo, a City of 80,000 residents.
Gregoire. Homes not affected.
Beacon Hill.  80% loss of homes.
Abasand.  Serious loss, South is worse than the North.
Waterways.  Serious loss.
Draper. Damage under assessment.
Saline Creek.  Residences not affected.
Grayling Terrace.  1 home destroyed.
Downtown.  1 home lost.
Thickwood.  1 home lost on Signal Road.
Timberlea:  12 trailers lost on McKinlay Crescent.
Dickensfield.  2 homes lost.
Wood Buffalo. Damage not as serious as Beacon Hill, Abasand and Waterways.
(Twitter) whose sister lives in this Fort McMurrary and is having him post for her unbelievable images and posts.  (We are posting with his permission)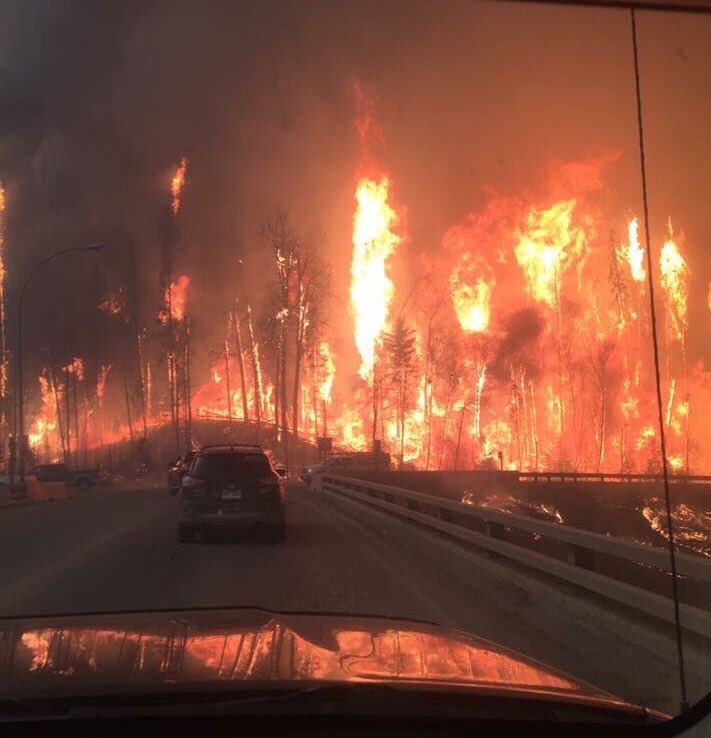 This is an excerpt of his sister's loss and what others are going through as well.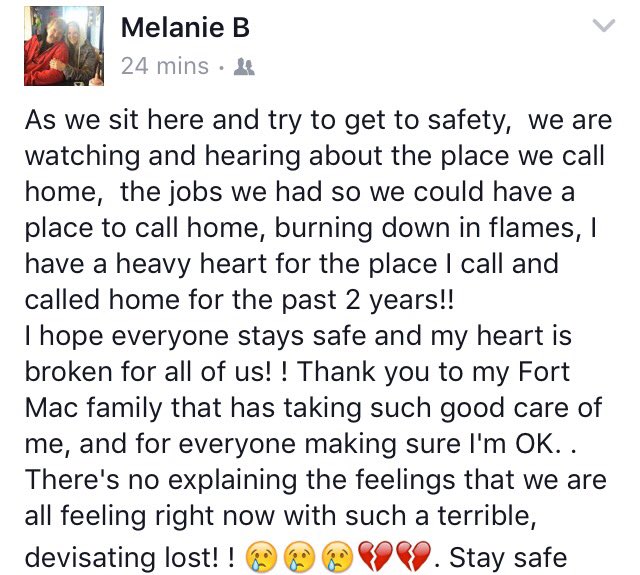 FIRES IN THE PROVINCE
In the last 24 hours, there have been 12 new wildfires in the Forest Protection area of Alberta.
1 is out of control
2 are being held
6 under control
5 have been contained/extinguished.
SWF-030 Fire
This fire is considered as out of control at 446.5 hectares or just over 1103 acres.  The fire is located 45 kilometres or almost 28 miles NW of Red Earth.
There are currently 48 firefighters and 5 helicopters fighting this fire.
Since April 1, 2016, there have been 312 wildfires burning up to 9,844 acres.
Fire crews from the Agriculture & Forestry are currently fighting 7 wildfires outside of this area.
Across the Province, they have resources ready to be deployed at a moment's notice including – 878 Firefighters, 104 helicopters, 115 pieces of heavy equipment and 22 Air Tankers.
FIRE LEVEL
The Fire Level has been increased to "Extreme".  All burning permits are currently suspended.
The fire has grown outside the City now reaching its destination destroying what the residents have worked so hard to protect and grow.  Their homes, businesses, jobs, livelihoods and everything else are going up in flames.
We will work to glean information as to how you can these folks with food, shelter, donations, clothing, etc.  More details are in the works.
RESOURCES NEEDED
Hotels:   If you have rooms in or close to Fort McMurray, call 780-762-3681 ASAP.
TRAFFIC REPORT
Hwy 63:   NB and Highway 881 remain closed with the exception of emergency vehicles.  SB Highway 63 and Highway 881 are open for evacuation.
HASHTAGS
#ymm ,  #ym  #FortMcMurryFireStorm2016
FUTURE UPDATES
We are working to bring additional information as it comes to light.  Thank you for reading our post and following us.  We appreciate you!
(c) 2016 The #NWFireBlog