INCIDENT SUMMARY
A tornado has struck the San Antonio area after an Alert was issued to its residents in the area about one hour ago (2253 Hours CST) has occurred around (2340 Hours CST).
About 40 houses in a neighborhood has suffered major damage.
INCIDENT COOPERATORS
The following are collaborating for this incident and information listed below is for both Officials and disaster victims.
Bastrop County OEM (https://twitter.com/BastropCntyOEM)
T-Storm Alert:  Severe Thunderstorm Warning from 2/20/2017 12:22 AM to 1:15 AM CST for Bastrop County.
Flood Warning:  Areal Flood Advisory from 2/20/2017 12:19 AM to 2:15 AM CST for Bastrop County.
San Antonio Fire and EMS (https://twitter.com/saFIREorg)
Search & Rescue Operations:  Firefighters were out searching door-to-door looking for survivors and dealing with unsecured damaged gas lines that had been their lines severed.
Tornado Path:  Tornado path as far as we can determine: Includes structures on Linda Drive and 7707 Broadway.
Damage Assessments (preliminary): Tornado path as far as we can determine: North Central San Antonio, North of Olmos Park & Alamo Heights, South of San Antonio Airport.
Incident Command:  Command for EMS and Fire is on Shadywood Lane in San Antonio. (2352 CST)
San Antonio Office of Emergency Management (San Antonio EOC)  (https://www.facebook.com/saoem.prepare/posts/1381097738578625)
Assistance:  If anyone needs assistance with storm related damage call 911.
Property Damage:  If any damage is seen in the morning, please report it to 311.
Damage Calls: The city has begun logging and assessing damage from the storm.
National Weather Service – San Antonio (https://twitter.com/NWSSanAntonio)
Alert!  Another tornado warning coming for circulation south of San Marcos. Circulation denoted by bright red colors S of Redwood. Moving northeast. (2145 CST)
Alert!  Two tornado warnings remain in effect, but we are not seeing any tight circulations at this point. (2140 CST)
Wind Speeds:  56 mph wind gust at Austin Bergstrom International Airport just now. (0001 CST)
Threat Area:  Threat area now located across southeastern Travis County, far northern Caldwell County and entering into western Bastrop County. (0002 CST)
Possible Touchdown: There may have been a tornado touchdown earlier near US 281 just northwest of the Quarry Market area.
Alert!  New tornado warning coming out for Williamson County. Circulation located south of Taylor. Moving NE. (0007 CST)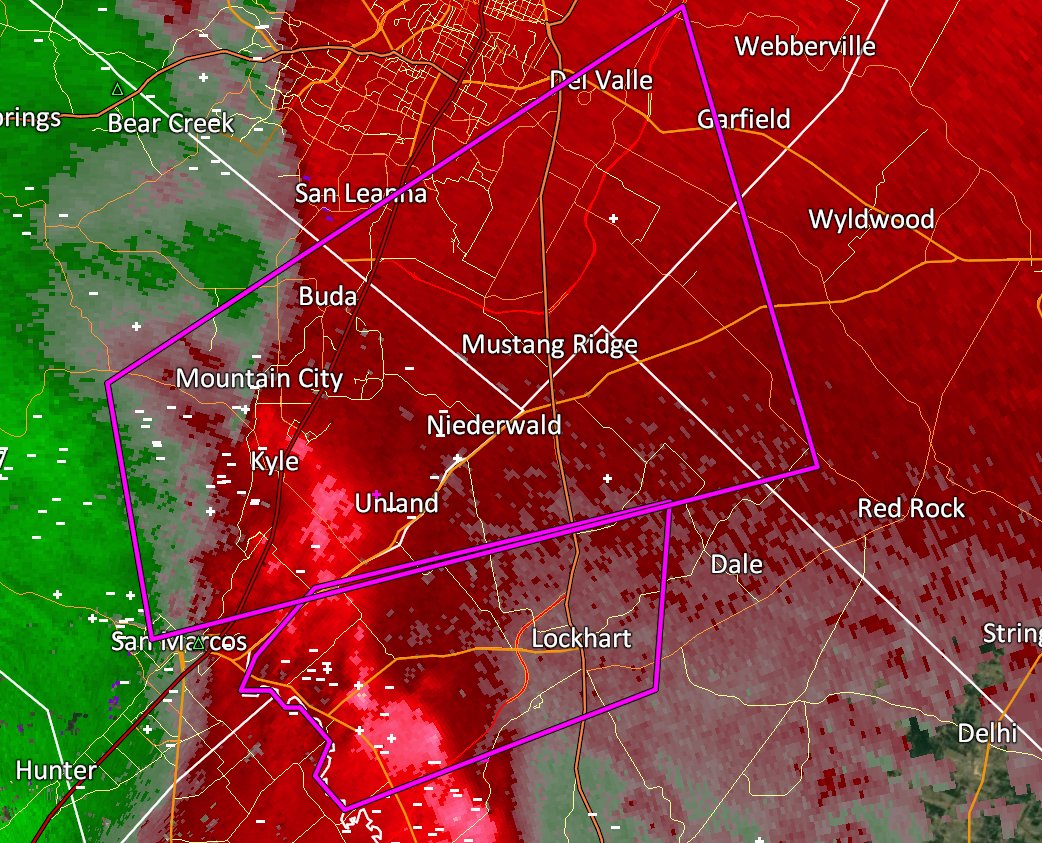 Alert!  Strong rotation southeast of Taylor. Circulation is denoted by circled region. (0028 CST)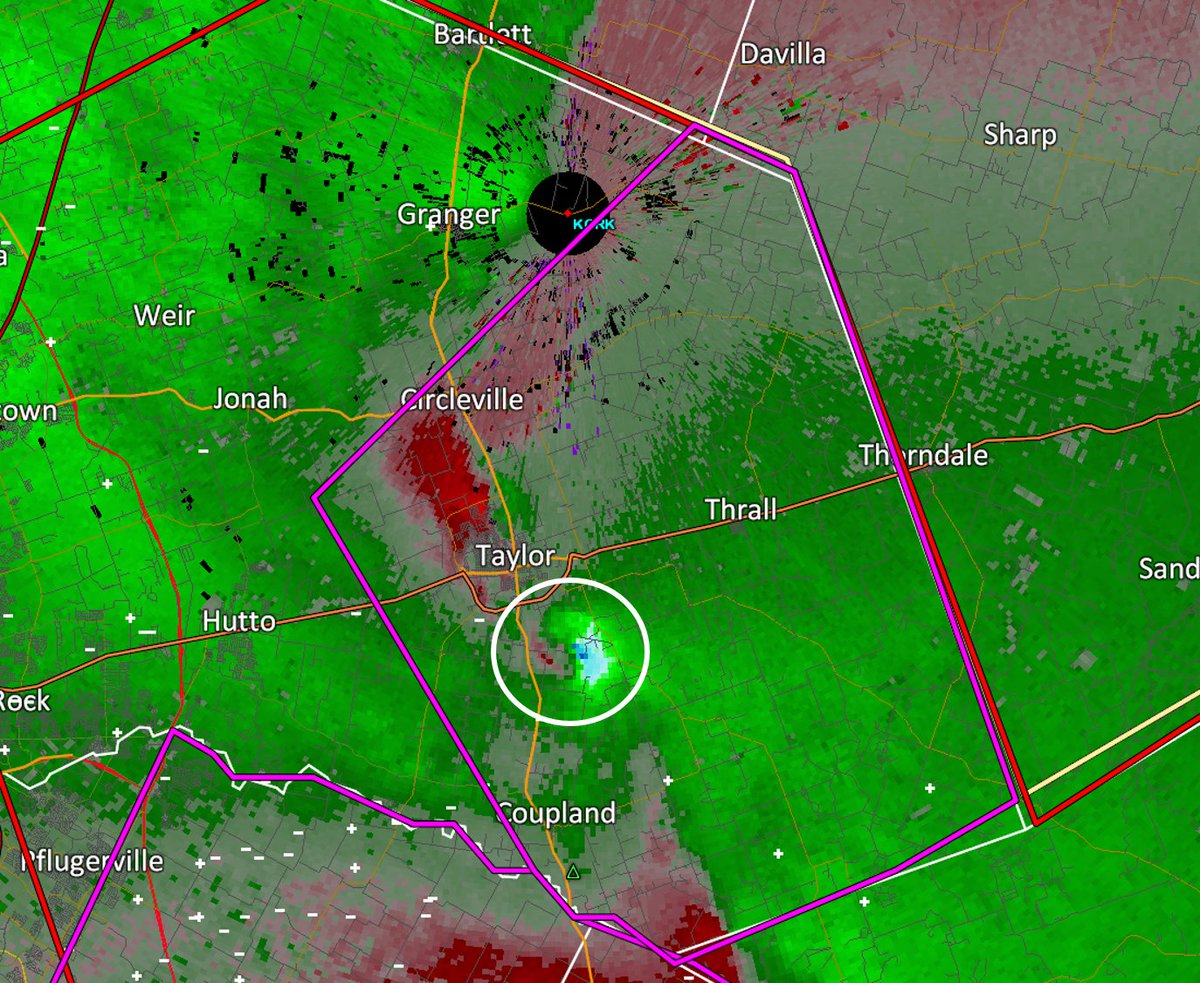 CLOSURES
Roads
Old Fredericksburg Rd/Kendall-Bexar County line. PD manning barricades on flooded streets.
SCANNER FEEDS
San Antonio Fire & EMS:  http://www.broadcastify.com/listen/feed/4905
Fire/EMS scanner from San Antonio #TXwx reporting homes with much roof damage, collapsed carport, 11:47pm CST Possible Tornado
San Antonio Police Dispatch:  http://www.broadcastify.com/listen/feed/13814
Kendall County Fire & EMS:  http://www.broadcastify.com/listen/feed/24771
SOCIAL MEDIA
Media
NOT DFW – Powerful storms and potential tornadoes hitting central Texas hard. Tornado warnings between San Antonio & Austin.
Alerts:  Severe Thunderstorm Warning for Bastrop, Caldwell, Hays and Travis County in TX until 12:30am CST.
Citizens
Sirens:  First time I've heard the Tornado Sirens in Hollywood Park go off. Crazy, Tornado Warning in San Antonio.
STORM DAMAGE PHOTOS
Laredo
* Public Works Building – Courtesy: NWS Corpus Christi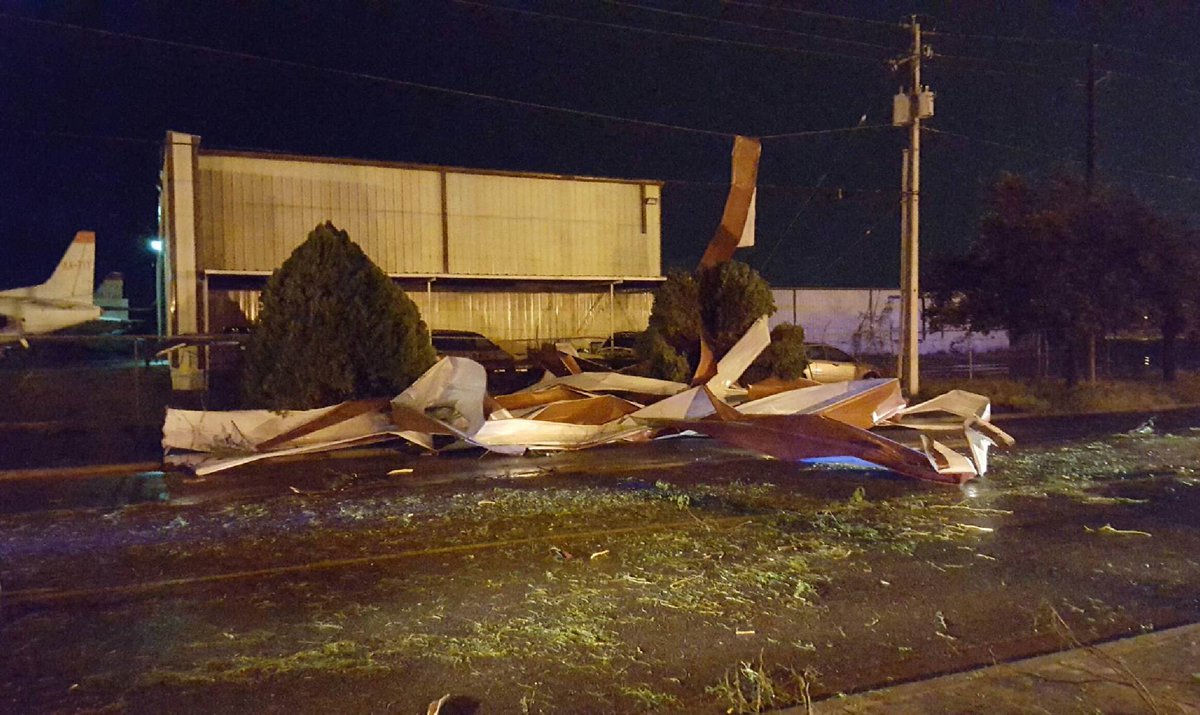 (c) 2017 The #NWFireBlog – Updated 2230 PST / 0020 CST