TERRACE HEIGHTS, WASHINGTON STATE
Incident Summary | A 4-Alarm brush fire broke out around 2353 hours on Friday, July 7, 2017, as a wildfire ripped through a neighborhood on Karin Road in Terrace Heights in  near a major power line on Powerline Road.  It was quickly spreading and had spread its destruction all over the area the Terrace Heights communities.
Cause | Unknown at this time and under investigation.
Current Conditions | The fire is still burning which has destroyed 600 acres.  Containment of 50% has been reached.  Fire crews are implementing burnout operations to burn off some unburned fuels and connect to the main portion of the wildfire.
Resources | Resources are pouring in from Yakima City FD, with requests from Lower and Upper Yakima Fire Districts, as well as Fire Mobe request.
Incident Cooperators | Yakima City and County FD, Sheriff Office, OEM, Selah FD and the American Red Cross.
Evacuations | Terrace Heights located at  57th and Sycamore.
Shelter  | It will be opening at 0230 hours.The Red Cross will open a shelter at the MLK Elementary School at 2000 South 16th Street, Union Gap, Washington. UPDATE | the shelter was subsequently closed at 0330 on Saturday morning.
# # #
Are you FireSmart? Do you have a defensible space around your home?  If not, check out these helpful tips, brought to you by Firewise.org.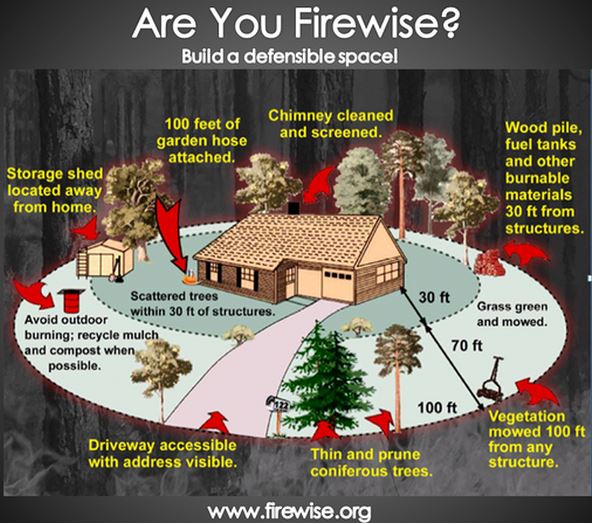 # # #
ABOUT TERRACE HEIGHTS
Terrace Heights is a suburb of Yakima, Washington with a landmass of 7.9 square miles and 0.3 miles of water for a total area of 8.2 square miles. According to a recent census, there were 6,937 residents in the Yakima County area.
The second map (L of this paragraph) shows where Terrace Heights is located inside Yakima County. (Credit:  Wikipedia)
(c) 2017 The NW Fire Blog