CALIFORNIA 
On January 5, 2018, Santa Barbara County began flooding (pardon the pun) Social Media and broadcasting to its citizens of impending dangers of increased risk of flood/debris flows due to the #ThomasFire.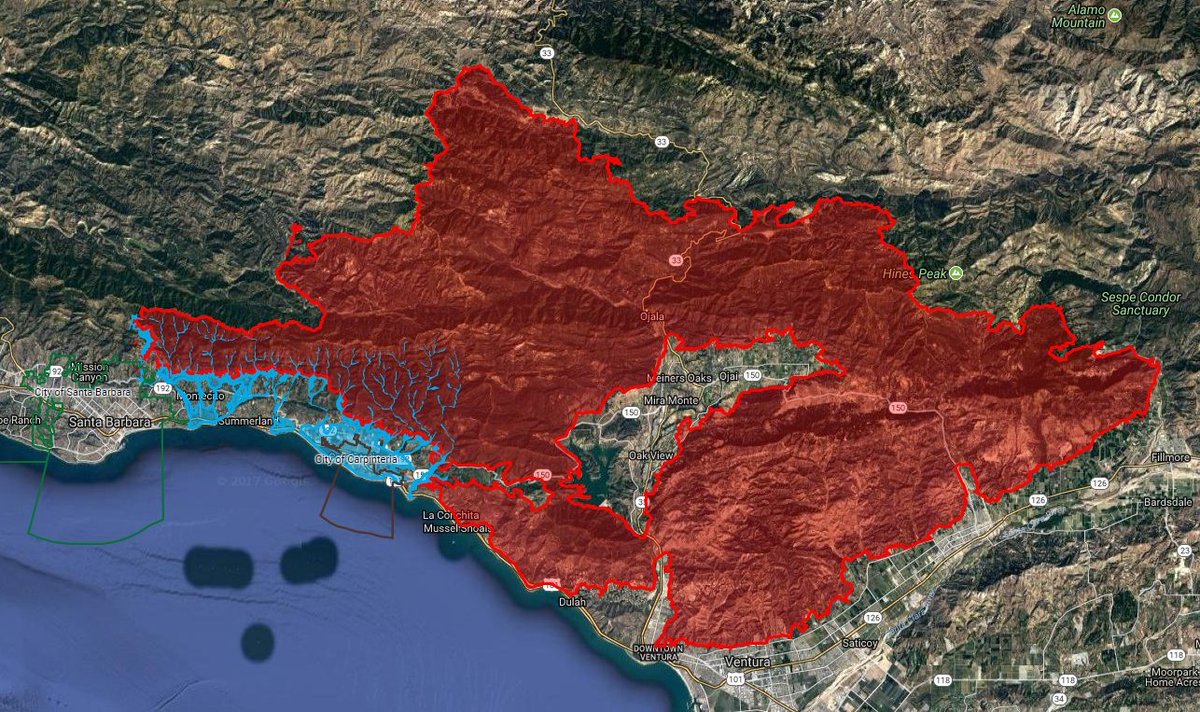 INCIDENT COOPERATORS
CAL FIRE is assisting Ventura County Fire Department and Santa Barbara County Fire in the Montecito, Summerland and Carpenteria areas (Santa Barbara County) due to flooding and mudflows.
PRO-ACTIVE NOT REACTIVE
Evacuation orders were issued on Sunday, January 7th for those living in or near the Thomas, Whittier, Sherpa and Rey Fire burn scars at noon on Monday, January 8th.  This is due to an approaching winter storm to sure to greatly impact these areas.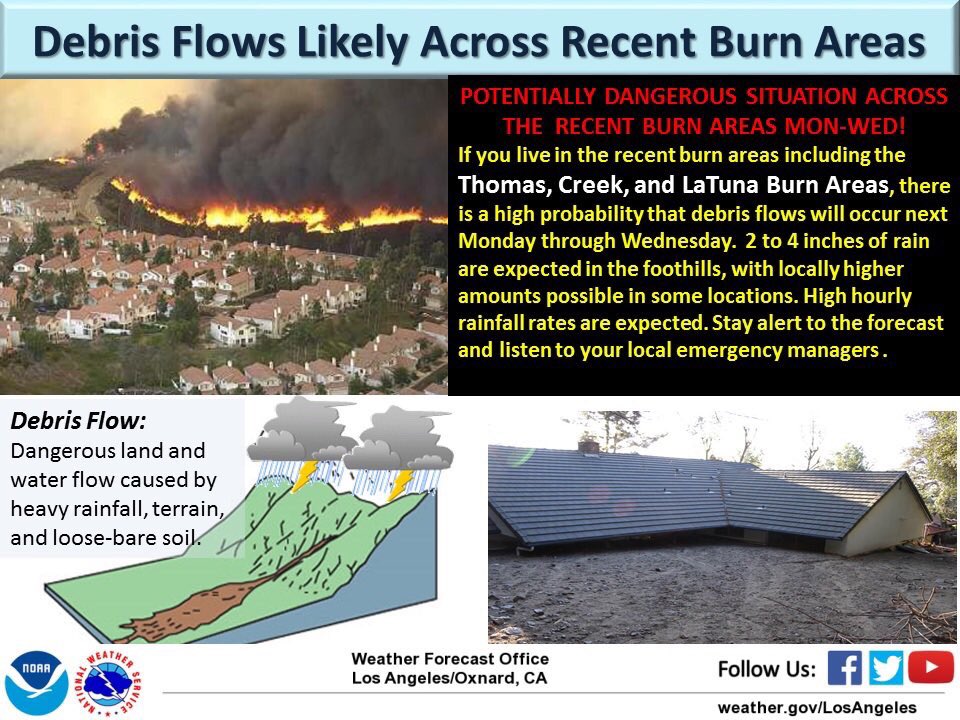 IMPACTED AREAS
Closures were beginning to occur as flooding in the area were rising.  The CHP closed the NB lanes of US 101 at Seacliff & SB lanes at Milpas due to flooding from the Thomas Fire burn area.  I-5 was left open as an alternate route.  SR33 was also closed just north of Ojai.  Santa Barbara CHP was still assessing damage in the area and requested all drivers avoid this area altogether. (1/9/2018 0515 Hours PST)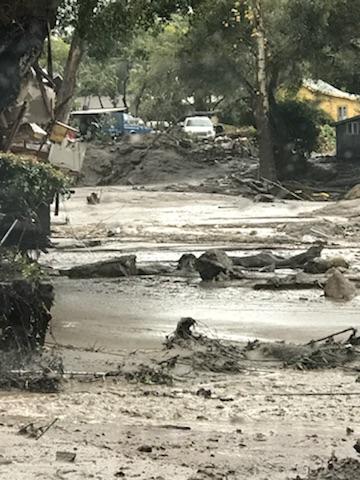 It was also said for Santa Barbara County residents in the evacuation warning and order areas to shelter-in-place or go to higher ground and staying off of roadways.  Reports of mudslides, downed power lines and trees were said to be blocking roads. (1/9/2018 0602 Hours PST)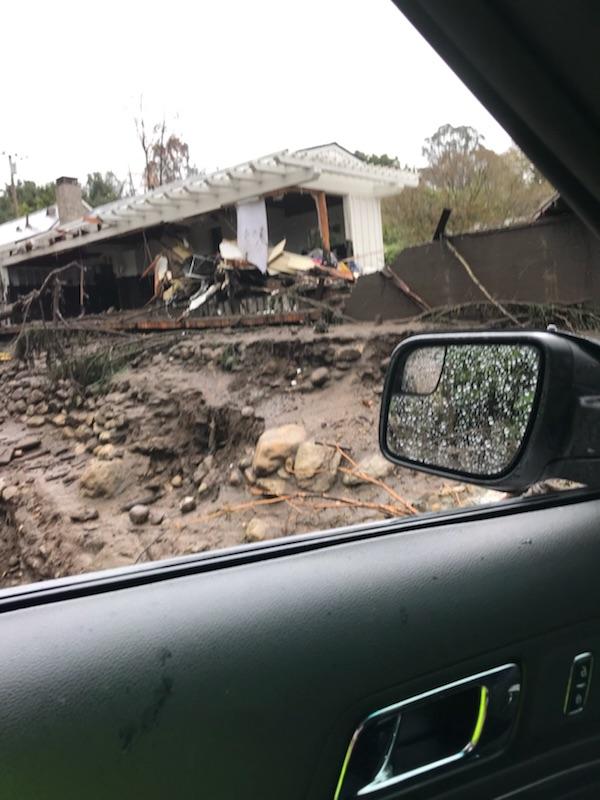 The Santa Barbara CHP closed all on and off ramps of US 101 between Seacliff and Milpas.  CAL Trans District 5 was in the process of closing each ramp.  They stated that there was a delay for road crews due to blockage.  They warned drivers that if they entered either section, they could be trapped. (1/9/0218 0643 Hours PST)
Around 0832 Hours PST, the CHP updated the closure list to include US 101 as closed SB at Milpas, NB at Seacliff and SR 126.  SR 33 was closed at Fairview. SR 150 was closed at Santa Ana.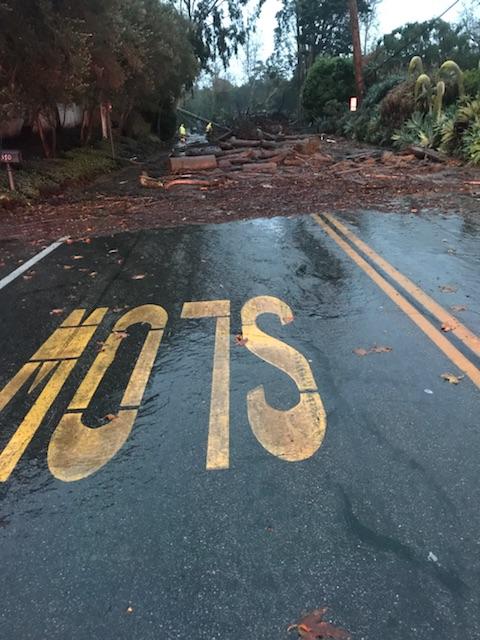 Later the CHP closed US 101 between Milpas and SR 126.  Drivers not heeding the CHP's alerts about not entering the freeway were being reported getting stuck.  Signage was not in shutdown areas because transportation crews weren't able to get them up in time as they too were stuck.  The freeway was listed as being impassable. (1/9/2018 1054 Hours PST)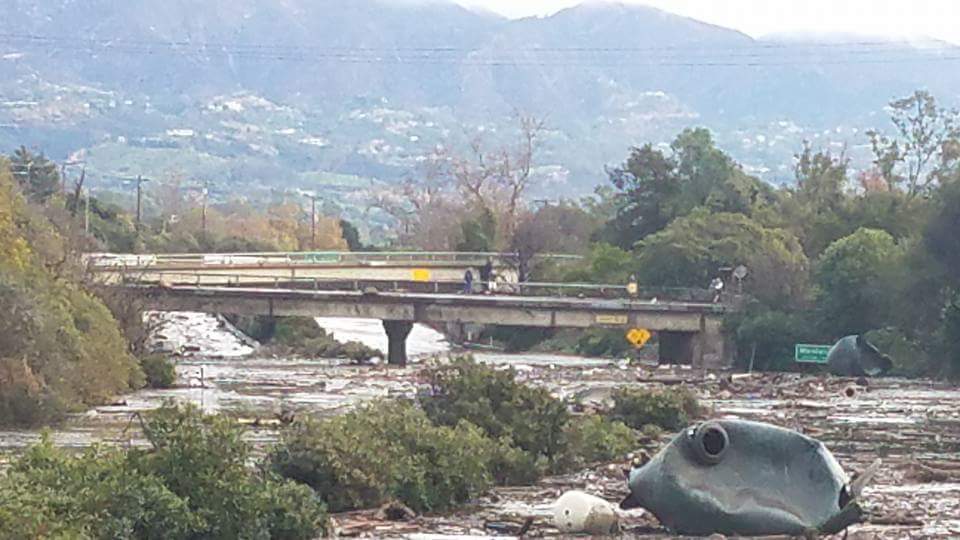 Freeways and roads in the Montecito area were reported as blocked with water and debris over the roadways.  The photos taken  by Santa Barbara CHP show the extensive damage and devastating impacts in the area.  Please heed all warnings and alerts from issuing Public Safety broadcasts or you too come became an unwanted and preventable statistic!  (1/9/2018 1336 Hours PST)
EVACUATIONS
The Red Cross has opened an evacuation shelter for the Burn Evacuation Order areas at the Santa Barbara City College Cafeteria.  Access through the main college entrance. (1/8/2018 0750 Hours PST)
The large animal evacuation shelter for the Burn Areas Evacuation Order is at the Earl Warren Show Grounds.
PUBLIC SAFETY ANNOUNCEMENTS
* ALWAYS be ALERT and AWARE of your surroundings.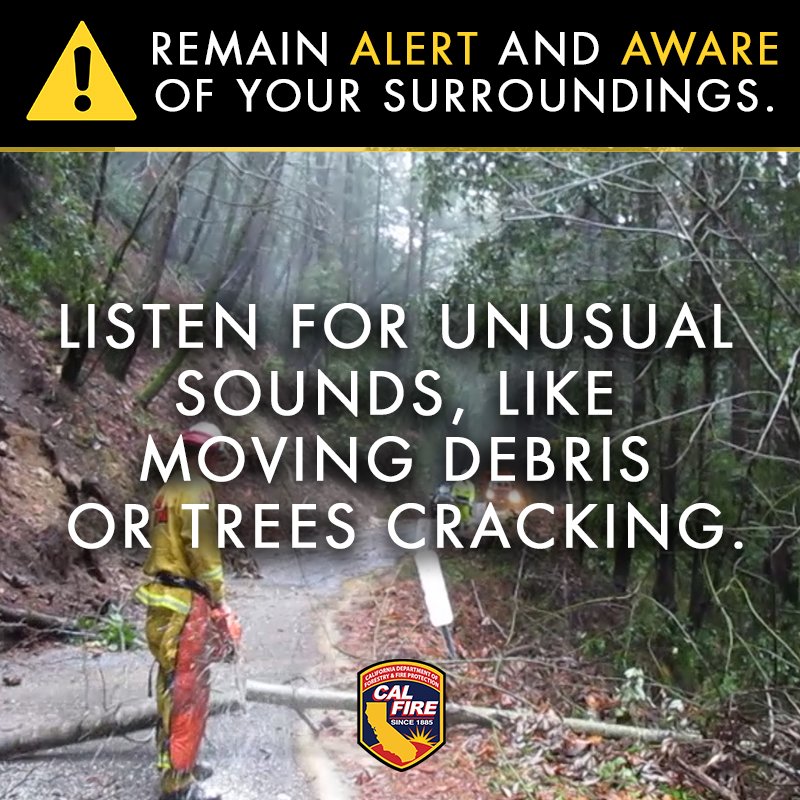 * Stay away from fast moving water.  Though it may not look like it, it can pull you under or you could get injured by unseen hazards underwater.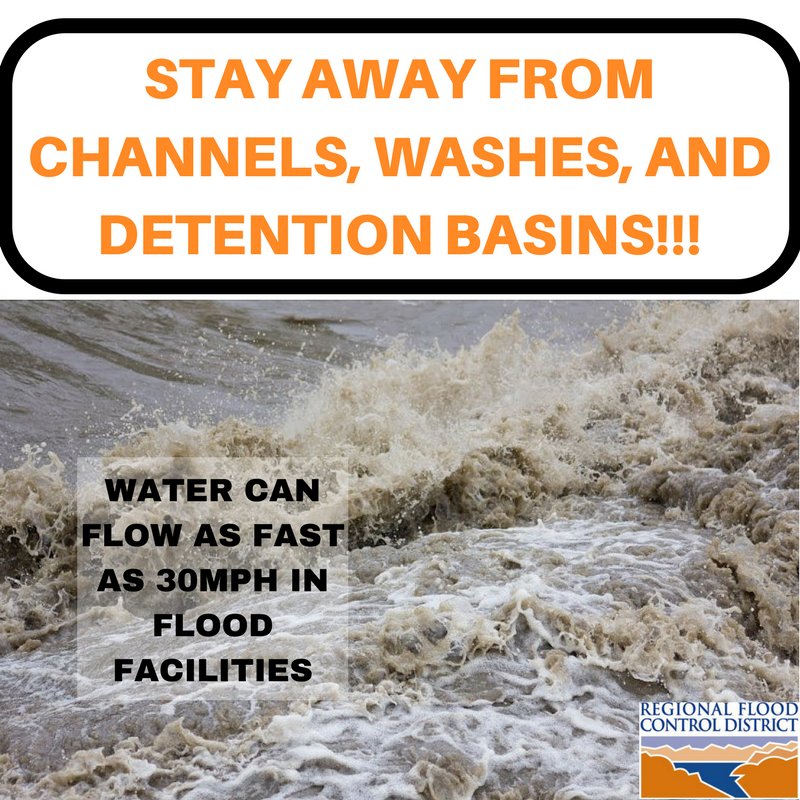 SOCIAL MEDIA
We are using hashtags #LARain #FireRainDamage 
(c) 2018 NW Fire Blog