FIRE TIMELINE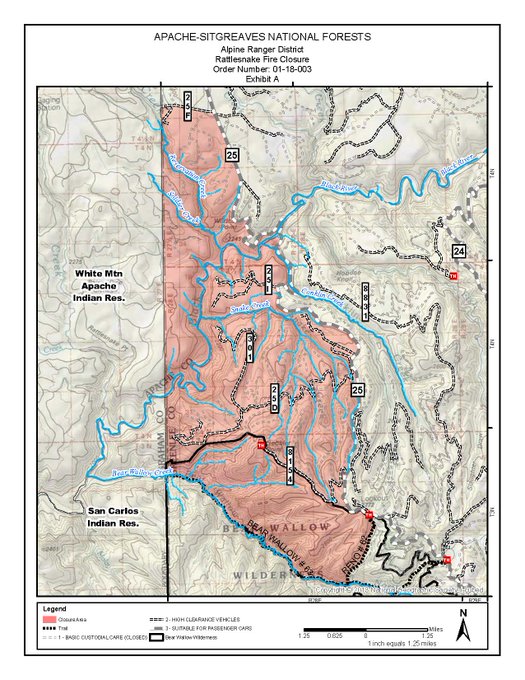 April 14, 2018
Active fire behavior with running.  1,760 acres.  0% contained. 199 personnel. 7 crews, 2 engines, 2 helos.  $800,000 CTD.
April 13, 2018
Bureau of Indian Affairs (BIA) – Fort Apache Agency unit. 24 miles SW of Alpine, Arizona. Timber.  Active fire behavior with running.  The fire is burning in the most southern end of the Alpine Ranger District, just north of the Bear Wallow Wilderness.
760 acres. 0% containment status.  600 acres have been destroyed on the Fort Apache Indian Reservation while 160 acres consumed on the Apache-Sitgreaves NF and San Carlos Indian Reservations. Unknown cause.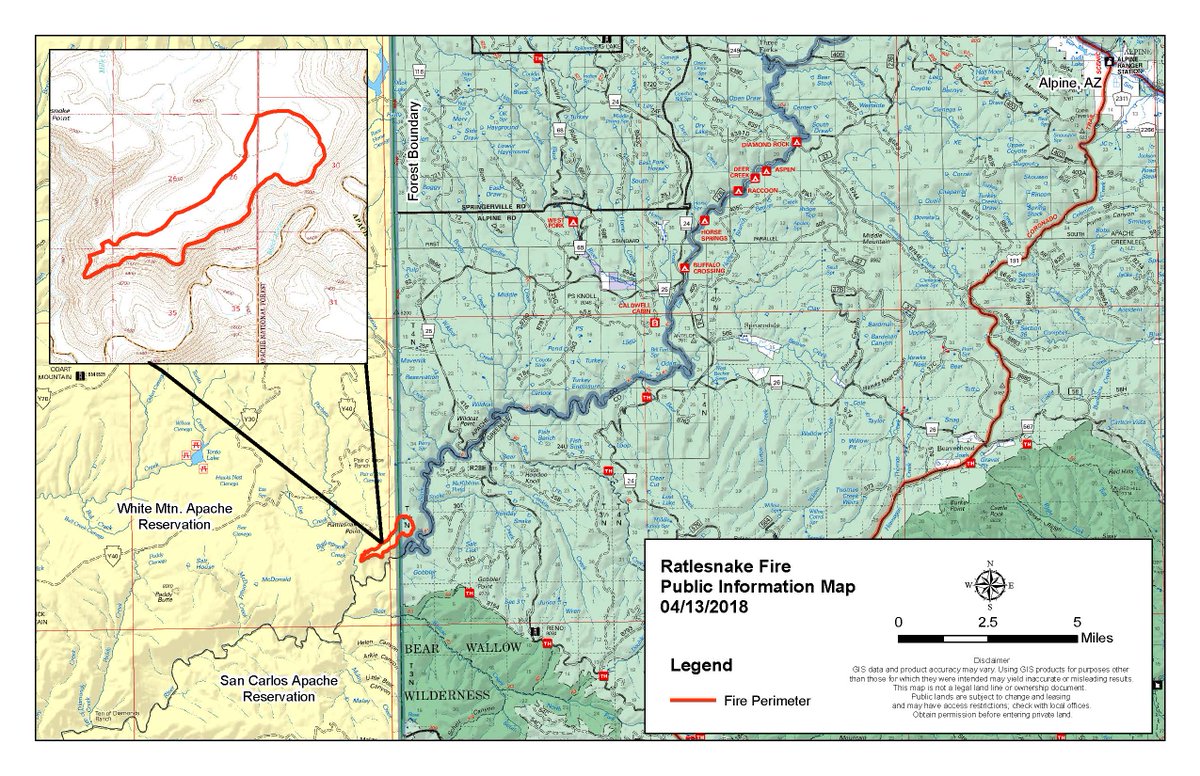 Strong winds hampered fire suppression efforts and making very slow progress. Control lines were completed in the SW section of the fire, securing it off of Rattlesnake Point. Aircraft was grounded due to high winds A spot fire was detected on San Carlos Agency side of the Black River in an isolated area.  Crews were scheduled to prepare control lines along the North flank of the fire, as well as with the construction of indirect lines on the western flank.
A RED FLAG WARNING was in effect from 1200 until 2100  hours.  Winds are being forecasted to shift coming from the north and northwest and pushing the fire along in a southern and southwesterly direction.
Resources included:  (4) Type-1 Hotshot Crews, Cibecue Fuels Crew, Fort Apache Fuels Crew, (3) Water Tenders, (1) bulldozer, (2) Type-6 Engines, (1) Type-3 Helicopter and additional overhead team support services.  (1) Type-2 IMT (Andrews, IC), (2) SEATs filled. (1) T3 Helicopter and (2) T1 IHC's have been ordered as of 1715 hours.
Social Media reported:  The fire had moved on to the Fort Apache and San Carlos Indian Reservations and the Apache-Sitgreaves National Forests (ASNFs) lands.
April 12, 2018
Fire resources are dispatched around 1609 PDT. Located 28 miles E/SE of Whiteriver, about 30 miles south and east of Alpine, Arizona.  Officials state a far distance from Show Low.
400+ acres with 386 acres burning on Fort Apache and 75 acres on ASNF.
IC Chris Johnson with the White Mountain Zone Type 3 IMT assumed Fire Command at 1800 hours MST.  Resources include:  4 Type 1 Hotshot Crews, Cibecue Fuels Crew, Fort Apache Fuels Crew, 3 Water Tenders, 1 dozer, 2 Type 6 Engines, 1 Type 3 Helicopter and misc. overhead.
Fire fuels consist of Ponderosa pine and grass understory.
Social Media was reporting this was a human-caused fire but Officials are still conducting their investigation and are unable to release the ignition until it has been completed and closed.
On Thursday night, fire crews conducted burnout operations in the northwest corner of the fire perimeter.  It held within the maverick burn block and in the Wallow Fire area.  It was said to be moving in a northeast direction and backing into a canyon towards the Black River. Crews were working on two slop overs in the southwest fire perimeter and the eastern flank.  Fire suppression efforts were hampered by high winds.
Incident Cooperators include:  Bureau of Indian Affairs (BIA), Apache-Sitgreaves National Forests, Northeastern AZ Public Information System 311.
April 11, 2018
Fire started from an unknown ignition and was discovered around 1330 hours. Estimated at 165 acres.  Located about 20 miles SE of Whiteriver in a remote location east of Rattlesnake Point.  It is burning just south of a previous Prescribed (RX) burn area and moving towards the Apache Sitgreaves NF boundary.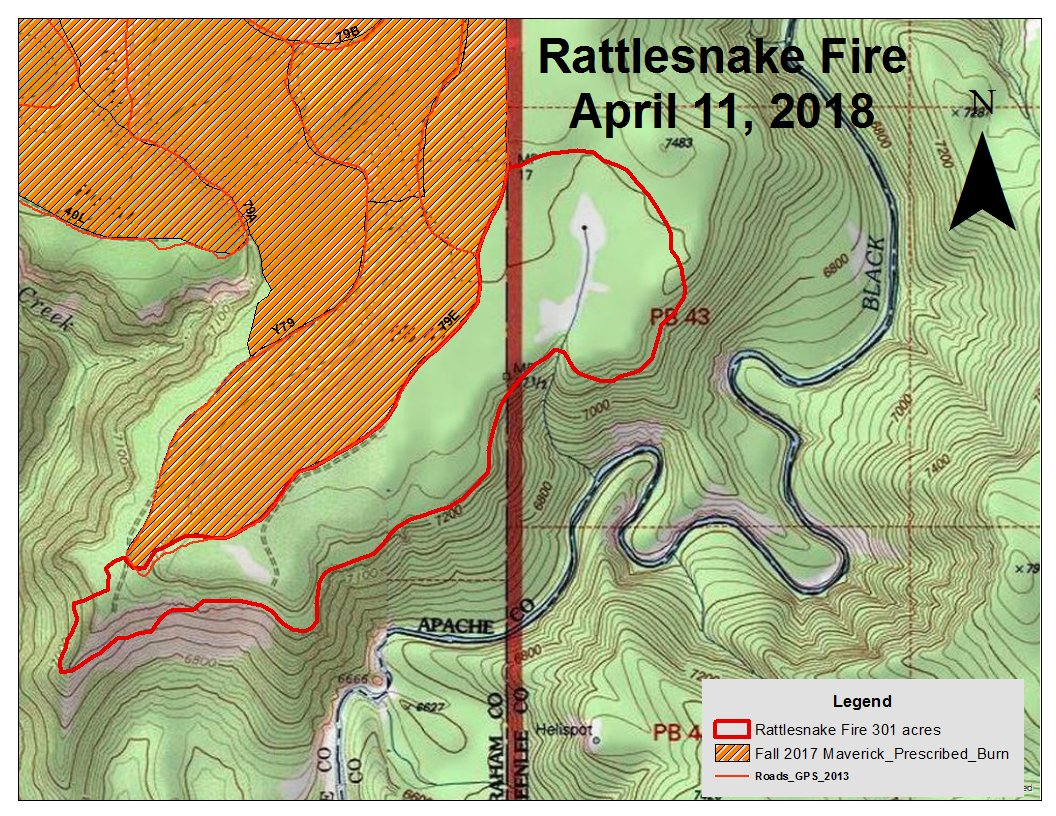 Resources include:   2 Type 6 Engines, Air Attack, Fort Apache Hotshots, and Cibecue Fuels. A type 3 team is on order along with additional resources.
PUBLIC SERVICE ANNOUNCEMENTS 
#NoDronesInFireZones and this is why:
ARSON TIPS
Contact the Fire Command for this fire by calling WE-TIP at 1-800-47ARSON (1-800-472-7766).
SOCIAL MEDIA
We are reporting this wildfire as #RattlesnakeFire and #AZwildfire2018
(c) 2018 NW Fire Blog – Updated 4/14/2018 @ 1315 PDT/MST