Looking through the eyes of others can help gain a new viewpoint advantage but to fully grasp the magnitude of the situation, you would have to be there in person.  Instead, we are bringing you the undivided attention of social media and what they are saying because they are there, were impacted or seeing it through other means.
Disclaimer:  We are only sharing through third party sources or from direct sources themselves. We do no lay any claims on the sources of information here but only to our "own" content added. Each item has its own source listed. We give all the credit to them.  Images in this post are also given Photo Credit to them.
OCTOBER 13, 2018 (Saturday)
Eyewitness Accounts
"It's been an overwhelming few days for North Port Fire Rescue crews aiding in the wake of Hurricane Michael. They are assisting in Mexico Beach, one of the hardest hit areas. Keep on keeping on, and continue to stay safe."  (City of
https://www.foxnews.com/us/thousands-of-people-reported-missing-to-officials-following-hurricane-michael (Fox News, 10/13/2018)
Greater Naples Fire Rescue District sent 11 of their own personnel to join other rescue workers on a strike response team. https://www.naplesnews.com/story/weather/hurricanes/2018/10/13/hurricane-michael-sw-fl-rescue-workers-aid-areas-devastated/1615633002/?utm_source=dlvr.it&utm_medium=twitter (Naples News)
OCTOBER 12, 2018 (Friday)
Blood Donations are urgently needed…..
"Did you know that disasters like #HurricaneMichael affect our nation's blood supply? To help meet patient needs, we are asking those eligible to give blood. Make an appointment now: http://rdcrss.org/giveblood1 (American Red Cross)
Incident Management Teams 
The FDNY IMT has been requested to respond to Florida, to assist in the state's response.  We will be posting updates on the team's mission, as well as pertinent information about the overall response to this disaster. Our thoughts are with all those effected.  (FDNY IMT))
Eyewitness Accounts
"Last night, almost 2,900 people stayed in as many as 37 Red Cross and community evacuation centers across #Florida, #Georgia and #Alabama due to #Michael. We mobilized more than 1,000 trained disaster workers to support relief efforts."  https://www.redcross.org/get-help/disaster-relief-and-recovery-services/find-an-open-shelter.html?cid=fy19hurmichael&med=social&source=arctwitter   (American Red Cross)
"Hurricane Michael has caused untold devastation along the Gulf Coast. We have pre-positioned enough shelter supplies, including cots and blankets, to be able to support some 15,000 people. To find a shelter location in your area, visit this website." (American Red Cross)
Recovery Challenges
Thousands of people have been informally missing to local authorities, the Red CRoss and the State.  Here is a story written by mainstream media on the challenges all are facing in this area.  https://www.tampabay.com/photos/2018/10/13/hurricane-michael-in-photos-surveying-michaels-path-of-destruction-poses-challenges/ (Tampa Bay Times)
Protect Your Health
Mosquitoes can breed in standing water left from #HurricaneMichael. If you're cleaning up, make sure to clear out buckets, planters, trash cans, and other items that hold water. More mosquito safety tips: http://bit.ly/2uw8YdC  (HHS Gov)
Looting
Looting is so rampant, that there was a shooting by a Florida State Fire Marshall when a looter was in the process of stealing his police car, he was shot.  Signs are posted on trees and various places marked LOOTERS WILL BE SHOT.   https://katv.com/news/nation-world/looting-leads-to-deadly-shooting-in-panama-city-florida (KATV)
Law Enforcement
The Georgia State Patrol and the GA National Guard are currently working as a joint force.  "The 178th Military Police Company has been activated in support of #HurricaneMichael, they will be assisting local law enforcement." (GA National Guard)
Emergency Resources – Communications
"Comms are key!  Soldiers from our 146th Expeditionary Signal Battalion are setting up tactical satellite terminals to provide county Emergency Operations Centers with internet & phone so they can connect sooner with  Florida citizens in need." (FL National Guard)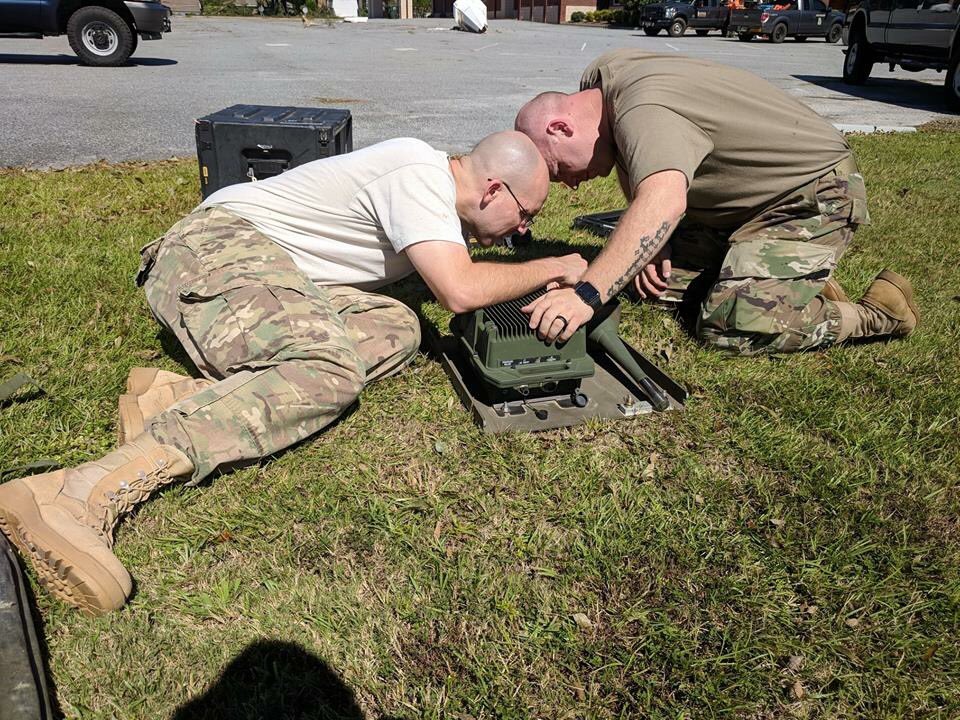 U.S. Airmen from the 283rd Combat Communications Squadron, Georgia Air National Guard, set up vital voice, data and radio communications capability during #HurricaneMichael relief efforts, Colquitt, GA. (U.S. Air National Guard photos contributed by 283rd CBCS)
"A big reason many of us joined the Air National Guard is to help with humanitarian missions when unexpected events like this happen." – Georgia National Guard
Volunteer Ham Radio operators from Nassau County, in conjunction with the Nassau County Sheriff's Office, are helping to communicate the needs from the disaster zone to those who can help.   https://www.jacksonville.com/news/20181013/nassau-county-amateur-radio-operators-aid-communications-following-hurricane-michael?utm_source=Twitter&utm_medium=social&utm_campaign=jaxdotcom-SND  (Florida Times – Union)
Disaster Aid
IAFF Disaster Relief Assistance team dropping off supplies for IAFF Local 4413 members (Walton County) in Freeport, Florida.
Fire Personnel
Deployment Update: Region 5 (Central) is deploying additional teams to panhandle. Units left at 0300. Brings total number of Central Florida fire rescue personnel deployed to #HurricaneMichael to more than 140 responders (including pups ) representing 25 departments. (OC Fire Rescue)
Fire Task Force
PA Task Force1 fueled up today in Enterprise, Alabama, en route to Panama City, Florida, to assist in searches. (Philly Fire Dept)
Search and Rescue Activities
#VATF1  continues to conduct wide-area search of Panama City, Florida,with other #USAR teams. While conducting our searches, we've provided EMS care to victims of the storm and coordinated their transport to local medical facilities. (Virginia Task Force 1 – USA – 1 – Urban Search and Rescue team)
More Urban SAR operations in process in Mexico Beach. (Florida Forest Service)
Power Restoration
Crews working their second day on Walker St. near the Greensboro City arboretum to rebuild the power grid taken down by #TropicalStormMichael . Downed/broken poles and wire are common sites across the Triad and #NC but we are working hard to repair and restore.
Power Grid Construction 
Around 1,200 DukeEnergy lineman and support staff from the Midwest are working with local crews in the Triad today to rebuild portions of the power grid and restore power. (Jeff Brooks of Duke Energy)
Animal Rescue
"We have been so thankful for the support you've shown so far in our efforts to help animals displaced by #HurricaneMichael. But the work isn't done." (Humane Society – Naples)
Volunteers
Volunteers arrived at the Florida State Recreation  center into a shelter Floridians with special needs that have been displaced.   To help with volunteering or wish to donate to the Florida Disaster Fund, visit them at volunteerflorida.org (Volunteer Florida)
Self-Deployment
"Do not self deploy. Bring items you have here. We can make sure it gets to the people in need in a safe & timely manner." (Walton Co Sheriff)
Damage Assessment, Serving Meals
As debris is  cleared from roadways, The #SalvationArmy is moving in to the areas most impacted by #HurricaneMichael to begin assessing needs and serving Anyone w/inquiries is asked to call 877-285-5505 EXT. 1005 Please be patient as our volunteers work to answer your questions in a timely manner.
OCTOBER 11, 2018 – Thursday
Assessments in Progress
SWFD Command Staff in Bay Co. assessing fire/rescue needs. As State of Florida Emergency Response Plan (SERP) Region 1 Coordinator, we're coordinating assets/formulating plans to help our bay county neighbors. Continue to keep them in your thoughts. (South Walton FD)
Military Response
National Guard and Department of Defense (DoD) assets respond to the Florida Panhandle prior to the hurricane's landfall. About 2250 – 3500 troops have been authorized to respond.  http://www.nationalguard.mil/News/Article/1659208/national-guard-other-dod-assets-respond-to-michael/ (US Air Force)
OCTOBER 10, 2018 – Wednesday
Personnel
40 Firefighters from 7 Central Florida FDs on way to Florida Panhandle tonight to help with SAR activities. (Ken Tyndall with WFTV)
At 8 a.m., I activated 1,500 Georgia Guardsmen to be placed on standby and deployed as needed to areas affected by Hurricane Michael. (GA Governor Nathan Deal)
OCTOBER 9, 2018 – Tuesday
Swift Water Rescue Team
Virginia's Task Force's 16-person Water Rescue Team departs for Florida in response to the Hurricane after being called upon to respond by FEMA.  This includes Fairfax Fire & Resue personnel. (VA-TF1 Force 1 – USA-1 – Urban Search and Rescue)
Supply Deliveries
Today, dozens of #GARedCross volunteer teams are moving into areas hardest hit by #HurricaneMichael — bringing food and supplies to people in need. In all, more than 1,000 trained #RedCross disaster workers are now on the ground, working with partners to provide the most help.
We will update as more resources and details are obtained from various Social Media and posted here. We would love it if you followed us on our own Social Media outlets:  @nwfireblog (Facebook and Twitter)
Thank you for reading our Blog post!
(c) 2018 NW Fire Blog – 10/13/2018 – 1820 hours PDT