UPDATE 3 – SATURDAY, NOVEMBER 10th
INCIDENT SUMMARY
Started on Friday, November 9th at 1430 hours PST
Reported as a brush fire
Located North of Malibu and South of Simi Valley, about 4 miles NE of Oak Park
Unified Command:  CAL FIRE – San Luis Obispo, Ventura County FD & SO, LA City FD & PD and LA County FD &PD.
83,275 acres with 5% containment status
Fire fuels are brush, chaparral and tall grass
177 structures destroyed
2 structures damaged
57,000 structures under direct threat
Estimated containment on November 15th
2 deaths
Fire behavior is extreme with wind-driven runs.
VENTURA COUNTY, Calif. – A brush fire broke out  in the 25000 block of WOOLSEY Canyon Road and in the area of E Street and Alfa Road. This is in northwest San Fernando Valley between the City of Los Angeles, Chatsworth and Simi Valley in both Los Angeles and Ventura Counties.
Two wildfires:  WOOLSEY FIRE and the HILL FIRE are burning about five miles apart from each other.  NOTE: We are covering these separately but you may find some combined references due to the sources.
RESOURCES
Resources deployed from locally and around the country helping local Fire and Law Enforcement Agencies:
LOCAL FIRE RESOURCES
This is as of 2130 hours PST, released by CAL FIRE.
418 Fire engines
40 Water tenders
Unknown number of air tankers from throughout the State
63 Hand crews
56 dozers
19 helicopters
3,242 personnel
CAL FIRE
As of 0320 PST, aerial operations with helicopters continued. Fire Ops reported they are rotating crews and aircraft to maintain coverage over the fire. Their maintenance team is doing a fabulous job. They are all in this together.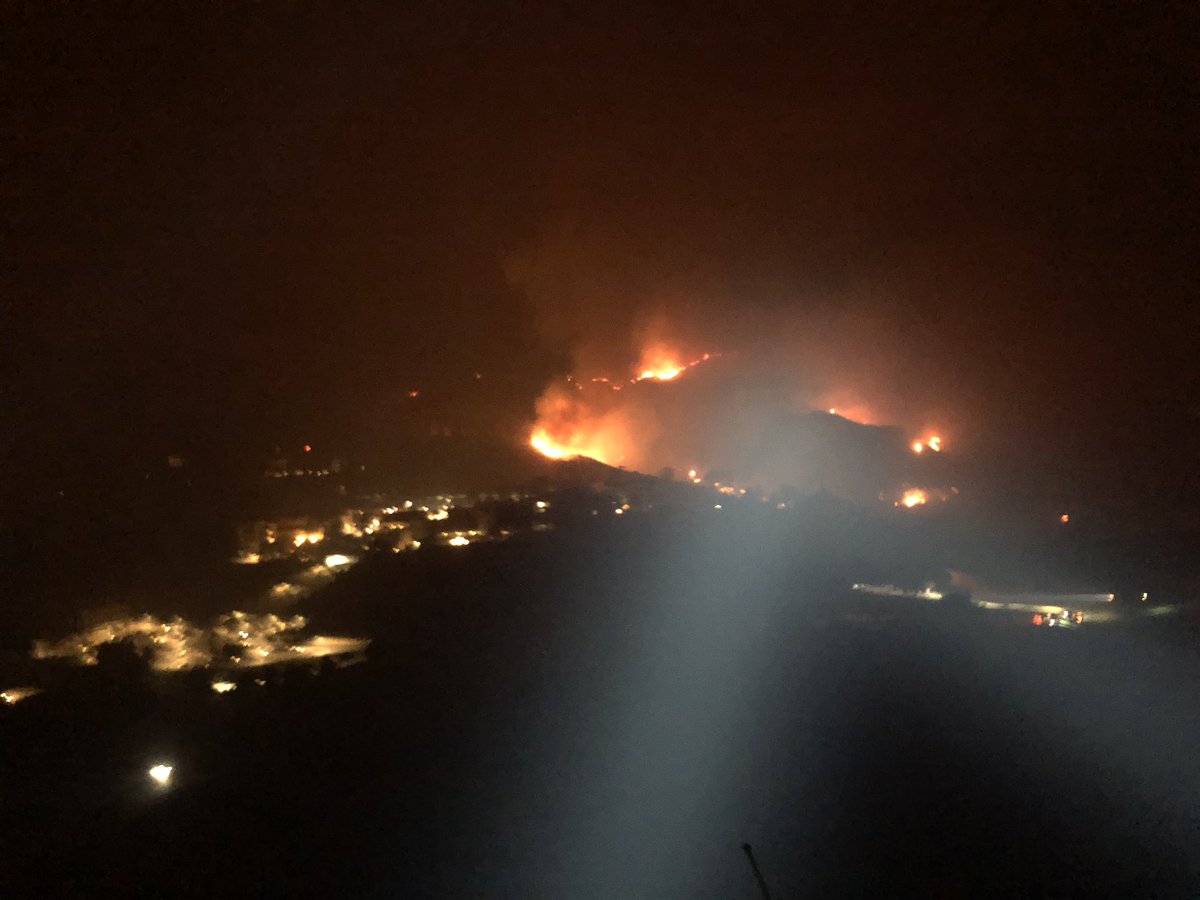 VENTURA COUNTY FD
Will host a presser on Sunday at 0930 hours PST at Conejo Creek Park South in Thousand Oaks, California.
VENTURA COUNTY SO
Missing Person Search – Deputies are looking for 78-year old Thousand Oaks / Camarillo Springs resident, Maryanne Needham.  She was last seen on Thursday on the Hill Fire by her son around 1930 hours driving in the area of Hillcrest Drive and Duesenberg Drive in Thousand Oaks.  She drives a maroon 2002 Honda CRV 4YFX198/CA license plate.  If you have any information, please contact the Ventura County Sheriff Dispatch line at 805-654-9511.
LOS ANGELES COUNTY FD
Fire Image.  Photo Credit:  LACoFD, Douglas Morrison)
LOS ANGELES CITY PD
Evacuation of Horses – Officers jumped into action saving these horses.  Photo Credit:  LAPD HQ
WASHINGTON FIRE RESOURCES
The following equipment and resources have been deployed from Washington State:
8 strike teams
93 personnel
2 brush trucks
2 command vehicles
24 fire engines of various types
Will be staffing up for all three wildfires – WOOLSEY, HILL and CAMP FIRES
Agencies responding:  Lacey FD, Seattle FD, Valley RFA, Snoqualmie FD, Benton County, Thurston County Fire District 17, Lewis County Fire District 5, McLane FD, Thurston County Fire District 9, West Thurston Fire, Walla Walla County Fire District 4, College Place, Central Kitsap Fire & Rescue, South Kitsap Fire & Rescue, East Pierce Fire & Rescue, Seattle FD, Woodinville Fire & Rescue, Shoreline FD, King County Fire District 27, Skyway FD, East Jefferson Fire & Rescue and Duvall FD. (Source: WA EMD)
CENTRAL REGION STRIKE TEAM
MCLANE / BLACK LAKE FIRE DEPARTMENT
"Crews left this morning to head to California and are part of upwards of 8 Strike Teams to help with devastating fire. 40 engines and 150 fire personnel are on their way.
The  Team has had a full day of travel. Crews will spend the night in Stockton, CA then heading out early Sunday to make the last leg of the journey to the staging area." – MBLFD Firefighters @MBLFDFFS (Twitter)
SE REGION STRIKE TEAM  (WA)
Photo Credits:  Lacey FD, Skyway FD, Snoqualime FD. Courtesy: WA EMD.
CHELAN COUNTY FIRE DISTRICT 1 – Leader
Walla Walla Fire District 4
Walla Walla Fire District 8
College Place Fire
Benton County Fire District 1
Stevens County Fire District 1
SEATTLE FIRE STRIKE TEAM 
Firefighters from the Seattle Fire Department group up as part of a Washington Strike Team deploying to help with California Wildfires. Photo Credit:  Seattle FD.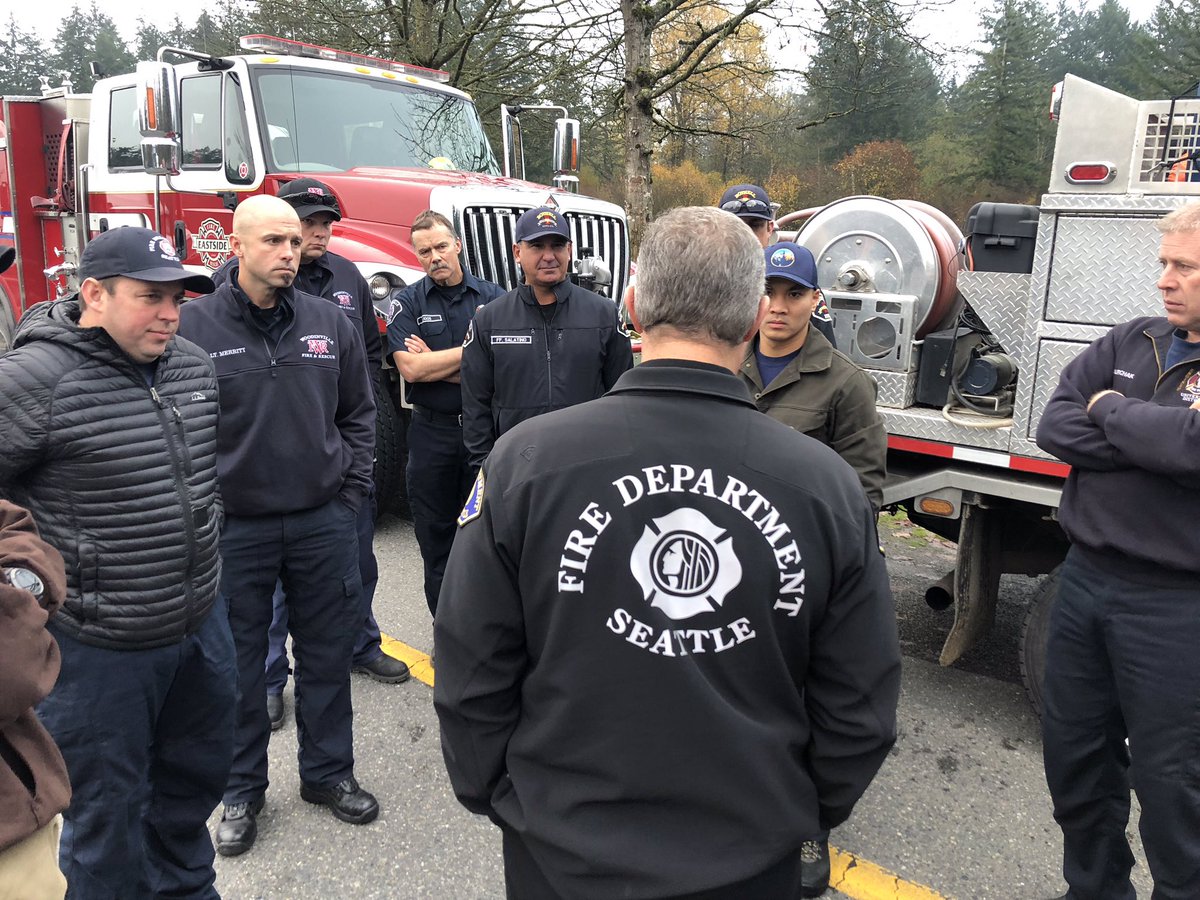 EASTSIDE FIRE & RESCUE STRIKE TEAM
Team Leader is EF&R BC Dave McDaniel
9 Firefighters from EF&R (including Brush Truck 71)
Shoreline FD
Snoqualmie FD
Fire crews from Eastside Fire & Rescue (Credit:  Seattle Fire Department)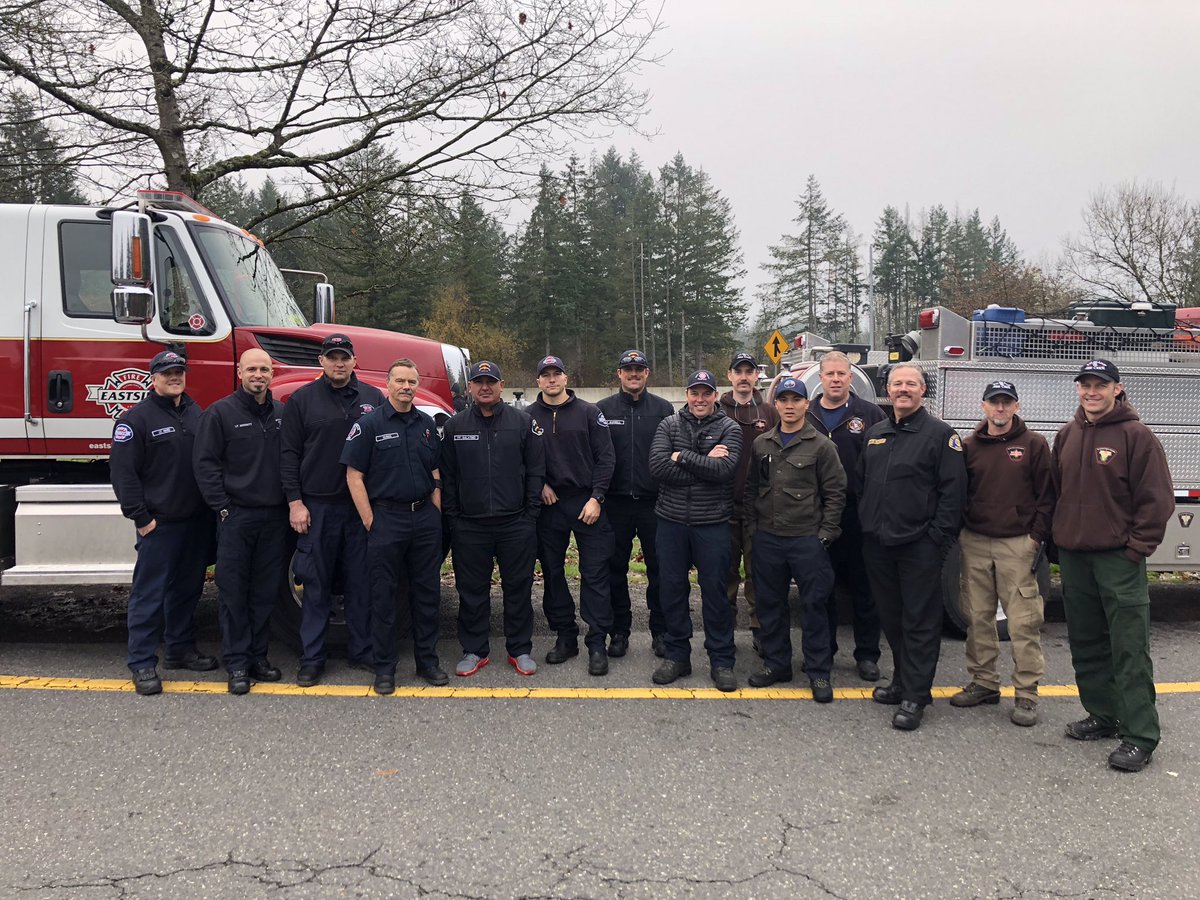 "Mutual aid resources will operate on a 24-hour on, 24-hour off schedule and start work on Monday, November 12th, once they arrive at the final location. Their assignments will vary which will be dependent on current needs.  It is possibly they may be needed to backfill fire stations to respond to everyday emergencies or out fighting fires.
Their deployment may up to two weeks." says Seattle Fire Chief Harold Scoggins.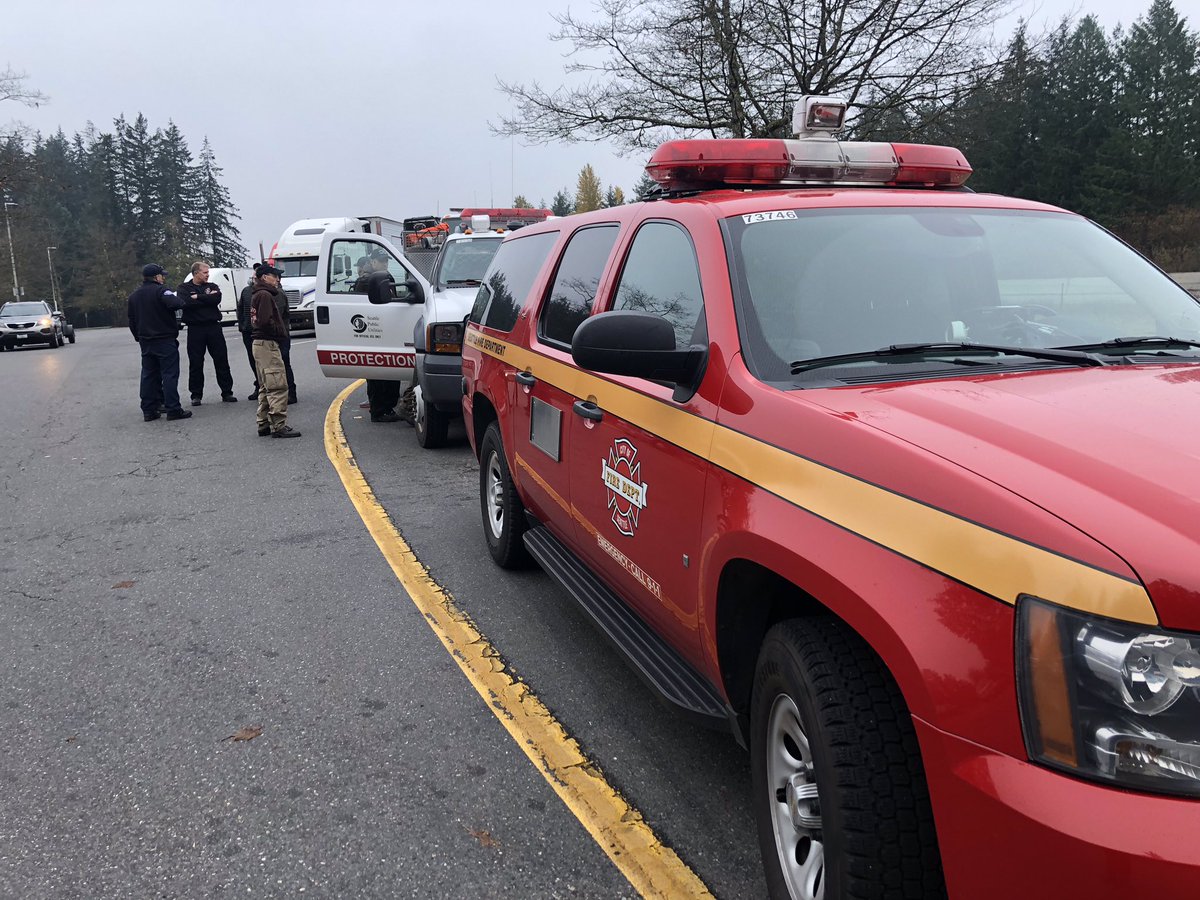 INCIDENT COOPERATORS
Additional resources assisting on this major event are called Incident Cooperators.  The following are partnering with local fire departments and Law Enforcement Agencies:
Southern California Edison
Southern California Gas Company
CA Department of Corrections and Rehabilitation (CDCR)
CA Department of Fish & Game
CA Highway Patrol
Public Health Department
National Park Service (NPS)
CALTRANS
Ventura County Animal Control
Los Angeles County Animal Control
Office of Emergency Management (OEM)
American Red Cross (ARC)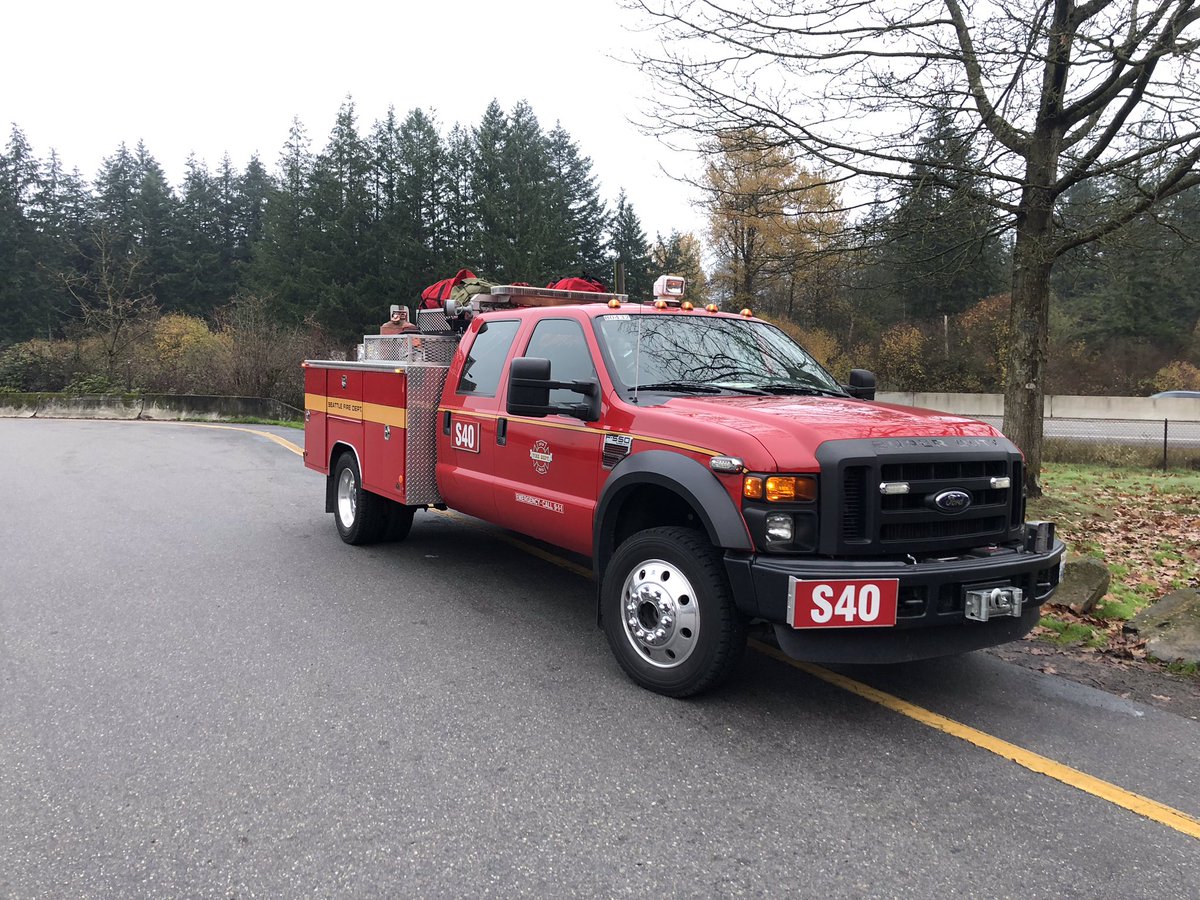 SIGNIFICANT EVENTS
MANDATORY EVACUATIONS
For all information related to evacuations, closures and shelters, visitwww.VCEmergency.com or call (805) 465-6650. To register for VC Alert for urgent notifications, visit VCAlert.org. Residents in the area should be prepared to evacuate. For disaster preparedness plans, visitwww.VCReadySetGo.org. (Source:  LA County FD PIO)
Bell Canyon – Entire community
Oak Park – Entire community
Thousand Oaks – T.O. Blvd north to Sunset Hills… Oak Park west to Hwy 23… West of Hwy 23 to south of East of Olsen Road..North of Pederson Rd… South of Bard Lake… East of Hwy 23….South of Hwy 101… east of Reino Road… North of Potrero Raod… East to the Los Angeles & Ventura County line…Wood Ranch and Long Canyon
VOLUNTARY EVACUATIONS
Simi Valley – Bridal Path
EVACUATION ALERTS!
VENTURA COUNTY
Evacuation Alerts! –  www.cvemergency.com and sign-up for alert VCAlert by texting VCAlert to 313131. (Source:  VCFD PIO)
EVACUATION SHELTERS – People
Fire and Law Enforcement remind you to do the following when evacuating:  "Prepare a bag containing your ID, Meds, Important docs, emergency supplies & a change of clothes." (Source:  LA County Sheriff's Office)
CAMARILLO
St. Mary Magdalen Church –  25 Las Posas Rd, Camarillo, CA
 Camarillo Community Center – 1605 East Burnley Street, Camarillo, CA. (Source:  American Red Cross).
NEWBURY PARK
Borhard Community Center – 190 Reino Road, Newbury Park, CA. (Source:  American Red Cross)
THOUSAND OAKS
Goeble Senior Adult Center – FULL! – 1385 East Janss Road, Thousand Oaks, CA 91362.
Thousand Oaks Teen Center – FULL! – 1375 East Janss Road, Thousand Oaks, CA 91362.
Thousand Oaks Community Center – CLOSED! – 2525 North Moorpark Road, Thousand Oaks CA 91360.
SIMI VALLEY
Rancho Santa Susana Rec Center – 5005 Unit C Los Angeles Avenue, Simi Valley, CA.  No animals accepted.
WOODLAND HILLS
Taft Charter – FULL! – 5461 Winnetka Ave, Woodland Hills, CA. (Source:  Red Cross)
Pierce College (California) –  6201 Winnetka Ave, Woodland Hills, CA 91371 (Entrance off Desoto Ave).
EVACUATION SHELTERS – Animal
Evacuation Shelter – Both Small, Large Animals
DACC providing shelter for animals for both HILL and WOOLSEY FIRES.
Large Animals
Pierce College – 7100 El Rancho Drive, Woodland Hills, CA 91367. Entrance is off of De Soto.  2)
Los Angeles County Animal Services – FULL!
Info –> http://cdfdata.fire.ca.gov/admin8327985/cdf/images/incidentfile2282_4165.pdf
Small Animals 
Borchard Park –190 N. Reino Road, Newbury Park, CA 91320.  (Next to Newbury Park High School). (Source:  DACC)
Ventura County Animal Services – 805-388-4258. 600 Aviation Drive, Camarillo, CA 93010
Simi Valley Animal Shelter – 670 West Los Angeles Avenue, Simi Valley, CA. 805-388-4341
Info –> http://cdfdata.fire.ca.gov/admin8327985/cdf/images/incidentfile2282_4165.pdf
Horses
Castle Rock Farms in Moorpark are offering room for horses impacted by both the WOOLSEY and HILL FIRES.  They can be reached at 805-552-0201.   (Source:  Castle Rock Farms)
ROAD CLOSURES
Hwy 101
Both directions at Valley Circle to Reyes Adobe
Off ramp at Camarillo Springs
Hwy 1
Southbound (Pacific Coast Hwy or PCH) closed
Bell Canyon Road
Closed at Valley Circle Boulevard
Lynn Road
Potrero Road
Closed between Rancho  Dos Vientos and South Lewis Road
Kanan Road
Between Westlake Boulevard and Lindero Canyon Road
At Falling Star Avenue
Erbes Road
SOCIAL MEDIA
We will be updating on this site as information is received.  We would love if you would follow us on our Twitter page @nwfireblog for additional updates.
We are thinking of those in California as they now face a different threat of wildfires after being impacted by the Thousand Oaks shooting.  Please keep all in your thoughts and prayers. We thank you for reading and following our Blog. – Ed.
(c) 2018 NW FIRE BLOG