JERSEY CITY, NEW JERSEY
INCIDENT SUMMARY
Two armed suspects were said to have targeted and stormed into a Jewish market in the afternoon on Tuesday, December 10, 2019.  The call was recorded as an assault call that was dispatched at 1712 hours.
The scene would play out in the middle of a neighborhood on  Martin Luther King Boulevard and Bayview Avenue , turning the busy shopping day into a horrific crime scene.
CASUALITIES
The active shooter scene would quickly escalate to two shooters barricading themselves inside a grocery story, where they exchanged a high volume of gunfire with Police.  One Jersey City (plainclothes) Detective was shot and killed, along with three other innocent bystanders.  Two Officers were also hit, one in the shoulder and the other had an unknown conditon, but both were expected to be okay.
THE UGLY TRUTH
A story of this magnitude could easily be a scene in an action-packed movie but today was as real as it gets and Police Officers put their lives on the line to say others who may have been in the crossfire.  Media and other peoples were told to evacuate the area foro their safety.
The two murderers were found inside the market both killed dead.
"Jersey City is one of the most diverse cities in the country and it is a place of love and inclusivity – its a special place. As a city, we've overcome challenges before and we will do it here as well." – Mayor Steven Fulop (@StevenFulop)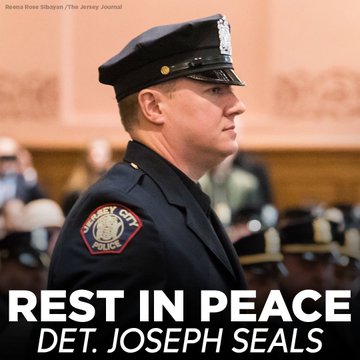 REMEMBERING THEIR LEGACIES
A Hero In Action
Detective Joseph Seals, 40, was great husband to wife and happy dad to five wonderful children.   He is being remembered for being a great cop and he was being remembered for removing a lot of guns off the street.
He is being hailed as a Hero along with many of his fellow Officers who put their lives on the line.
The Innocents
Three innocent bystanders were also killed today. Two of them were said to be Jewish Americans and religious leaders are looking to coordinate with the City and other partners to provide religious burials for them.
We must remember their Legacies and their ultimate sacrifices given.
##
We are saddened by the bloodshed, the violent shootout and the people who lost their lives unnecessarily on this day. We send our sincerest sympathies to the families, the blue family, friends and communities that have been impacted by the hatred and violence that have taken so much.
We stand with the Blue Family. We must be there for each other, regardless of our political affilitation, political views, race, gender, sexual preference, disability and everything else in between.  We are all human and we must stand together for what is right and help make the change the world commands us to do. – Ed.
##
RESOURCES
Fast Backup
During the active shooter incident, resources came from all over the City and nearby jurisdictions, including the NYPD.  State Police pulled resources froom their K9 unit, Bomb unit, Marine Services, Aviation, Field Operations, Central Security, Trafficking Division, Emergency Response Bureau and from Governor Murphy and came together as mutual aid with the Jersey Police Department. At one time durinig the incident, the FBI is and was still on-scene as this post is being created.
MENTAL HEALTH RECOVERY
First Responders
First responders, this was one of the bad scenes you had to lay witness to. It is not a weakness by reaching out to talk to someone or even get your through this incident and possibility others.  Call Safe Call Now, a national recognized non-profit specializing ini the mental health care of first responders, including those in the Fire Service, Law Enforcement and Communiciations, as well as for their families.
Contact Info:  @safecallnoworg (Twitter).  Phone:  #206-459-3020.  Website: http://www.safecallnow.org
General Public
Are you feeling suicidal or just need someone to walk you through how to get the help you need to get you through the craziness in this world?  Your life matters and we are here to provide the resources available to you.
National Suicide Prevention Lifeline:   #800-273-8255.
Are you in a domestic violence situation and having a hard time getting the assistance you need to exit this abusive relationship or marriage?
Domestic Violence Assistance:  #800-799-7233 (SAFE).
(c) 2019 NW Fire Blog – Updated 12/10/2019 – 2145 hours PDT