Update – Sunday, December 8, 2019 – 2300 Hours PDT (USA)
A volcano located in New Zealand, called White Island (Whakaari area) erupted without warning and sent an ash plume 12,000 feet above the vent.  Ash covered the main crater floor per webcam  footage.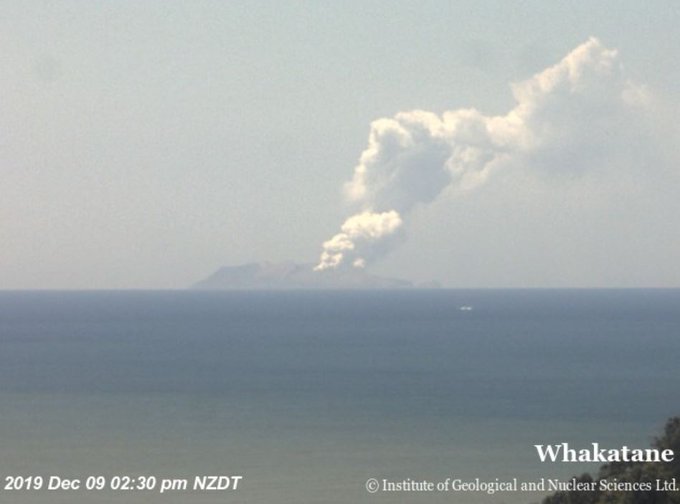 Scientists are speculating the erruption may have occurred from built up gases. They are working to determine the actual cause of the erruption.
Emergency Officials are saying the ash spewed from the volcano is contained to the Island itself, which they have released a statement that  one person has been killed.
New Zealand Police released a statement of initially thinking there were about 100 people on the island but have since downgraded that number to less than 50.  However, there is still a large number that are unaccounted for.
Police are coordinating their search and rescue efforts with the National Emergency Management Agency.
The erruption occurred on Monday (NZ time), December 9, 2019, at 1611 hours, as an impulsive and short-lived event. The crater floor has been impacted but its current condition is unknown.  However, Officials are reporting that the activity has diminished since the original explosion was detected earlier in the afternoon.
ABOUT WAKAARI/WHITE ISLAND
The Wakaari/White Island is privately owned and was declared a scenic reserve in 1953.  Those who wish to visit, must have permission to land there or book yourself a trip on a local tour of the Island.
It is 1.2 square miles in diameter.  It's tallest point of the island sits at 1,053 feet above sea leavel.  The active andesite stratovolcano is approximlately 30 miles east of the North Island of New Zealand's Bay of Plenty.
It is considered New Zealand's most active volcano and is constantly being built up in layers from continuous volcano activity, after its discovery by James Cook in 1769.
On July 27, 2000, an eruption occured which blanketed the island with mud and scoria.  Most of the time, it is said that this active volcano's activities are limited to boiling mud and/or releasing steamy noxious gasses from beneath the ground upwardly.  Scientists who monitor the site's for volcanic activities, do so through web cams and visiting the island itself wearing protective clothing and personal-protection-equipment.
A mining company's owners made the misfortunate of trying to mine sulphur in the 1900's but soon have to abandon their operations after all of their workers killed by a lahar.  Remnants of old machinery still remain seen by visitors to this day.
The island is also home to a large bird population, where 3,000 pairs of known Australasian Gannets migrate to this island to breed and call it their temporary home away from home.
(c) 2019 NW Fire Blog