INCIDENT SUMMARY – UPDATE 2 – 12/23/2019 2200 PST
We know wildfires. It is generally not the small ones but the Firestorms kind and we have see and heard about how horrific and scary fire conditions American firefighters were faced with and the survivors all across the board telling their story to anyone who was willing to hear is.
FOR EMERGENCIES & UNATTENDED FIRES , CALL 0-0-0
It is a journey that many will tell you that are the scary kind and ones you never want to face ever again.  However, they will tell they'd go back in and fight if they were forced to so they can save lives and properties.
Homes, outbuildings, businesses, livelihoods all up in smoke. Literally, severely damaged to being wiped out and down to the ground. The images we all see all over Social Media, on TV and other digital media methods tug on our raw emotions.  We know that kind of heartbreak and, this time it is not in the USA but across the Globe in Australia.
Bushfires (Australia) or wildfires, as we call them here in the US are struggling with such a task.  They are not dealing with just a few at a time but close to 100 as  of yesterday and 92 on December 24th (this is their tomorrow) with close to 2,000 wildland firefighters from Australia and from the U.S.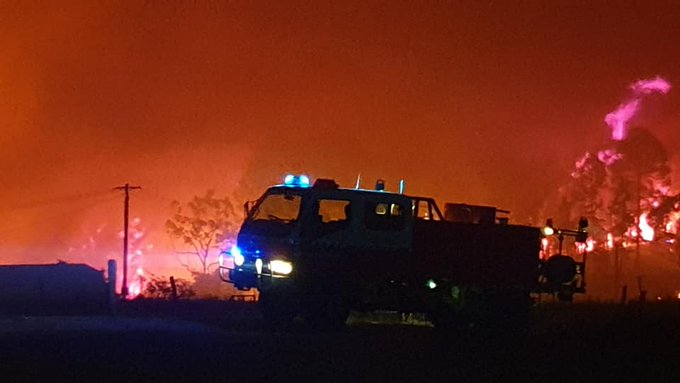 Credit | NSW RFS
THE NUMBERS DON'T LIE
As of 2045 AEDT (morning), there were 92 wildfires burning across New South Wales with more than 40 still to be contained. Over 2,000 firefighters are on the fire ground.
According to the NSW RFS as of December 24, 2019 (it is tomorrow there already):
HOMES – 7,824 Saved | 353 Damaged | 873 Destroyed.
FACILITIES – 615 Saved | 82 Damaged | 68 Destroyed.
OUTBUILDINGS – 7,053 Saved | 889 Damaged | 2,048 Destroyed.
FIRE ALERTS
The fire danger ratings for tomorrow, Christmas Day, will see widespread areas of low-moderate and high fire danger. North Western will be very high. Firefighters will continue working to strengthen containment lines ahead of heat building again from this weekend. – NSW RFS
#Australia #Bushfires #NSWRFS
(c) 2019 NW Fire Blog