Update 2 – Tuesday, January 28, 2020
A private helicopter, a Sikorsky S-76E carrying NBA Legend Kobe Bryant, 41 and his daughter, Gianna (Gigi), 13, along with six other passengers and pilot were killed when their aircraft crashed on Sunday, January 26, 2020.
The first due Engine (LACoFD) 125 arrived on-scene to report there were an unknown number of injuries and the aircraft's fuselage on fire.  This spread into nearby brush, causing a .25 acre fire.  Both the fuselage and the brush fire were quickly put out.
"Today, Sheriff Alex Villanueva and Jennifer Homendy from the National Transportation Safety Board (NTSB), provided updates on the crash investigation.
Los Angeles County Department of Medical Examiner-Coroner has identified four of the victims from the crash as Kobe Bryant, John Altobelli, Sarah Chester, Ara Zobayan.
Our thoughts and prayers continue to go out to their families.
As of today, we have lifted all road closures, which were previously intact. This includes Las Virgenes Road in its entirety, and the north and south bound exits of the 101 freeway.
The crash site is now a hazmat scene, our security detail will remain intact and it is still a misdemeanor crime to access the site. It continues to be patrolled by deputy personnel, who are utilizing ATVs and horseback to navigate their way around the rugged terrain.
We ask that people stay out of these areas until the hazmat clean-up is complete and has been re-opened to the public. – LA County Sheriff's Office. 1/28/2020. Released 2040 PST.
Photo Credit:  LASD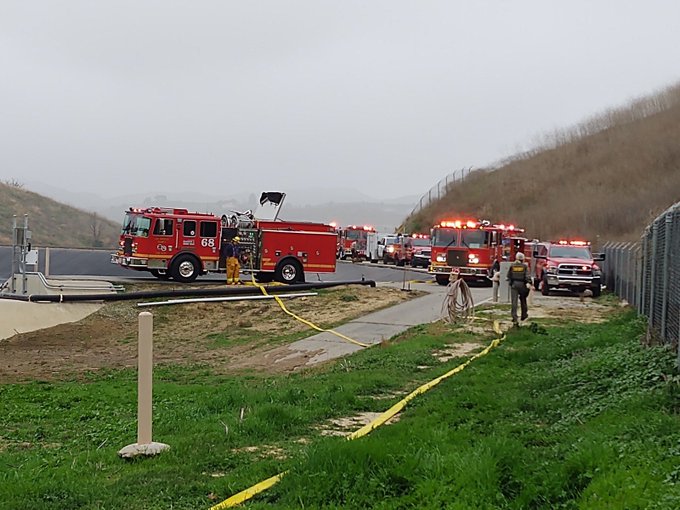 When word began to spread like wildfire across Social Media with tributes to the great mega star, the Sheriff's Office was disappointed and found it to be disrespectful by having multiple news outlets already announcing his death before the Medical Examiner had a a chance to recover the victims and made notifications to their next-of-kin.
The story broke of one person on the flight but later confirmed by his son, he was not on the aircraft and was alive and well.
The internet was lit on fire and it seemed like this story broke the internet.  It has been slowly recoverying even throughout today, it has been very slow.
We chose to delay reporting the identities until the Sheriff's Office released that information and for out of respect to their families.
"We are saddened by their deaths and continue to keep their families and friends in our thoughts and prayers. "
(c) 2020 NW Fire Blog – Updated 2100 hours PST