INCIDENT SUMMARY
A large wildfire is burning in Beaver County, Oklahoma.
FIRE FACT | Critical to Extreme fire weather for much of Kansas again today (Saturday, March 7) with a 🚩🔥Red Flag Warning 🔥🚩 issued from US National Weather Service Topeka Kansas and US National Weather Service Dodge City Kansasfrom noon to 6:00 p.m.
INCIDENT COOPERATORS
OKLAHOMA
Oklahoma Forestry Services
Beaver County
Beaver County Oklahoma Emergency Management
Ellis County Oklahoma Emergency Management
Ellis County – Fire Strike Team – Harmon FD, Arnett FD
Harper County
FIRE FACT | OKFS fire crews are fighting 19 active wildfires. 7 are considered large wildfires. Crews are engaged on fires from near the Arkansas border to the Panhandle of Oklahoma.
TEXAS
Texas Forestry
NWS Amarillo
Texas Counties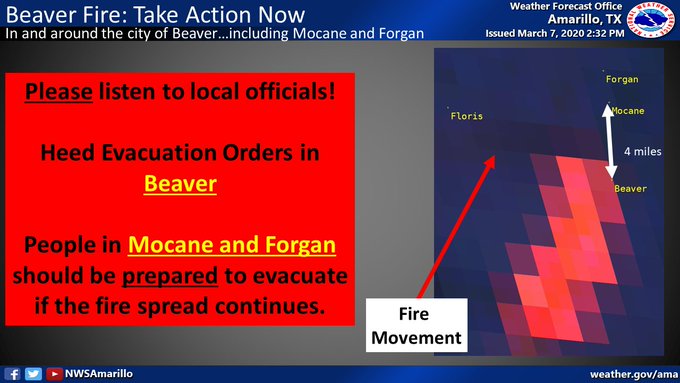 Kansas
Kansas Forestry  Service
KS Volunteer Fire Departments
NWS Wichita
FIRE FACT | 7 Clark County Wildland Task Force units is also assisting local resources in Meade County, Kansas, while local fire departments assist on this wildfire.
Clark County Wildland Fire Task Force
NWS Dodge City
TIMELINE
2212 CST  | Reports of patients and clients of the Beavert hospital and nursing home have been transported to Buffalo, Oklahoma and Meade, Kansas during the evacuation orders given.
2130 CST | Local news reporting:  "Woolly Buffalo Inn in Buffalo, Oklahoma. Offering displaced 412 Fire evacuees can stay for free this evening and Sunday night.
2014 CST | Fire continues to burn.  Fire is south of Forgan.  Smoke can be seen in the State of Kansas.
1934 CST | Continued line construction around the fire. 10% containment status.  Challenging conditions.  Beaver and Forgan have been evacuated. Reported unknown number of structures have been lost, pending the outcome of a damage assessment.
1731 CST | Fire burning on the EW 100 road, about 3 miles north of Beaver. Tanker 95 is working the flanks with ground resources.
1717 CST | Plume  visible and reportedly near Beaver.  Estimated to have grown to 10,000. Numerous fire departments, include Oklahoma Forestry Services and Kansas Forest Service. Can be seen on satellite. Located in Beaver County. Evacuation in effect for the town of Beaver.
KSFS Tanker 95 is one of many resources deployed as mutual aid.
1708 CST | Beaver Emergency Management is asking people to evacuate in Forgan, Oklahoma.
1641 CST |  Continued extreme Fire behavior with wind-driven runs and spotting. Fire has moved 14-miles from the point-of-origin.  Evacuations for the town of Beaver , Oklahoma in effect.
1535 CST | Extreme fire behavor with wind-driven runs.  Structure protection in effect.
1446 CST  | Town of Beaver initiates mandatory evacuations. Fire has reached the southwestern edge of town. Structures were on fire, along with a burned area at the local High School football field.
1307 CST | Sirens continuously going off in the town of Beaver to evacuate the fast-moving wildfire approaching their town.
1136 CST | Resource Order dispatched via the Arkansas-Oklahoma Interagency Coordination Center.
1037 CST | The Ellis County Strike Team (OH) has been dispatched to the 412 Fire, a grass fire located about 5 miles west of Ellwood in Beaver County, Oklahoma.
0707 CST | Kansas Fire Weather
 HASHTAGS
#412Fire #OKFire #KSFire #TXFire
(c) 2020 NW Fire Blog – Update 3/7/2020 2040 PST 2240 CST