UPDATE 1 – 3/28/2020 – 1730  HOURS PST
Craighead County, Arkansas.
A tornado touched down early in the evening on Saturday, March 28th in Jonesboro, Arkansas, causing significant damage to homes, businesses, a shopping mall and utility infrastructure.
Video footage | AR DOT
Resources involved in the incident includes Volunteer Fire Departments, along with the Red Cross and the Arkansas Governor's office.
Red Cross:  50 volunteers.
Governor Asa Hutchinson:  Monitoring situation. Wishing all are safe.
Lake City VFD:   Rescue, Brush, 7 personnel.
Caraway FD: 7 personnel, pumper truck.
Monette FD:  Unknown # of personnel & equipment on-scene.
Southridge : 12 personnel.
Valley View Fire Protection District:  Unknown # of personnel & equipment on-scene.
Cash FD:  # of personnel/equipment unknown.
Philadelphia Fire Protection District:  6 members.
Brookland Fire Protection District:  1 squad, 5 personnel.
Bono Fire Protection Dist:  Unknown # of personnel/equipment.
Operations quickly came together at the helm of the local Jonesboro Police Department, County Sheriffs and State Police in what appears to be Unified Command at the Turtle Creek Mall.  Emergency responders are working diligently to search, rescue and treat injured, as well as addressing potential hazardous conditions out in roadways, highways, homes and structures.
Photo Credit:  Jonesboro E911
Officials are asking all to stay home where you are safe and healthy.
Photo Credit:  City of Jonesboro, Arkansas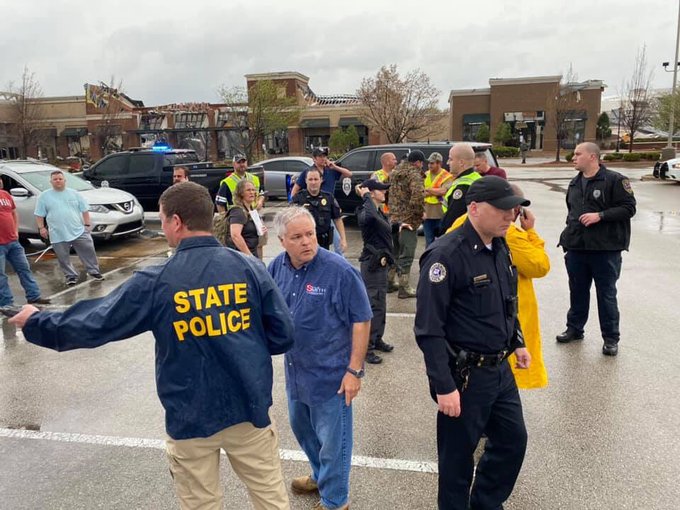 Current Alerts that are in effect currently are:
Citywide curfew has been issued by the Jonesboro Mayor, Harold Perrin for 1900 hours PST. No one should be on the streets.  (Mayor's Office)
Damage reports coming in on Social Media, showing :
Caraway/Race intersection.  German auto, Aldi and Gateway Tire look like they took a direct hit.
A local meteoroligst says based upon some of the damage, this appears this could be the worst tornado to hit the area since the F3 on April 3, 1984 (36 years ago).
This tornado is said to be at a F4, which ripped through the heart of downtown Jonesboro.
More updates will be posted as information trickles through.  Please be safe, Arkansasians.
(c) 2020 NW Fire Blog – Updated 3/28/2020 – 1730 hours PST