New York and California
The United States Navy's Comfort, a Military Sealift Command hosital ship has arrived to New York City on Sunday, March 29th around 1330 hours EDT (or 1030 PST – West Coast time) and guided in by tug boats to port.  This is in  response to the COVID19 virus response.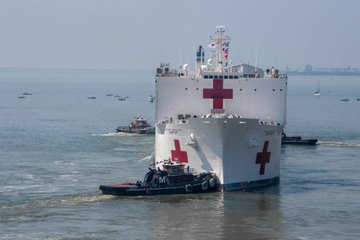 "…our nation, specifically the people of New York, have requested our assistance and we are ready to respond." – USNS Capt. Patrick Amerbach, CO, Medical Treatment Facility aboard the Comfort.
The facility will be used for non-COVID19 infected patients, which will provide a full array of medical care to include general surgeries, critical care and ward care for adults, while allowing shore-based civilian hospitals to focus on their medical care to the treatment of virus infected patients.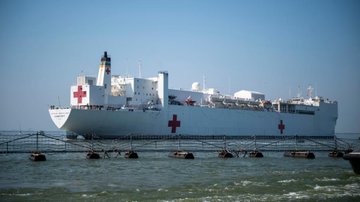 Comfort departed from the Naval Station in Norfolk, Virginia and has a crew of over 1,100 Navy medical personnel and support staff with over 70 civil service mariners on board.  The Comfort is a converted San Clemente-class supertanker, that was delivered to the Navy's Miltary Sealift Command on December 1, 1987 and is one of two Mercy-class hospital ships.
A second USNS ship, Mercy arrived in Los Angeles, California on March 27, 2020.
The Comfort  and Mercy are operated, navigated and maintained by a crew of civil service mariners working for the US Navy's Military Sealift Command.
Washington State was due to have the Mercy arrive to Seattle, but POTUS redirected it to Los Angeles, California instead.   Washington State is receiving assistance from local Military resources.
A field hospital is being set-up at Seattle's Century Link to take care of those with non-COVID19 medical needs which will free up local health facilities.  Another facilty is being erected in Shoreline as more cases break out across the State.
The Governor of Washington State issued a Stay at Home. Stay Safe. Mandate for all non-essential employees on March 23, 2020.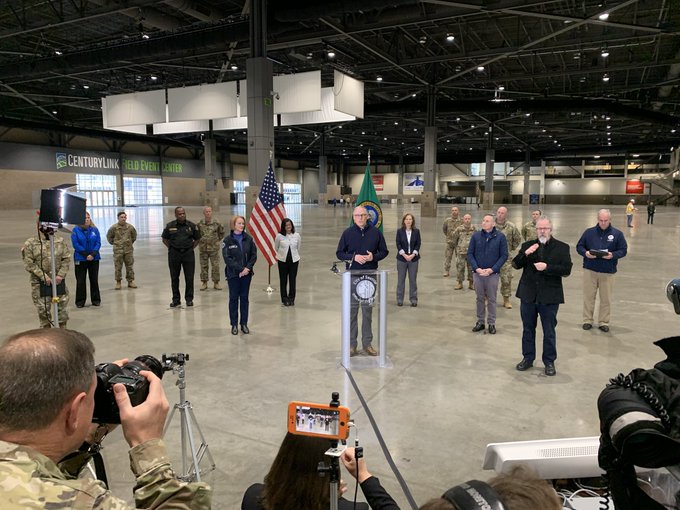 We cannot thank the men and women on these two ships for taking time from their own families to help care for the sick while local Cities are dealing with the COVID virus spreading like wildfire.
This is a godsent gift to Cities and their residents who will benefit from overflow of regular people with regular medical needs that are unrelated to the virus outbreak.  I think, we can say wholeheartedly that we speak for the residents of where these ships are arriving to, that we all will be eternally grateful.
(c) 2020 NW Fire Blog – Updated  Sunday, 3/29/2020 @ 1350 PST