March and April has been a very long and busy month already for Seattle Firefighters and it does not appear to be slowing down any time soon.
I don't know about you but there seems to be a pattern of fires breaking out spontaneously, or perhaps not but we won't say.  However, there appears to be more and more fires breaking out in abandoned structures in the same general area, but don't take it from us.  Social Media posters are also noticing the same fire trends.
Here are some fires that have lit up Seattle today and in the past weeks.
APRIL 4, 2020 | SATURDAY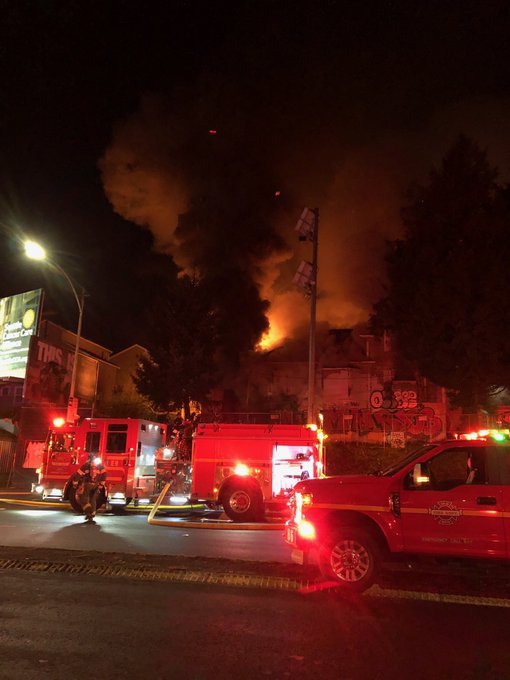 On Saturday (today) morning, a full  response  was sent into action via  the Seattle Fire Alarm Center at 0518 hours,  sending a large number of Seattle firefighters  and assets to an abandoned building located in the 800 block of North 50th Street off of Aurora Avenue North.
Responding units were: E9, B6, E31, L9, A25, AIR10, B4, DEP1, E17, E18, E21, L6, L8, M17, M44, MAR5, REHAB1, SAFT2, STAF10, E16, E20, E22, L1, L8.
Firefighters fought it from the exterior side, an obvious defensive fire .  Using hose lines and Ladder pipe operations, water was sent through the partially collapsed roof over the fire building.  It was deemed  too dangerous for them to enter the interior of the structure during fire suppression activities.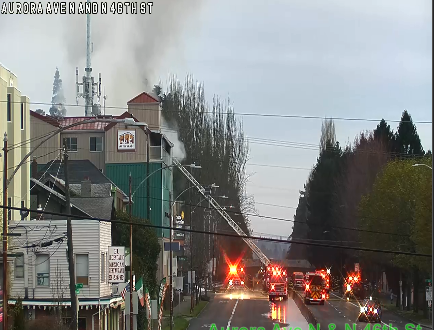 The Seattle Department of Transportation shutdown the right southbound lane due to the fire and blocking Fire equipment.
Fire Investigators have not released the cause of the fire and say it is still under investigation.
There have been a host of other fires in the City today, which include the following by each time fire personnel and assets are dispatched via the Seattle Fire Alarm Center.
0723: 6100 block x 28th Avenue Northwest. Garbage Fire. Handled by a single engine response (E8).
1139 hours: 800 block of  Maynard Avenue South. Illegal burn call. Handled by Engine 10.
1201 hours:  1600 block of South Lane Street.  Illegal burn. Single engine response. Handled by Engine 6.
1223 hours:  Southbound I5 to Corson. Brush fire. Dispatched were Engines 2, 13, 36 and Battalion 5.
1323 hours:  1700 block of Harvard West.  Illegal Burn. Engine 25 dispatched.
1426 hours: 200 Wall Street. Illegal Burn. Engine 25 was dispatched to this call and resolved the situation.
1843 hours:  East Madison Street and 31st Avenue East. Garbage Fire. Engine 34 dispatched.
1904 hours:  Ballard Ave NW / NW Market Street. Engine 18 dispatched.
2122 hours:  4300 block on 29th Avenue South. Dryer Fire. (Fire in Building).  Units dispatched: A14, Air10, B2, B5, Dep1, E13, E27, E28, E30, E6, L12, L3, M28, M44, MAR5, R1, REHAB1, SAFT2, STAF10.
MARCH 30, 2020 | MONDAY
1934 hours:  2221 42nd Avenue SW (West Seattle). Fire in Building.
0934 hours:  Rainier Avenue South x 23rd Avenue South. E30 dispatched.
MARCH 29, 2020 | SUNDAY
1547 hours: Dumpster Fire. 60 Diagonal Avenue south. Engine 36 is dispatched.
MARCH 28, 2020 | SATURDAY
1605 hours:  Garbage Fire. Stewart Street x Westlake Avenue. Engine 5 dispatched.
1335 hours:  Garbage Fire.  4th Avenue South x South Massachusetts Street. Engine 16 dispatched.
Heavy flames and smoke destroyed an abandoned building on the corner of Roy and Aurora Avenue North in the 600 block of Roy Street.  Both directions of Highway 99 and Mercer Street was closed.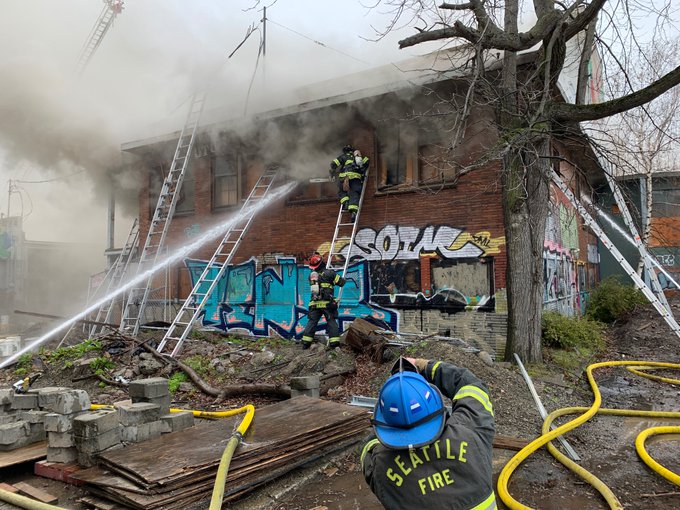 MARCH 27, 2020 | FRIDAY
 An extremely hot and fast-moving fire put the lives of many in danger, as firefighters raced to try to access the fire from the shore and had no choice but to shuttle personnel in fire boats to fire suppression from the water side. Multiple boats were reportedly lost.
MARCH 16, 2020 | TUESDAY
1334 hours:  A resident acros the street on 8th and Weller captured video of extreme fire behavior of a homeless encampment going up in flames. He pleaded to the Seattle Mayor that we need to put our unhoused folks in better accommodations and decried their current conditions as inhumane. Saying additionally, we need to better protect them.
MARCH 15, 2020 | MONDAY
A fire breaks out underneath I5 and Boren Avenue bridge in the Chinatown International District.  Seattle firefighters respond to a fire due to cooking at a homeless encampment gets out of control. this is what they have to deal with.
Story Photo, Article:  Seattle Times.  See story here –> https://www.seattletimes.com/seattle-news/homeless/fire-in-chinatown-international-district-engulfs-homeless-camp/
We are still waiting for causes for most of these but we are patient while they work it out in the fire investigation unit.
We will keep you informed and provide an update as information is received.
(c) 2020 NW Fire Blog – 4/4/2020 – 2330 hours PDT