LEAVENWORTH, Washington State
Chelan County Sheriff's Office contacted the City of Leavenworth about a bomb threat in the downtown area in a garbage can in the 800 block of Front Street.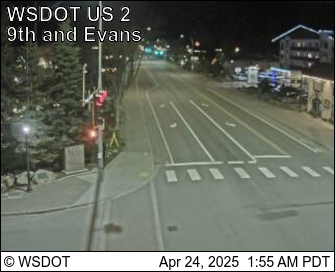 All County and City officials are taking this phone threat seriously and are working to track down the caller. Bomb squads are en route or on-scene from Moses Lake and from the west side. The Command Center will be either at the High School or at Chelan County Fire District #3.
There are currently seven Chelan County Deputies and three or more WSP Troopers on-scene. More will soon pouring into area. If you are on the roadway, please pull to the right for emergency vehicles (it is the law).
The downtown corridor was evacuated and all others are strongly encouraged to shelter-in-place. Do not leave your homes/businesses and seek out the police activity in the area. There are roadblocks keeping people out of the area.
Traffic Alert | "On US 2 in between milepost 99 and 101 (Leavenworth), road closure for police activity. Travelers should utilize East Leavenworth Rd. for east-west travel through the area. There is no current estimated time for reopening. From milepost 99 to milepost 101. There is an unknown ETA for reopening." – WSDOT. Original update 2053 PT.
Traffic Alert | "SR2 closed between ICICLE RD (MP99) and EAST LEAVENWORTH RD (MP100-5). WSP units at the closure points." – WSP Trooper John Bryant, PIO.
Shelter-In-Place | Cascade Medical Center and all those on the outside of downtown Leavenworth.
ABOUT LEAVENWORTH, WASHINGTON STATE
Leavenworth has an area of 1.25 square miles which was created in the 1960s with its Tudor style architecture, Bavarian Village type outdoor shops, restaurants, and hotel. Today, the destination is home to just over 1,900 residents with about 24.4% of have German ancestry but thousands visit and play here all year-round.
To learn more about this great little destination, you can visit the Leavenworth, Washington Chamber of Commerce Home | Leavenworth Washington.
(c) 2020 NW Fire Blog- Updated 12/29/2020 2355 Hours PT